Delhi Lal Kila Ticket Price 2023, Timings, Nearest Metro Station, Parking
Check Red fort timings and Red fort ticket prices 2023 before visiting this historical monument. Red Fort, one of the most significant forts of the country is located in old Delhi, India. It was mainly built by Red sandstone and it is also known as Delhi ka Lal Kila, for its color. The Red fort complex was designated as a UNESCO World Heritage Site in 2007. Lal Quila of Delhi is one of the main identity of Delhi and one of the most visited tourist attractions of India. The fort is lying on the banks of Yamuna River, spread over the huge area of 256 Acres. It has a great significance in the history of India and it is widely visited throughout the year. The Red Fort timings and Red fort tickets price are some of the important factors for the visitors along with a few others.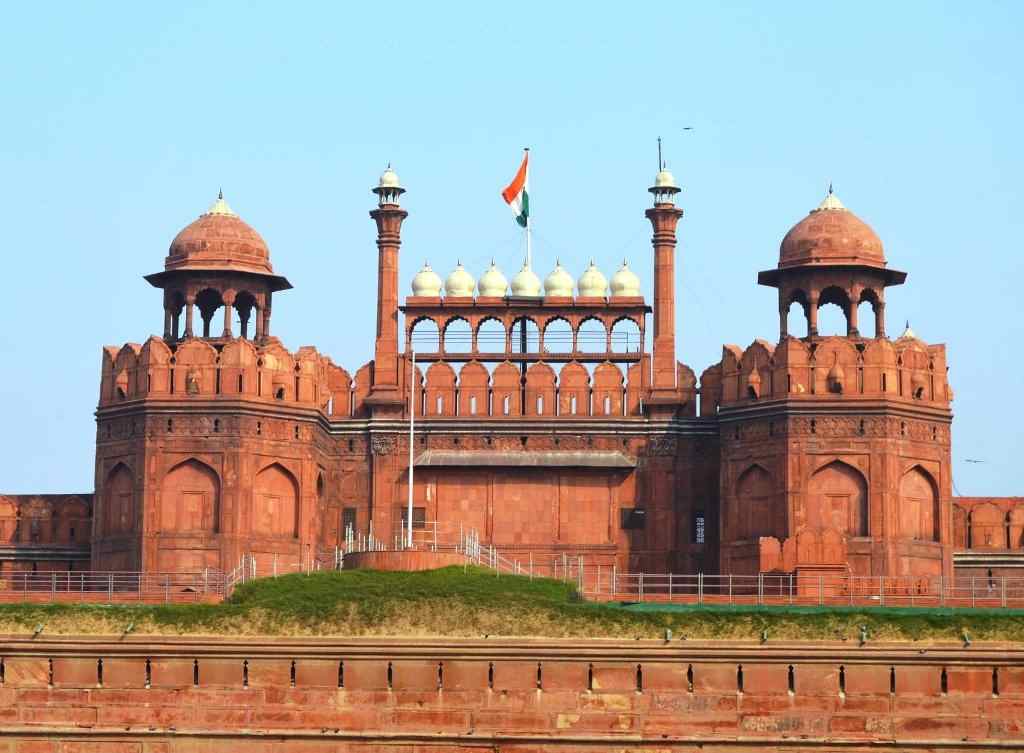 One of the main events of the year is the national flag hoisting. On every Indian Independence day (15 August), Prime Minister of India hoists the national flag from the fort.
Red Fort History
The history of Lal Quila is quite wide and many significant decisions of Indian history were made inside walls of this majestic fort. It goes back to the 17th century when its foundation stone was laid. Let us focus on the brief history of red fort to cover some of the important points:
The foundation stone of Lal Kila was laid in 1618 by Shah Jahan.
It was constructed by Shah Jahan (fifth Mughal Emperor).
Construction of the fort was started on 13 May 1638 in the month of Muharram.
Lal Quila was completed in 1648; it took ten years to complete its construction.
Architectures of the fort were Ustad Ahmad and Ustad Hamid and it was called as Qila-i-Mubarak in Mughal time.
A massive wall was built to protect the fort from enemy attacks.
After the end of the Mughal reign on 7 October 1858, British officials destroyed many buildings of red fort in 1863.
Red Fort Information
Red fort is situated in the old Delhi region of the capital, in world-famous Chandni Chowk, on Netaji Subhash Marg. India's largest mosque Jama Masjid is located opposite Lal Kila. Lahore gate and Delhi gate are two entrances of Lal Qila and it covers an area of 256 Acre. The shape of the Lal Quila is octagonal. It was built by Mughal emperor Shah Jahan in 1648. Famous Meena Bazaar is located inside the red fort, which is good for purchasing souvenirs, crafts, and handicraft items.
As the Fort campus is quite big, one needs an ample amount of time to roam inside the fort and have a good glance at the rich history of the monument. Many of the parts of the fort are closed for entrance which was open in the past. This step was taken to ensure minimum damage to the structure caused by the high footfall of the visitors. However, you can still have a look at these parts from a little bit of distance.
Major structures inside the Red Fort
Many small and big monuments and structures are present inside the Lal Qila of Delhi. Some of the major structures are Chawari Bazar, Lahori Gate, Delhi Gate, Water Gate, Chhatta Chowk, Naubat Khana, Diwan-i-Aam, Nahr-i-Behisht, Mumtaz Mahal, Rang Mahal, Khas Mahal, Diwan-i-Khas, Hammam Baoli, Moti Masjid, Hira Mahal, Hayat Bakhsh Bagh, Princes' quarter and Freedom Struggle Museum (Swatantrata Sangram Sangrahalaya). When you visit the fort, make sure you cover all these important structures along with others. It feels like having a close look at the history of India. The curious brains of children learn about history by reading the books, it is an add on to visit the places to get a better understanding and closer look.


Red Fort Timings
Red Fort visit timing is from Sunrise to Sunset. Lal Kila remains closed on every Monday and it witnessed the maximum number of visitors during the weekend (Saturday, Sunday). Please check your schedule if you are planning to visit the fort near the Independence Day and Republic Day (26 January), official mail id is dg.asi@gov.in. The Red Fort timings are Sunrise to Sunset for the regular visits. If you wish to witness the light and sound show, you may take the tickets and visit here at the designated timings.
Red Fort Timings: Sunrise to Sunset
Red Fort Ticket Price 2023
| Entry Fee and Information | |
| --- | --- |
| Entry Fee Indians | 90 Rs |
| Entry Fee Foreigners | 900 Rs |
| Child entry (up to 15 years) | Free |
| Digital Camera Charges | Nil |
| Video Camera Charges | 25 Rs |
| Parking | Yes |
| Nearest Metro Station | Lal Quila |
| Official Email ID | dg.asi@gov.in |
| Contact No. |  +91-11-23277705 |
| Time Required to Visit |  2 to 3 hours |


Vehicle parking is available near the Red Fort complex, however, public transport is recommended to reach Lal Quila due to the heavy traffic in Old Delhi. The traffic condition is not so good at this busy part of the city and you may reach there by different modes of public transport. Lal Qila metro station is the nearest metro station (1 KM) on the Violet line. The Old Delhi Railway station and New Delhi Railway Station are around 1.5 and 4 KM respectively.
Rainy season and winters are the best time to visit the Red Fort due to pleasant weather. The weather during summer is quite hot in Delhi and you may not be able to handle the scorching heat. It is recommended to wear a cap or sunglasses if you plan to visit here during the summer season. The Fort is mainly made up of stone including the floor and the complete structure gets quite hot.
Red Fort Light and Sound Show Timings and Tickets Price
| Sound and Light Show | |
| --- | --- |
| Timings | |
| Hindi Show Timings | |
| February -April | 7 PM to 8 PM |
| May-August | 7.30 PM to 8.30 PM |
| September-October | 7 PM to 8 PM |
| November-January | 7.30 PM to 8.30 PM |
| | |
| English Show Timings | |
| February -April | 8.30 PM to 9.30 PM |
| May-August | 9 PM to 10 PM |
| September-October | 8.30 PM to 9.30 PM |
| November-January | 9 PM to 10 PM |
| | |
| Lal Kila Ticket Prices | |
| Weekdays | |
| Ticket Price for Adult | 80 Rs |
| Ticket Price for Child (5-12 years) | 30 Rs |
| Saturday, Sunday and Government Holiday | |
| Ticket Price for Adult | 80 Rs |
| Ticket Price for Child (5-12 years) | 30 Rs |
The Lal Kila also has one sound and light show where the history of Red Fort is shown using lights and sounds. It is quite a good show if you are able to stay here till late evening. Sound and Light Show tickets can be booked online by visiting this link, light, and sound inside the red fort in the open-air theater is a must watch show and it brings back the visitors to the glorifying history of Lal Kila. The shows run in two languages, English and Hindi.
Visit of Red fort is quite good and refreshing for visitors, it improves the knowledge of kids and adults about the history of India. It is a good place for Experience Seekers, History Buffs, Wanderers and Photo Fanatics. Don't miss the visit of Archaeological Museum inside the Red Fort.
Check: Places to visit in Delhi to cover all major tourist attractions.
Also visit: