India vs South Africa Dharamshala Tickets Booking Procedure and Information
Dharamshala cricket stadium is located in Dharamsala, Himachal Pradesh. It is owned and managed by Himachal Pradesh Cricket Association so it is also known as HPCA stadium, being the only international cricket stadium in the city and state. Dharamsala is known for its relation with the Dalai Lama of Tibet. The stadium is an eye candy as it is present at an altitude of 1,457 m above sea level in the Himalayas. South Africa will be in India to play 3 T20 and 3 test matches in India. First T20 is scheduled to play at Dharamshala cricket stadium on 15 September 2019. India vs South Africa Dharamshala tickets are in high as the match is being hosted in this stadium after a gap of two years.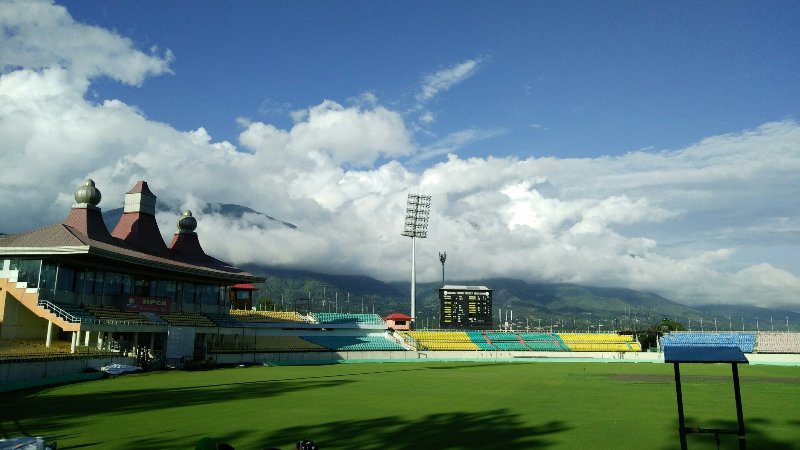 It was established in 2003 and the first international match (ODI) was played in January 2013, between India and England. It has a capacity to accommodate 26,000 people. Dharamshala cricket ground is owned by Himachal Pradesh Cricket Association. The stadium is the home ground to Himachal Pradesh cricket team and Kings XI Punjab. The first ODI match between India and New Zealand was played here on 16 October 2016 as a part of 5 One Day International match series. HPCA stadium has also hosted matches of T20 world cup 2016. The match between India and Pakistan was originally scheduled to be helping here, but it was later moved to Eden Gardens due to security reasons.
Upcoming International Match Schedule at Dharamshala Stadium
India vs South Africa Dharamshala Tickets
The tickets can be booked online or offline modes, as decided by HPCA authority. This decision is generally made few weeks before the match schedule date. To book the tickets online, you need to visit websites like bookmyshow, Kyazoonga or other websites as decided by the management. Once the ticket is booked, you have to get the online ticket printout and get the hard copy of ticket by showing the printout at the box office. The physical ticket is also known as entry pass. The online mode of ticket booking is generally preferred by stadium authorities to avoid the heavy rush at the ticket counter during match day. Below process will help you to book India vs South Africa T20 Dharamshala tickets online.
Log on ticket booking website and look for India vs South Africa Dharamshala tickets.
On next step click on the book button to check ticket cost and available seats.
On next step choose the seats as per your budget and price mentioned on the particular stand.
After selection seats proceed to payments for confirm ticket of India vs SA Dharamshala T20 match.
A confirmation mail and SMS will be delivered to you after the successful booking. Read the instructions carefully mentioned in the mail.
Dharamshala Stadium Check-in Procedure and Guidelines

Dharamshala stadium is located in the hilly terrains of Himachal Pradesh. It is a little tough to reach the stadium from various cities of the country. The nearest airport is located in Chandigarh, which is 250 km by road. Once you reach the stadium, there are a few guidelines to be followed. Collect the entry passes and go to the Dharamshala cricket stadium for checking in. The entry passes have the entry gate number printed on it.
There is a list of restricted items which are not allowed inside the stadium due to security reason. Avoid taking any extra stuff as it might create an issue. The list of restricted items is as follows: headphones, Coins, data cables, water bottles, power bank, digital camera, eatables or drinkables, plastic carry bags, binoculars, etc. There is a relaxation for baby food, diapers and medication. It is advisable to carry your phone and purse only; else there will always be a fear of losing something at the security check.
Dharamshala Cricket Stadium Seating Layout
HPCA stadium seating plan has depicted all stands of cricket ground clearly.
Pavilion, VVIP area, a corporate lounge, general stands, north stand, east stand and west stand are clearly shown on the map along with the cricket pitch. Seating layout is helpful for viewers to check their seats and stand before the match.
Dharamshala Stadium Map
Dharamshala Cricket Stadium Facilities

The Dharamshala stadium was constructed in 2003 and it is comparatively a new stadium. It has all the basic facilities. The washrooms are clean and in ample numbers. The cafeteria is also good and serves fine quality of food items. The architecture of the stadium is amazing; it lets the air pass through the stand due to its small sized stands and openness. The air passage through stands also gives assistance to the bowlers. The view from the stands is very picturesque. It is the first stadium where the winter rye grass is used around the outfield. This prevents the grass from freezing below temperature of 10 degrees.