Lincoln Park Zoo Tickets Price 2023, Lincoln Park Zoo Hours, Lincoln Zoo Map
Lincoln Park Zoo is one of the oldest and most visited zoo of Unites states of America. This zoo is located in Chicago city of Illinois. The zoo was opened on 1868 and it is very popular among kids and all age group people. It houses 1100+ animals of 200 species. It is most visited and famous zoological park of Chicago. People are looking for Lincoln Park zoo tickets and Lincoln Park zoo hours before making a plan to this zoo. In this post, we are sharing all the information related to Lincoln Park zoo entry tickets, timings, location, map, parking lot map, information and Covid – 19 guidelines.

Lincoln Park zoo was opened in 1868 which makes it is one of the oldest zoological park of United States. It was established by Lincoln Park Commissioner when he got a gift of two pairs of Swans and he started the zoo in the Lincoln Park. Later more animals were donated to this zoo and a formal zoo was established in the Lincoln Park.  Later some more animals were donated to the Zoo and some were purchased by the zoo the increase the number of animals in the park. Over the period of time, zoo renovated and provide many facilities to their visitors. As of now, it is one of the most visited zoo with all the facilities which are required by the visitors of Zoo.
Lincoln Park Zoo Tickets 2022
It s one of the few zoo of USA which provides free entry for all the visitors throughout the year. Entry. Visitors need not to pay anything for Lincoln Park zoo tickets and prior reservation is not required. You can make a donation as low as 5$ for the betterment of Zoo if you wish to. Lincoln Park zoo membership plans are available for those who want some exclusive benefits of the zoo.

Lincoln Park Zoo Hours
Lincoln zoo hours are 10 AM to 5 PM in winters and Lincoln park zoo timing changes as per the season. We have shared the Lincoln park zoo opening and closing time in below table. Zoo opens all 365 days of year.
| Season | Lincoln Park Zoo Timings |
| --- | --- |
| April-May | 10 AM to 5 PM |
| Memorial Day – Labor Day Weekdays | 10 AM to 5 PM |
| Memorial Day – Labor Day Weekends | 10 AM to 6.30 PM |
| September-October | 10 AM to 5 PM |
| November-March | 10 AM to 4.30 PM |
Lincoln Park Zoo Membership Charges
Zoo entry is completely free and visitors can avail zoo membership which provides some exclusive benefits to zoo members which are not available to non members. Some of the exclusive benefits of Lincoln Park Zoo memberships are:
Parking benefits: Members gets access to free parking or they get the parking at discounted throughout the year.
They are invited to member only events.
Exclusive access to lounge.
Discounted tickets for Lionel Train Adventure and AT&T Endangered Species Carousel.
Discount on many youth programs and other events held by the zoo throughout the year.
Zoo restaurants and gift shops also provides discount to their members.
Stroller provided on discounted rentals.
Free subscription to Lincoln Park zoo.
Free or discounted entry to more than 100 AZA – accredited institutions Zoo and aquariums.
Many other benefits are provided to the members of zoo and it depends on the type of membership.

100 (AZA) – accredited institutions related to zoo and aquarium provides free entry to members.
Lincoln Park Zoo Membership Type
| Membership Type | Membership Price |
| --- | --- |
| General Membership | $69.00 |
| Household Membership | $95.00 |
| Safari Membership | $189.00 |
| Individual Membership | $69.00 |
| Donor Clubs | $365.00 |
| Conservators' Council | $2,000.00 |
| Chairman's Council | $25,000.00 |
All the members of Lincoln Zoo will get above benefits along with some exclusive benefits as per Membership type.
Lincoln Park Zoo Map

Lincoln park is spread in an area of 35 acres and using a map is a good decision to see all the animals and attractions. We have included Lincoln park zoo map along with all the important highlights, attractions, animals, etc. Lincoln park zoo map have depicted all the animal enclosures, water bodies, entry points, exhibits, pools, café, rest rooms, disable friendly facilities, entrance gate, exit gate, etc.
Lincoln Park Zoo hours, zoo information, facilities, visitors center, nature boardwalk, gift shop, adventure train, etc. are depicted on Lincoln Park Zoo map. We have included Lincoln Park Zoo map in bigger resolution too. Nearby roads and all the information which is essential to visit this zoo is included in the Lincoln Park Zoo map. Bus drop off point, parking lots, nearby street and roads are also drawn on the map.
Lincoln Park Zoo Animals
It has more than 1100 animals of 200 species along with a garden with 1200+ plant species. Some of the popular animals in Lincoln park zoo are bald eagle, American black bear, African rock python, Bactrian Camel, Zebra, Eastern Massasauga Rattlesnake, Japanese Macaque, Midland Painted Turtle, Ostrich, Pygmy Hippopotamus, Red Kangaroo, Red Panda, Red Wolf, Snow Leopard, Snowy Owl, White-faced Saki, White-faced Gibbon, Wood Turtle, etc.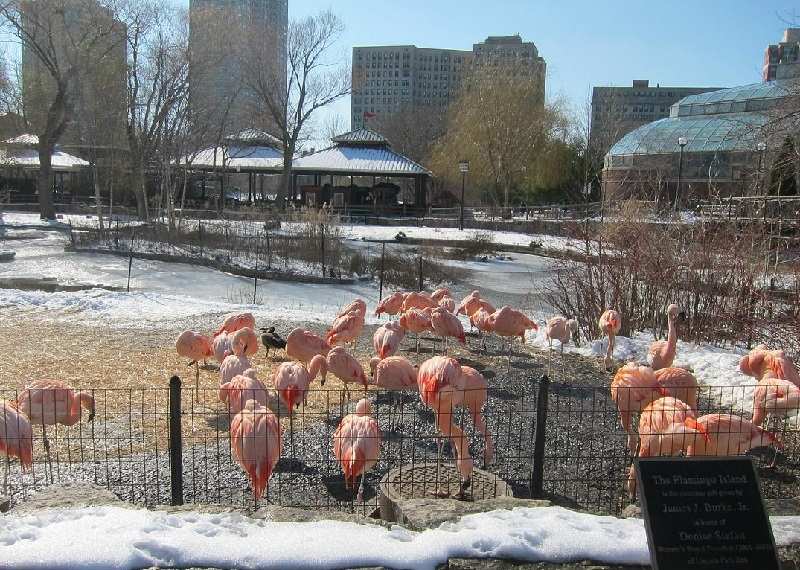 Lincoln Park Zoo Directions and Location Map
Lincoln Park Zoo Google Map is shared below which is useful to get the Lincoln Park zoo directions.

East gate, north gate, west gate and café Brauer gate are the entry gates of Lincoln Park Zoo. Main parking lot is located near East gate. Taxi and rideshare pickup and drop offs should be done at west gate.
Visitors can come to the Lincoln Park Zoo with the help of Google maps if they are coming with private car. Plenty of options are reach to the zoo. Bus No. 22, 36, 151 and 156 stops at the Western edge of the Zoo. Train stops are also situated near the zoo and they are 1 mile away from the west of Zoo. Armitage station of Purple line and Fullerton station of Red line are the nearest stations from the zoo. All the 4 gates of Zoo have free bicycle parking along with free bicycle parking lots at Cannon and Stockton drives. Car parking is free here for first half an hour and after that parking charges are 20 to $35 and taxes extra.

Lincoln Park Zoo Parking
Parking at Lincoln park zoo is available near East gate at 2400 N Cannon Drive. This is paid parking and first half and hour is free for the visitors. Members of Lincoln Park zoo can get free parking or discounted parking at Lincoln Park zoo lot. Paid and free parking is available for the people with disabilities. 19 parking spaces for people with disabilities available at paid parking lot at Cannon Drive near east gate. Free parking is available for people with disability at Farm-in-the-Zoo service gate (3 space), south of the Café Brauer driveway ( 3 Parking space) and Next to Lincoln Park Conservatory (two parking spaces). During weekends and popular holidays these parking space fill up very quickly.
Guests with Disabilities at Lincoln Park Zoo
Lincoln Park Zoo welcomes all guests. Wheelchairs are available at entry gates at free of cost on first come first serve basis. Visitors need to deposit $20 refundable deposit or a picture ID card. Electric Conveyance Vehicles or Electronic wheelchairs are also available at guest on rental basis. ECV rental charges are $30 and $20 refundable security deposit or a picture ID is required to rent ECV. All the zoo premises, building, café, etc. have at least one wheel chair accessible entrance/exit.
Lincoln Park Zoo Parking Lot Map

We have included all the parking lot near the Lincoln Park zoo on Lincoln Park zoo map. Parking for people with disability are marked in red color with wheelchair icon and main parking lot is also marked at the Lincoln Park zoo map.
Lincoln Park Zoo Lights
Zoolights is one the most awaited event of the Zoo. Every year during the festive time, Zoo organizes Zoo lights event for their guest and members. This events rune for more than 40 days inside the zoo premises and all guests are welcome to attend this event. Lincoln Park zoo lights entry is free on specific days for all guests. Few days of Zoo lights are exclusively booked for Lincoln Park Zoo members and some are are reserved for senior guests. A small admission fee of $5 is charged on selected days from the visitors.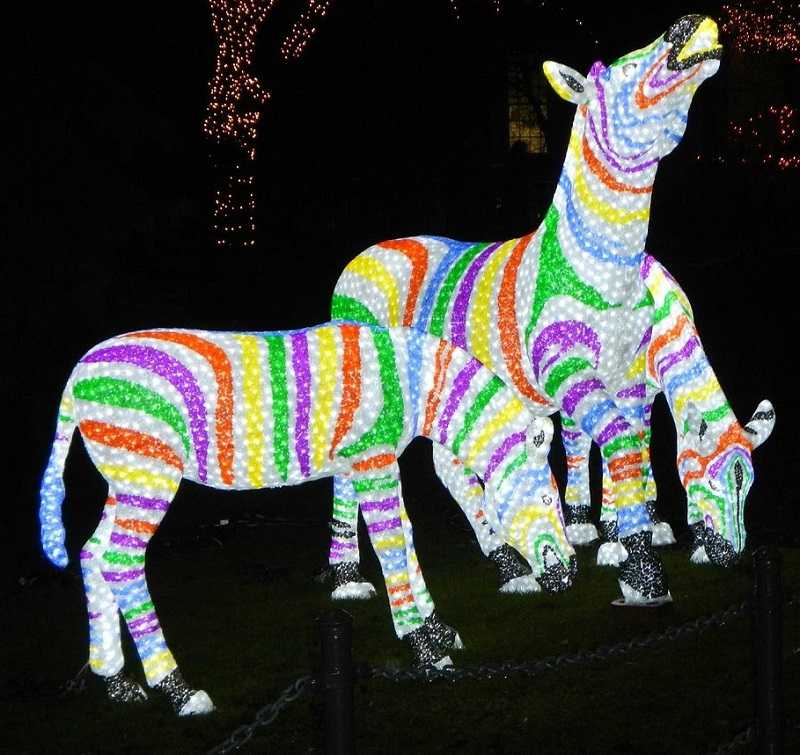 Other Facilities at Lincoln Park Zoo

Some of the facilities at Lincoln Park zoo are rest room, multiple cafés, gift shops, etc. As per Covid guidelines, guests are visiting the park should wear a face mask all the time. Service animals are allowed inside the zoo with some restrictions.