Barsapara Cricket Stadium Guwahati India WI 21 October Ticket Booking Procedure and Information
Dr. Bhupen Hazarika Cricket Stadium or Barsapara Cricket Stadium is new International stadium built in Assam. It is situated in Guwahati, largest city of Assam. It is also named as ACA Stadium, wherein ACA stands for Assam Cricket Association. It was recently build to host international cricket matches in this north eastern state of India. BCCI wanted a good stadium in this region of country, and Barsapara Cricket Stadium came in at the right moment. After being approved as international matches, this cricket stadium hosted its first international match in 2017 (India vs Australia 10 October 2017). After the hosting it's first international T20 match, now this stadium got the hosting of its first one-day international match of West Indies tour of India.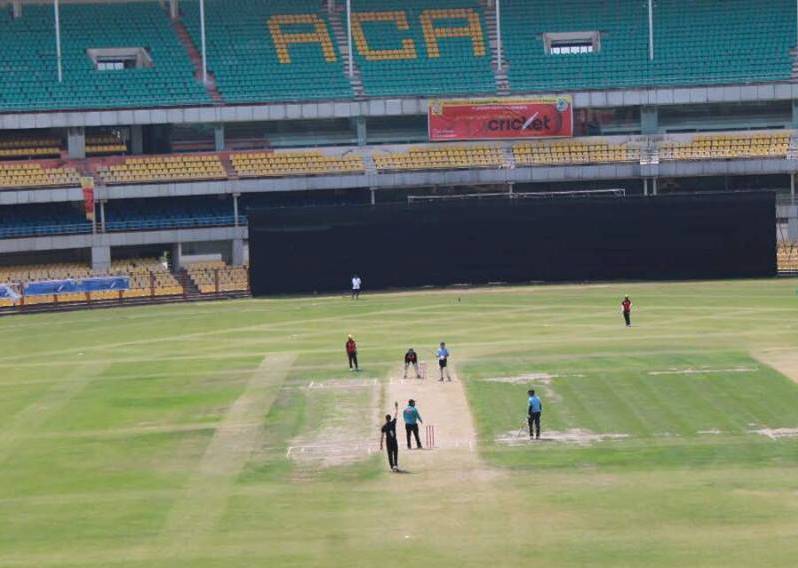 Barsapara Cricket Stadium hosted India Vs Australia T20 match successfully in 2017, as part of Australia tour of India 2017. Now, this stadium is ready to host, India vs WI first ODI match scheduled on 21 October 2017. Guwahati stadium was established in 2012 and has the seating capacity of 60,000. It has hosted several Ranji Matches and interstate ODI matches. Barsapara Cricket Stadium Seating Layout is very spacious as it can accommodate around 60000 odd spectators. The ACA stadium can boast of having such high capacity.
India West Indies ODI Match Ticketd Price and Booking Process
Barsapara Cricket Stadium online ticket booking for India, WI 1st ODI expected to start soon through bookmyshow website and app. Spectators who want to catch live action of India, Wi ODI match can book Guwahati cricket stadium tickets online. Ticket rate for cricket match expected to start from 1250 and goes up to 5000 (as our guess based on last T20 match). Discounted ticket price for students might be available. As per the sources, there is no offline sale of the tickets. Detailed ticket price list for India WI ODI has been announced and shared by us after the official announcement. Below is the India West Indies ODI match ticket price list.
The Barsapara Cricket Stadium ticket prices include all taxes. Students tickets are available in discounted price. After online ticket booking, visitors need to collect the original tickets from the ACA stadium ticket counter along with the print out of online tickets. Online tickets are not allowed for entry inside the Barsapara Cricket Stadium. Online tickets must be exchanged with an original gate pass from Guwahati Barsapara Cricket Stadium ticket counter. More details regarding Guwahati stadium tickets will be shared by us soon.
Barsapara International Stadium Upcoming Match Schedule
| Match Name | Format | Series Name |
| --- | --- | --- |
| India vs West Indies 1st ODI | ODI | Match of India WI Series (21 October 2018, Sunday) |
BCCI made a recent announcement that West Indies will be touring India, in the from of October to November. India Vs WI ODI match will be played at Barsapara stadium. ACA stadium's second International match will be between these two former world champions, no better teams could have played here after a gap of almost one year.

Barsapara Stadium Ticket Booking Procedure
Gauhati stadium ODI tickets can be booked online as well as offline. The online websites like kyazoonga, bookmyshow and eventshow etc are generally the official tickets distributors. The mobile android and iOS applications are also launched by these websites and booking can be done by using them. The offline tickets might be available at the Barsapara cricket stadium ticket counter. As it is the second international match, we are also not sure about the offline mode, however, we expect that ticket counter will also sell the tickets for India Vs WI ODI match of 2018 series.
For online booking, visit the online ticket website and select the match, follow the instructions given there. Credit card, Debit card and internet banking can be used to book these tickets. Guwahati Barsapara Cricket stadium seating map can be seen at the time of online ticket booking. Sometimes home delivery of tickets is also available, with few conditions. Once the booking is done, e-tickets are sent to the mail ID. These tickets should be changed for physical entry pass at the stadium box office. At the box office, one need to show card, through which payment is made. The same process should be followed for India Vs West Indies ODI match of 2018, hosted here. Guwahati stadium ticket price is still not clear, as this detail generally comes out couples of week before the match. Ticket cost is disclosed when the ticket are made available. As per our expectation and trends ticket price might start from at least 1000 Rs and goes up to 10000 or more, depends on the stands.
ACA Cricket Stadium Barsapara Guwahati Assam Layout

The ACA Cricket Stadium is shown below. The diaspora stadium seating arrangement is clearly depicted on the map along with all the stands off Ground, 1st, 2nd and 3rd floor. All the 25 stadium entry gate is shown in the layout of the ACA cricket stadium. Nearby roads and Guwahati cricket stadium complex gates along with nearby roads are also depicted in this image. This map is displayed on book my show website. Pitch and all boxes can be spot in the image map.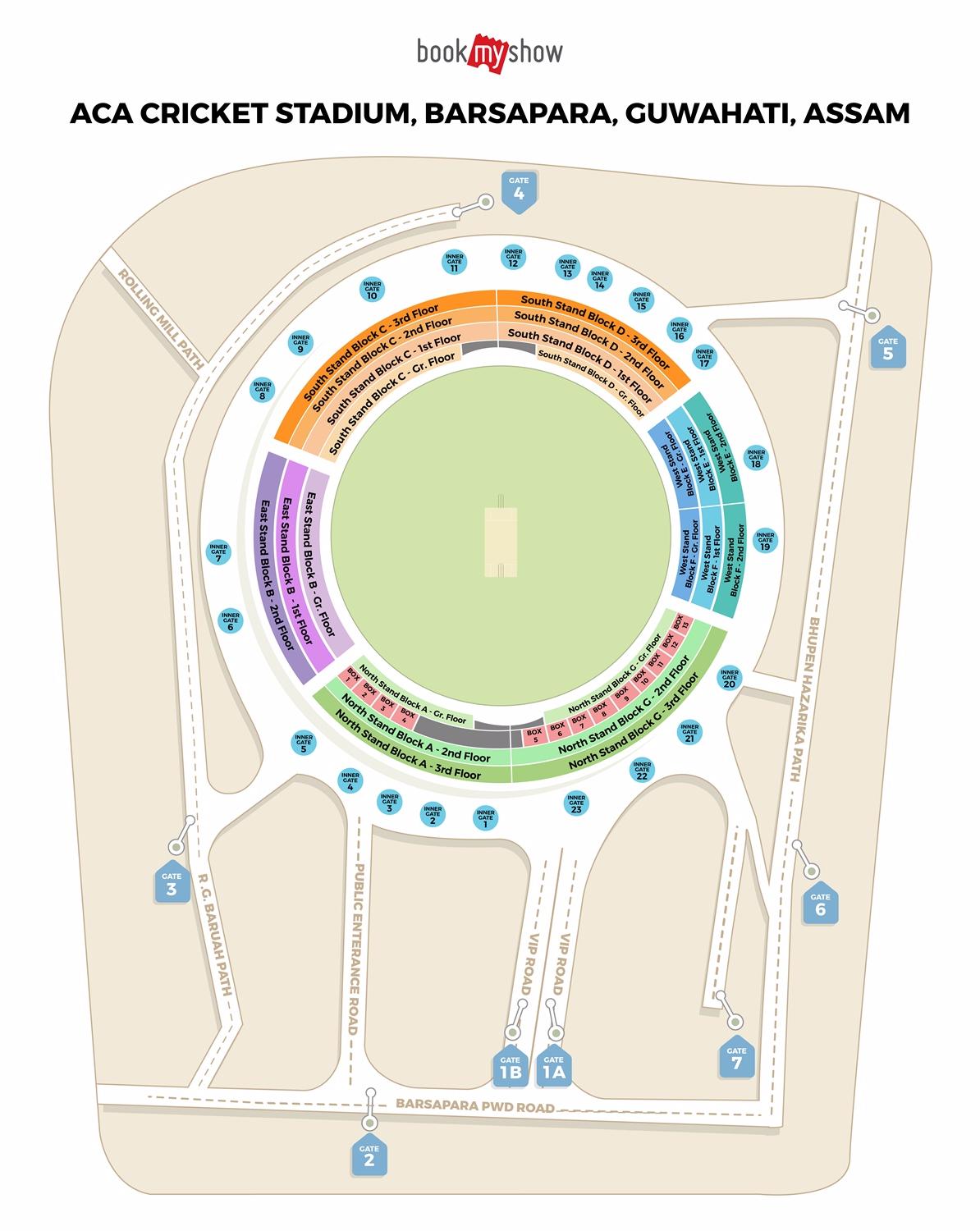 Barsapara Stadium Map and How to Reach

Barsapara cricket stadium is located within the Guwahati city. It can be easily reached from the Guwahati Railway Station, Chhaygaon, as it is 6.5 Km away from stadium. However, if you are planning to reach here from Guwahati airport, it is a 1 hour drive. Distance of Guwahati Airport to Guwahati Stadium is more than 25 Km. Stadium is very well connected with the rest of the city.
Barsapara Cricket Stadium General Guidelines and Amenities
Barsapara cricket stadium is one of the modern cricket stadium of the country, being the newest one. The stadium is built while keeping all the important facilities in mind. It has ample amount of toilets and water drinking outlets. The food canteen is good enough, and seems like it can manage huge crowd. There might be certain restrictions for visitors, which should be kept in mind to have a pleasant experience of watching matches here. List of restricted items in Gauhati Stadium should go like; plastic bag and bottles are not allowed, no eatables and drinkables can be taken inside along with any item which can be thrown (coin, earphones, metal items), binoculars and video camera is also forbidden entry. Cricket stadiums in India are generally abide by these rules.

Few items which might be allowed, such as baby food and diapers etc. If any restricted item is checked while frisking at entry gate, it will be retained most probably. So it is advised to keep your pockets as light as possible while going to watch cricket match. Barsapara stadium parking facility is present and it is advised to reach there little early to avoid last moment rush.
The stadium is newest and hence all the infrastructure is in very good condition here. ACA has spend good amount of money to make it world class. Its media tribune has capacity of around 250, most in the country. Another quality of this stadium is Its state of the art broadcast centre. The stadium is said to have the most modern facilities, as compared to other stadium of India. Dr. Bhupen Hazarika Cricket Stadium is another Gem in the state of Assam, and it will shine in the years to come.