Houston Zoo Tickets Price 2023, Houston Zoo Hours, Houston Zoo Map
Houston Zoo is the most visited zoo of United States of America. Before making any plan, it is a wise decision to Houston zoo tickets price and Houston zoo hours. This zoo is located inside the Hermann Park and it is spread in area of 55 acres. Houston Zoo lights event is very popular among the visitors. Houston Zoological park is the most visited park of USA. More than 2.1 million people visit this zoo every year. This zoo houses 6000+ animal of 900 species. It is located in Houston city of Texas state. City of Houston is previous owner and from 2002 it is owned and managed by Houston Zoo Inc. which is a non profit organization. Houston Zoo opened around 100 years ago in September 1922.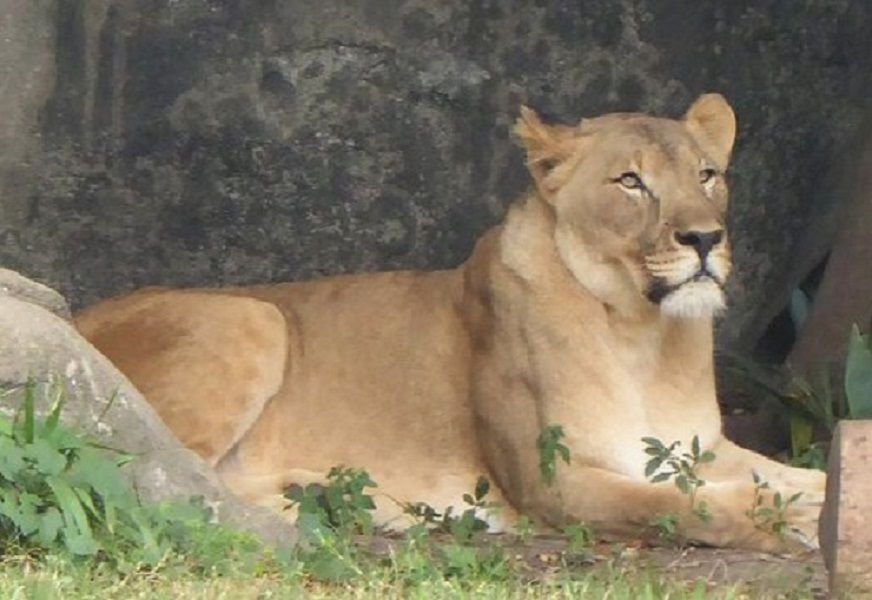 Houston Zoo is very famous among the local residents of Houston and Texas along with all over the US. It is one of the oldest and most visited Zoo in USA. It has many exhibits which attracts kids, adults and senior citizens. This zoo has all the facilities to entertain their guest and Houston Zoo if very popular among kids. Exhibits of Houston Zoo are birds, African forest, McNair Asian Elephant Habitat, Carnivores, Allen H. and Ethel G. Carruth Natural Encounters, Sea lions, South America's Pantanal, Reptile and Amphibian House, Texas Wetlands, Wortham World of Primates, John P. McGovern Children's Zoo and Bug House. McGovern Children's Zoo is very popular among the kids.
Houston Zoo Tickets 2023
People tends to check ticket prices of Houston Zoo before making any plan as it is helpful for them to make a plan in advance. Houston Zoo tickets online are available through official website. Purchasing online tickets helpful in save some bucks and it is more convenient than purchasing tickets offline. Online admission tickets are mandatory to all non member visitors and all members can visit the zoo without reserving the entry tickets.

Houston zoo admission tickets are kept nominal so that maximum number of people visit this wonderful zoo. We are sharing the Houston zoo entry ticket price below for non members. Houston zoo also offer flex pricing. In flex pricing, visitors can choose a day and time slot as per the discount. On some weekdays, Houston zoo entrance tickets are cheaper than regular pricing. It helps to zoo attract visitors during non peak time and it is helpful for visitors to save some bucks. In flex pricing, child and senior citizen tickets are 20% cheaper.
| Age Group | Houston Zoo Entry Ticket Price |
| --- | --- |
| Adult (13-64) | $21.95 |
| Child (3-12 years of age) | $17.45 |
| Senior (65+) | $17.45 |
| Infant (Under 3) | Free |
Houston zoo discounted tickets can be bought in advance by selecting time and date. Best way to save is to reserve Houston zoo tickets in advance to avail maximum discount.
Houston Zoo Free Days

On every first Tuesday of month, Houston zoo offers free entry to all the guest who are planning to visit the zoo. Online reservation is mandatory for all non members who are planning to visit on free on first Tuesday of the month. All members of the zoo can visit the zoo without any online reservation. Online tickets for Houston zoo free days are available 1 week before the Tuesday i.e. Wednesday 7 AM. Tickets for Houston Zoo is not available at entry gate. Houston Zoo discounted tickets are available for lone zoo benefit card holders, military person and college students.
Houston Zoo Hours
Knowing Houston zoo timings is very important before making a plan to this zoo. Houston Zoo hours are from 9 AM to 5 PM. Last entry time is 4 PM and Houston zoo closing time is 5 PM. Zoo opens at 9 AM. Zoo remains open on all 7 days of week. At the time of online reservation, check a time slot and visitors are allowed to enter the zoo as per the arrival time printed on the ticket.
Houston Zoo Membership

Taking Houston Zoo membership is a good way to visit the zoo without any prior reservation. Membership charges for a year are so low that you can cover the cost of membership in just two visit. Prior Houston Zoo reservation is also not required for zoo members and they can get entry inside the zoo from members entrance area. Details of Houston zoo membership cost is shared below.
| Membership Type | Cost per year |
| --- | --- |
| Family & Friends Premium | $299.00 |
| Family Plus | $199.00 |
| Family | $179.00 |
| Individual Plus | $139.00 |
| Senior 65+ | $159.00 |
| Flock Individual | $165.00 |
| Flock Plus | $270.00 |
| Flock Patron | $500.00 |
| Asante Bronze | $1200-$2499 |
| Asante Silver | $2500-$4999 |
| Asante Gold | $5000-$9999 |
| Asante Platinum | $10,000.00 |
Every membership comes with some exclusive benefits and unlimited entry of the zoo through the year without making any prior reservations. Higher price memberships have maximum benefits.
Houston Zoo Animals
This zoo has more than 6000 animals of 900 species. Here visitors can wide range of animals of almost all continent. Zoo is doing their best effort to houses the animals in their natural climate. Some of the Houston Zoo animals are Green Anaconda, American Alligator, Giant Anteater, Bald Eagle, Black Bear, Cheetah, Chimpanzee, Common clownfish, Asian elephant, Fossa, Giant River Otter, Masai Giraffe, Houston Toad, Komodo Dragon, Clouded Leopard, Ostrich, Red Panda, Sea Lion, Grant's Zebra, etc.
Houston Zoo Webcam

As of now, Houston zoo has installed some webcams at the animals enclosure so that animal lovers of all over the world can see the live actions of Houston zoo animals. Giraffe, Giant River Otters, Gorilla, Elephants, Ants, Chimpanzee and Flamingo can be seen through webcam.
Houston Zoo Map
Houston Zoo spreads in an area of 55 acres and a updated map of Houston Zoo makes trip comfortable and pleasant. We have shared the Houston Zoo map below which covers all the important information of the zoo. Guest services, member services, first aid, safety services, restrooms, lost and found counters, nursing station, restaurant, shopping area, dining area, entrance area, exit area, wheelchair and stroller rental space, parking area etc. clearly depicted on the map of Houston Zoo. Places of interest, things to do, photography area, etc. are also drawn on the map.
Nearby street, animal enclosures, water bodies, Galapagos island, adventure bridge are also shown on the map clearly. Map is very useful to see all the important attractions of the park without missing anything.

Houston Zoo Directions and Location Map
We have shared the google map of Houston zoo map which is useful to check Houston zoo directions from your place.
Houston zoo is located Hermann park in Houston city. This place is well connected with the city. Following Google map is the best option to reach to the Houston zoo. METROrail is one of the best option to reach the zoo without any parking hassle. De-board the train at Hermann Park/Rice U station and cover the rest of the journey by walk through the Japanese garden. Hermann Park/Rice U station is located on red line of METROrail. Rideshare is another option of public transport to reach the zoo.
Houston Zoo Parking
Houston zoo has no parking lot of their own. Car can be parked at Hermann park in free. This parking lot fills very quickly, so it it is advise to come at the zoo on time or make your parking arrangement in advance. Some other parking lots are available nearby which can be used to park the car in free. We are sharing Houston zoo parking map where all the parking lots are clearly depicted on the map.
Stroller and Scooter Rentals at Houston Zoo
Zoo authorities provide wheelchairs, strollers and scooter on rent for their guests. These are available near the entry gate on rental basis. We are sharing the rate list of Wheelchairs, strollers and scooters below.
| Manual Wheelchairs | $12.00 |
| --- | --- |
| Single Strollers | $12.00 |
| Double Strollers | $16.00 |
| Wagons | $16.00 |
| Motorized Scooters | $32.00 |
| Motorized Scooters with Sunshade | $40.00 |

This place is kids and seniors friendly. People with disabilities can also enjoy this place very easily.
Houston Zoo Lights
Houston zoo lights is most popular event of the Houston zoo. People of all over the state and US came to see this event. This events held every year during holiday season from November 15 to January 09. Houston zoo light hours are from 5.30 PM to 9.30 PM.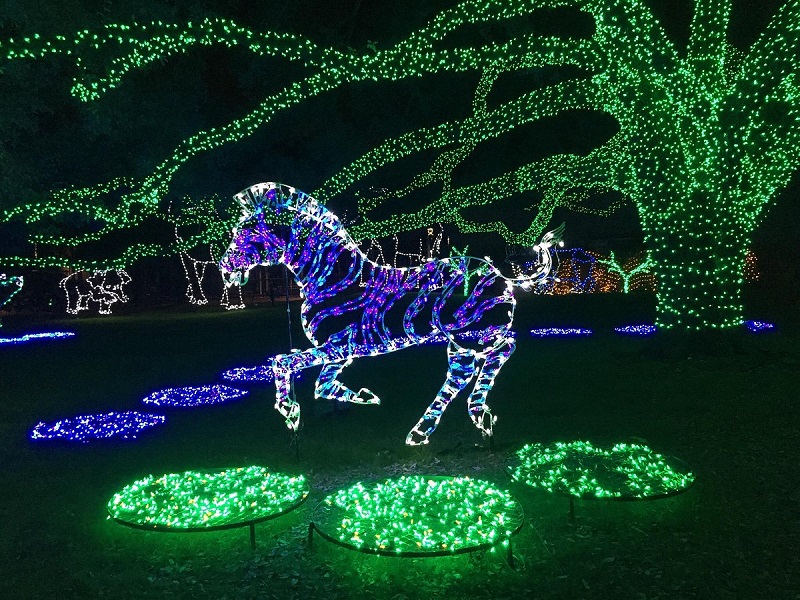 During the light hours all the animals are closed in their exhibits and visitors can not see any animals. Last entry allowed till 9.30 PM. Visitors have to follow the path marked by the authorities. Houston zoo light ticket prices are same for adults and child. Infant and kids under 3 are entitled for free entry. Houston Zoo light tickets can be reserved online only, these tickets are not available on entry gates. To get some discount on zoo tickets, it is advisable to book Houston Zoo tickets in advance.

Many hotels and restaurants are located near Houston zoo. It is situated in main locality, therefore, all the amenities are available here easily.