Birmingham Zoo Hours 2023, Ticket Prices, Birmingham Zoo Map
The Birmingham zoo is located In Birmingham, Alabama in the USA. The Birmingham zoological park was established in 1955 and is managed by a non-profit organization. It participates in the AZA Species Survival Plan and it is also a member of the Association of Zoos and Aquariums (AZA). The Birmingham Zoo has over 800 animals of 200 different species. The zoo area is spread over a large 122 acres of land. The Zoo was earlier called Jimmy Morgan Zoo, and it was renamed the Birmingham zoo in 1955 by the actions of Bob Truett, the first zoo director. The Zoo has seen continuous development throughout the years. It organizes various events around the year for all age groups. The main attraction includes ZooLight Safari, Breakfast with Santa, Pokemon Go player's event, Boo at the Zoo, Trails of Africa, etc.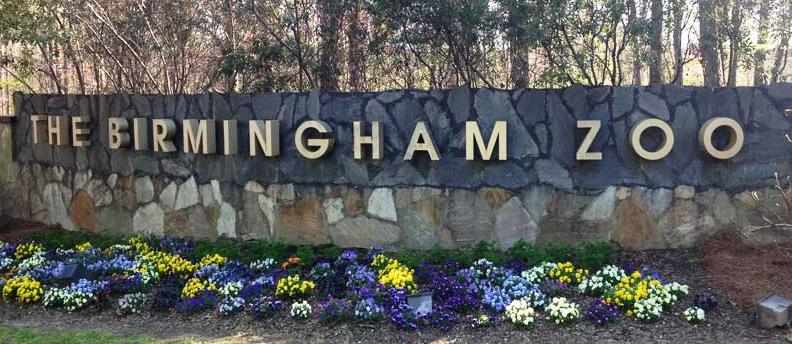 Birmingham Zoo Animals
The Birmingham Zoo and aquarium is home to a large number of animals, birds and reptiles. Animals from various part of the world are present here. The list of animals is rather long, some of the main attractions include African Elephant, African Lion, Angolan Black and White Colobus Monkeys, Black Footed Cat, California Sea Lion, Bobcat, Grant's Zebra, Malayan Tiger, Nile Hippopotamus, North American Black Bear, Red Panda, Reticulated Giraffe, Southern White Rhinoceros, African pygmy goose, African white-backed vulture, American white pelican, Bamboo partridge, Barred owl, Congo Tetra, Dusky krib, Rainbow Shark, Burmese python, etc.
Birmingham Zoo Tickets Price 2023
The Birmingham Zoo admission prices differ for various age groups. Tickets are different for events and special occasions. Alabama Birmingham Zoo prices are given below:
| Type / Category | Price |
| --- | --- |
| Adults | $18.95 |
| Child (2- 12 years) | $13.95 |
| Baby under 2 years | Free Entry |
| Senior Citizens (65+) | $15.95 |
| Military | $15.95 |
| First Responders | $15.95 |
| College Student | $15.95 |
| SNAP/EBT Discount | $10 per Adult and $7 Child (2-12 years) |
Birmingham Zoo Hours 2023
| Particlurs | Timings |
| --- | --- |
| Wednesday to Sunday | 9 AM – 5 PM |
| Last Entry | 4.30 PM |
| Weekly Off | Monday and Tuesday |
| Train | 9 AM – 4.30 PM |
| Splash Pads | 9 AM – 4.30 PM |
The Birmingham Zoo is open 5 days a week. The Zoo is open 5 days a week from 09:00 AM to 05:00 PM. Birmingham Zoo hours remain the same for all the regular days. In case of special events like sunlight, timings may change. Every Monday and Tuesday, Birmingham Zoo remains closed. The Train rides and Carousal rides in the Zoo operate between 09:00 AM to 04:30 PM.
Birmingham Zoo Map 2023
We have included Birmingham zoo map from official website so that visitors can take advantage of the map. All the animal enclosures are clearly depicted on this map. ATM location, restroom, nursing area, food courts, first aid, wheelchair rental office locations are also drawn on the map.
Lakes, gardens, and other locations of the Birmingham zoo are clearly shown on the map. This map is very useful to cover all the attractions of Birmingham zoo easily.
Birmingham Zoo Light Special Event
The Birmingham ZooLight Safari is a special event that is held after the Zoo closing timings. At this event, no animal is exhibited. The ZooLight Safari timing is from 05:00 PM to 09:00 PM. The ticket price is 10$ for admission in this event. The ZooLight event goes for 17 nights in the month of December, where there is music, light, various rides and slides. The event is weather dependent.
Birmingham Zoo Membership
The Birmingham Zoo membership plan has various benefits. The membership plans are divided into various categories which include Individual plans, companion plans, Family plans, and Family Plus plan. There is a facility for taking additional add-ons on the membership if the need comes. The membership plan allows you to visit the Zoo the unlimited number of times any day of the year. For the members, Zoo allows 30 minutes early entries in the Zoo. Parking, admission to ZooLight safari, and one-year subscription to Animal-Tracks, is free for all members. Gifts, Wells Fargo Boo at the Zoo, classes, camps, events, and birthday parties are available at discounted prices for the members of Birmingham Zoo, AL.
Birmingham Zoo Location Map

The Birmingham Zoo is located at 2630 Cahaba Road, South of US 280/31. The Zoo is reachable from various nearby highways.
Birmingham Zoo Address and Information
| Information | |
| --- | --- |
| Address | 2630 Cahaba Rd, Birmingham, AL 35223 |
| Contact No. | +1 205-879-0409 |
| E Mail | ppendleton@birminghamzoo.com |
| Online Tickets | tickets.birminghamzoo.com |
| Offcial Site | birminghamzoo.com |
The Birmingham Zoo is spread over a large area and is home to various animals. It is a good place to visit for various age groups. The facilities provided by the Zoo also make it accessible and worthy. The overall review of the place is good. Also, the Zoo management carries out a number of special events during various seasons, making the visit a unique experience each time.
Also Check Montgomery Zoo and Alabama Gulf Coast Zoo.