Sanjay Lake Park East Delhi and Adventure Park Information
Sanjay Lake is a huge man-made lake located in east Delhi, India. This lake was developed by Delhi Development Authority is 1970s. Sanjay Lake opened for general public in 1982. Sanjay Jheel is an artificial lake that was maintained by DDA from 1982 to 2009. Since 2009 it has been maintained by the Delhi Tourism Department. The lake develops in a huge forest area of 170 acres and this area is also known as a Sanjay lake park. The lake is situated in the middle of Sanjay jheel park in an area of 42 acres. Due to its large area, it is one of the largest lakes of Delhi. Boating is one of the most famous activities of this lake.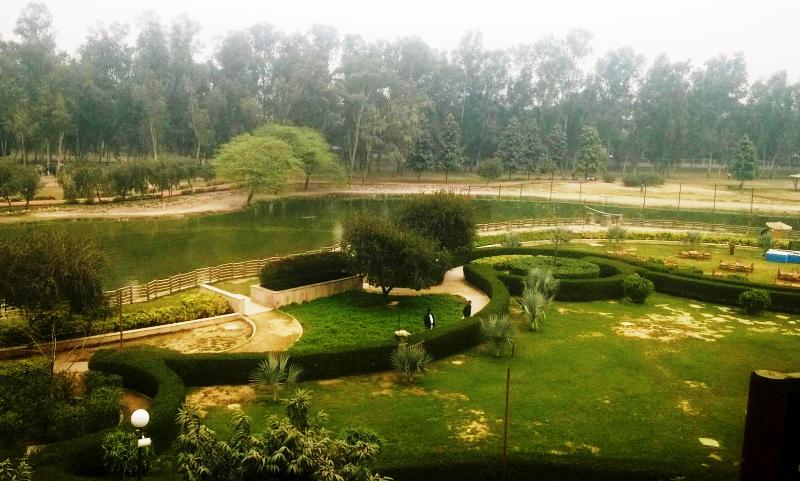 About Sanjay Lake, Delhi
The Jheel is surrounded by the residential colonies of Mayur Vihar, Kalyanpuri, and Trilok Puri. It received water from flood and rain. Sanjay Lake is the tourist attraction of East Delhi and of the hidden gem of Delhi. Many people of Delhi are not aware of this huge and wonderful lake on the boundary of the city. It is a very calm and peaceful place far from the hustle bustle and chaos of the city. As per the locals, around 90 species of migratory birds can be spotted here. Many indigenous trees is also situated inside the park along with different varieties of flowers and plants.
Sanjay Lake Boating, Adventure Park, and Activities
An Adventure Park is also set up here on 16 December 2015. This park is under the supervision of the Delhi Tourism and Transportation Development Corporation (DTTDC) and Delhi Development Authority (DDA) under the Public-private partnership (PPP) model. Various activities are here, including boating, beach volleyball, archery, jungle, house, tree top course, etc. Sanjay Lake boating is one more famous and searched activity of Sanjay Park. It is among one of the few lakes of Delhi, where visitors can enjoy boating. Visitors can enjoy the boating in large lake of East Delhi. Paddle boat and raft boats are available inside the Delhi Sanjay Lake Park. The boating experience is very good here in the calm surroundings.
Sanjay Lake Park Timings, Entry Fee
Sanjay Lake timings are 6 AM to 8 PM throughout the week. There is no weekly off and it remains open throughout the year. Sanjay Lake Park entry fee is free. Sanjay Lake adventure park entry fee is 10 Rs per person without any adventure activity.

Sanjay Lake Boating Charges and Other Activities Rate
Sanjay Lake boating charges are 100 per person for a 20-minute ride. Other activities ticket charges and cost of Adventure Park located in Sanjay Lake park is listed in below table.
| Particulars | Entry Fee |
| --- | --- |
| Adventure Park Entry Fee | 10 Rs |
| Boating | 130 Rs per Person for 20 Minutes (Free soft drink) |
| Beach Volley Ball | 50 Rs per Person for half hour |
| Archery | 10 Rs for 10 Shots |
| Jungle House for Kids | 250 Rs per child upto 3 feet 6-inch height |
| Package Ticket | 350 per person (includes tree top, archery, boating with soft drink) |
Sanjay Lake Park Map, How to Reach and Nearest Metro Station
It is located near to Patparganj and Mayur Vihar of East Delhi. Many metro station of blue lines are convenient to reach Sanjay Lake. Mayur Vihar Phase 1 Extension Metro station is the nearest station from here. It is just 3 KM away from here. Other nearby stations are Mayur Vihar Phase 1, New Ashok Nagar and Akshardham metro station. Rest of the journey can be covered by Bus, Auto Rickshaw or Cabs. Akshardham Temple is one of the most visited attraction of Delhi and it is very near to this lake.
Sanjay Lake Park Facilities
Basic facilities are available on the premises of the park for the convenience of the visitors. Parking is available here. Toilets and food court are situated inside the park. Photography is permitted inside the park. It is a good place for adventure lovers, photo fanatics, etc. Kids will surely love this place. It is a good place for couples, families and friends for a picnic and outing.
Also visit India Gate, Purana Qila for boating. Also check Garden of five senses, Buddha Garden, Lodhi Garden, and Japanese Park for couple's visit.