India vs Australia Hyderabad Tickets Price 1st ODI 02 March 2019
India vs Australia Hyderabad Tickets information is placed on this page. Australia will be playing second one day international match in this ground as Day night match. Match will start from 1.30 PM as per Indian time and weather will be pleasant. India vs Australia Hyderabad Tickets price will be shared few weeks before the match. Tickets are out for sale through eventsnow website.
Rajiv Gandhi International Cricket Stadium (Uppal Stadium) is the only international cricket stadium in Hyderabad. The stadium is located in Greater Hyderabad, Telangana. Rajiv Gandhi cricket stadium has a seating capacity of 33,000 which is a big number and the stadium is also spread over a large area of 16 acres. It is the home ground of the Hyderabad cricket team and the Hyderabad Sunrisers (IPL Team). The stadium is owned by the Hyderabad Cricket Association. North end and Pavillion end are the names of the ends of this stadium. This stadium hosts One day international (ODI) matches, test matches, IPL matches and first-class matches. This is one of the best stadium of the country and it has always been a delight for the cricket fans to watch matches here.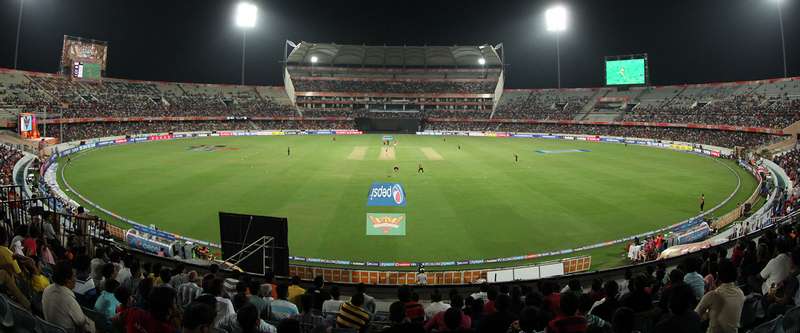 India vs Australia Tickets @insider
Rajiv Gandhi international cricket ground is ready to host an international match between India vs Australia. The India vs Australia 2019 Tickets Hyderabad will be available on insider mobile app or desktop site. First ODI match of Australia tour of India will be played in this stadium on 02 March 2019. India Australia Hyderabad tickets price expected to start from 750 Rs and maximum ticket price might go in 5 digits..Ticket rates depends on match type, opponent team, stand, seat type and few other factors. India Australia Tickets can be booked by visiting insiderwebsite.
IPL Tickets Price in Hyderabad
IPL ticket prices for Hyderabad stadium already shared. As per the expectations, we are hoping that the ticket price might starts from 500 Rs and they will completely depend on the match type and opponent team. GST addition will affect the SRH ticket rates. Ticket rates start from 500.
Uppal Stadium IPL 2018 Ticket Booking Procedure
The Hyderabad stadium IPL ticket booking has become quite simple, it could be done online. You can book SRH IPL tickets by visiting the bookmyshow.com website or mobile app. Once tickets are booked, the entry pass for entering the stadium is needed to be collected from the Box Office. The box office is located near the stadium, just outside the stadium. The card which is used for online payment along with the photocopy of online tickets should be taken while collecting the entry pass from the box office.

How to Book Rajiv Gandhi International Cricket Stadium IPL 11 Ticket
Here are few steps for booking IPL tickets online at any time of day. The tickets are available on eventsnow.
Login to ticketing website .
Select the match, date, price and ticket quantity from stadium layout.
Now select the seat from the seating layout.
After making the payment, you can collect the tickets from the box office. The box office address details will be given on the checkout page.
Also know about Feroz shah Kotla Stadium and Mohali Stadium.
Rajiv Gandhi Stadium Map
General Guidelines


While leaving for the Rajiv Gandhi international stadium, you should keep a note of a few of the things if you want to have a better experience. After collecting the entry pass from the stadium, you can check the gate number printed on it. You have to take that gate to enter the stadium and reach to your respective stand. The stadium security allows only a small number of things inside the stadium. So avoiding carrying unnecessary items is highly recommended. Try to avoid taking anything else than a wallet and mobile. The list of restricted items is rather long, which goes as: Data cables, chargers, earphones, coins, metal objects, water bottles, plastic carry bags, binoculars, cameras, eatables or drinkable. However, some of the baby items are allowed such as baby diapers and baby food, etc. The security guards if detain any item, then chances of getting it back at the end of the match is rare.  So it is better to avoid any such case.
The entry gates of the Rajiv Gandhi stadium generally open 3 hours before the start of the match. So you can reach there early to avoid last moment rush and traffic. Rajiv Gandhi international cricket stadium official website is www.hycricket.org.
Stadium Facilities
The stadium is in good condition and it has all the basic facilities. The cafeteria present is also big and you will find descent food there. There are enough number of washrooms available. The stadium has various premium facilities which include commentators room. There are exclusive room for umpires and corporate boxes are also available in the stadium. The practice area is big enough and it has reception lounge. Its state-of-the-art dressing rooms for teams is something to boast about.
Rajiv Gandhi International Cricket Stadium Seating Arrangement
I am sharing the seating layout and map of the Uppal stadium. Seating map will help you to book cricket match tickets easily. It is also helpful in finding the seats in the stadium. All the gates, cricket stands, pavilions, parking slots, etc.  also depicted on the map along with seating arrangement.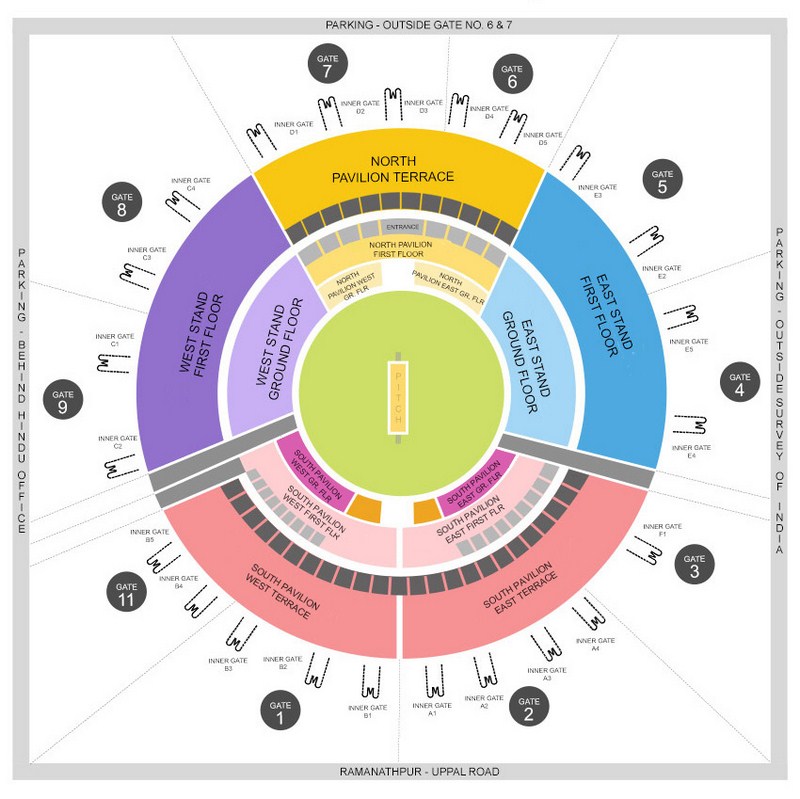 Rajiv Gandhi International Cricket Stadium Seating Arrangement (Image Source: bookmyshow.com)
IPL 2018 Match Schedule at Rajiv Gandhi Stadium Hyderabad
Below is the schedule of IPL 2018.
| Teams | Time | Day and Date |
| --- | --- | --- |
| Sunrisers Hyderabad SRH vs Rajasthan Royals RR | 20:00 IST (14:30 GMT) | Monday 9th April 2018 |
| Sunrisers Hyderabad SRH vs Mumbai Indians MI | 20:00 IST (14:30 GMT) | Thursday 12th April 2018 |
| Sunrisers Hyderabad SRH vs Chennai Super Kings CSK | 16:00 IST (10:30 GMT) | Sunday 22nd April 2018 |
| Sunrisers Hyderabad SRH vs Kings XI Punjab KXIP | 20:00 IST (14:30 GMT) | Thursday 26th April 2018 |
| Sunrisers Hyderabad SRH vs Delhi Daredevils DD | 20:00 IST (14:30 GMT) | Saturday 5th May 2018 |
| Sunrisers Hyderabad SRH vs Royal Challengers Bangalore RCB | 20:00 IST (14:30 GMT) | Monday 7th May 2018 |
| Sunrisers Hyderabad SRH vs Kolkata Knight Riders KKR | 20:00 IST (14:30 GMT) | Saturday 19th May 2018 |
IPL Final 2017 will be played at Rajiv Gandhi Intl. Cricket Stadium, Hyderabad. Tickets of IPL Final match will be available in Online and offline mode. Ticket booking sites of Final match will be announced soon. Check Complete IPL 2018 Schedule

IPL 2018 Stadiums – Hosting IPL 11 Matches
Download IPL 2017 Schedule PDF
Rajiv Gandhi Stadium Review
The Rajeev Gandhi stadium has already hosted a number of matches successfully. This stadium has given some of the unforgettable moments to cricket fans. The aura which is created when some of the crucial matches are played in this cricket stadium is just extraordinary. There is always a rush at the end and the beginning of the match near the stadium, so it is advised to use public transport for reaching the stadium. It would save your effort and time on parking and driving. The food which is served here is also good. The view of the stadium from the stands is also lovely.