Delhi Zoo Ticket Price 2018, Timings and Address
Delhi Zoo is also known as Chidiya Ghar is located near Purana Qila on Mathura Road. Delhi Zoo is one of the most visited and interesting place in Delhi. It attracts visitors of all age groups, from kids to senior citizens. Delhi Zoological Park spreads over an area of 176 Acre. Delhi Chidiya Ghar was officially inaugurated on 1 November 1959. It got the status Zoological Park in 1982 to make him the model zoo for other zoos in the country. The Zoo has more than 1300 animals of 130 species of birds and animals.
Delhi Zoo Information
The Zoo can be visited by foot or Battery operated vehicles. You can visit the entire Zoo on foot by following the route mentioned by Zoo authorities, However, this is so boring to visit the entire zoo in two hours. You need at least 4 to 5 hours to visit the entire Zoo of Delhi. Apart from Animal's Enclosure Bird section and reptile section is worth to watch. In Bird section, many colourful birds of all sizes are present such as white peacock, Macaw bird, White Vulture, Red Macaw, Kite, Grey Horn bill, Great Indian Hornbill, etc. In Snake section King Cobra, Python and other reptiles are worth to watch.

Latest Update: On the occasion of New Year, Delhi Zoo witness highest number of footfalls ever recorded. On 1st January 2018, 34350 tickets were sold from 9 counters of Zoo. Exact number could be more because kids entry is free inside the zoo. On 31st December 2017, more than 33000 tourists visited the zoo.
Animals in Delhi Zoo
The list of animals in Delhi Zoo is quite long. It has animals and birds from around the different continents of the world such as Africa, Asia, Australia, America, Europe. It has some world famous animals and birds such as White Tiger, Royal Bengal Tiger, Lion, Black Buck, Indian Rhinoceros, Leopard, crocodile, Emu, Gaur, King Cobra, Giraffe, Elephant, African Elephant, etc.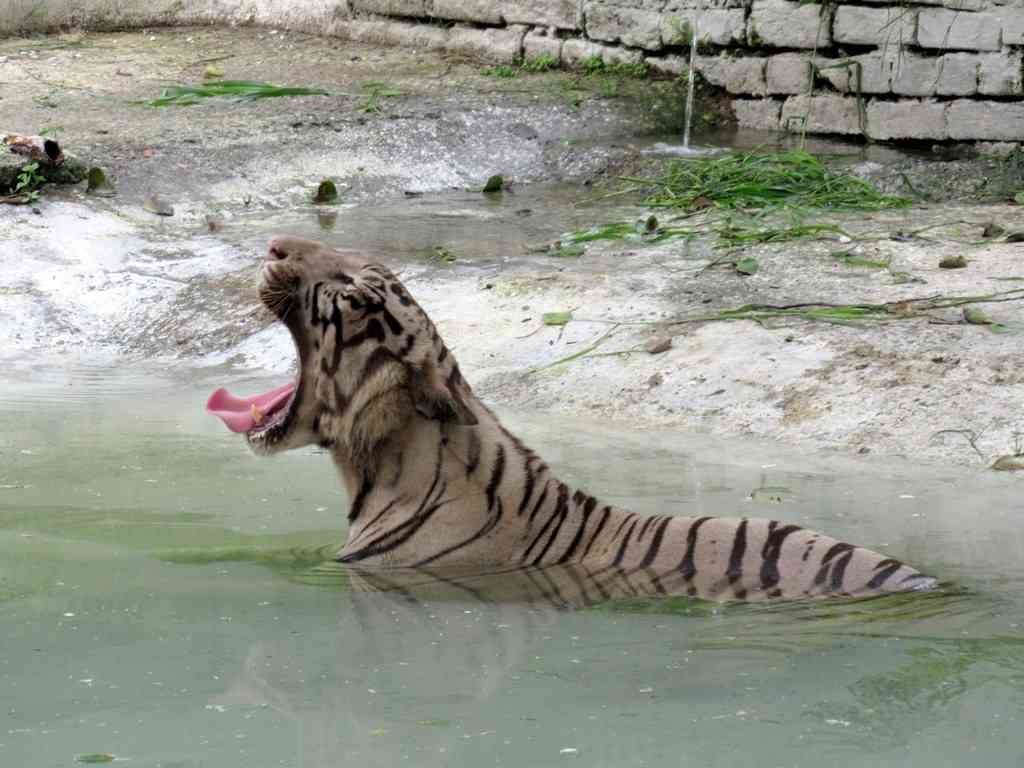 Delhi Zoo Timings, 2018 Entry Fee
Timings of Delhi Zoo are 9.00 AM to 4.30 PM from 1st April to 15th October (Summer) and 9.30 AM to 4 PM from 16th October to 31st March (winter). 4.30 and 4 PM are the zoo entry closing time and after entering the zoo, you can visit the zoo in a time frame of around two hours. It remains closed on Every Friday and National Holidays (26 January, 2 October and 15 August). It records the maximum number of visitors on Saturday, Sunday and Holidays. The Delhi Zoo Entry fee is 40 Rs per head for Indian National and 200 for foreigners. Check the table for the detailed ticket price.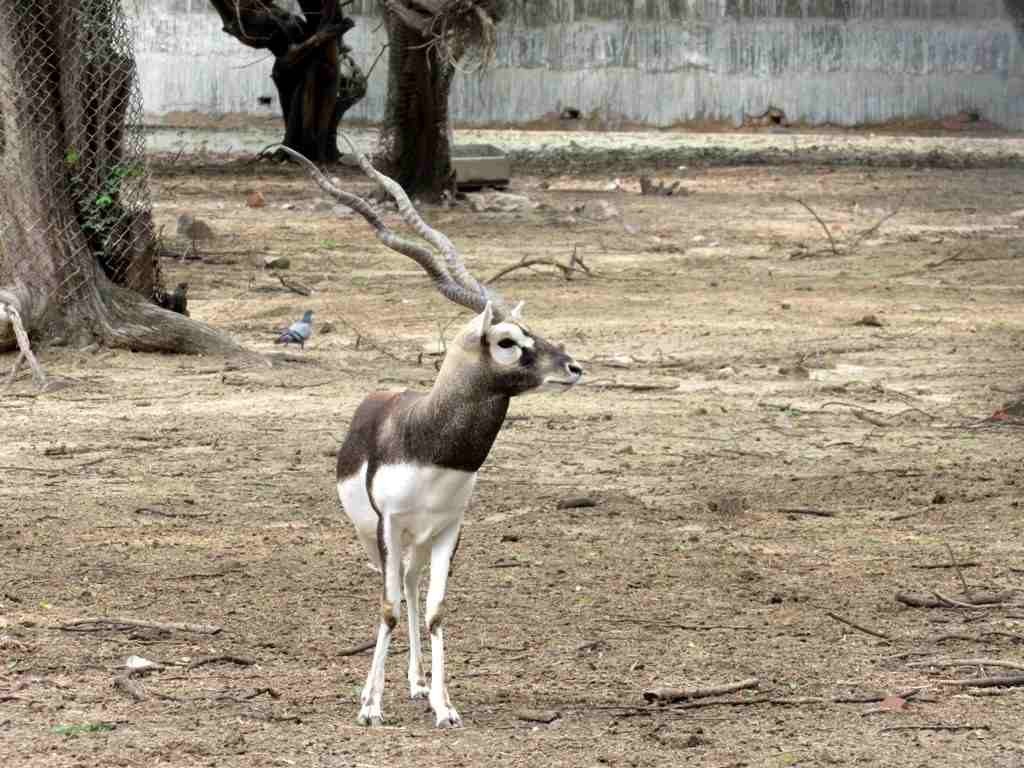 Delhi Zoo Ticket Price 2018 and Other Charges
| Category | Price in Indian Currency |
| --- | --- |
| Indians | |
| Adult | 40 |
| Child (Age 5-12 Years and Height 3 to 5 feet) | 20 |
| Child (Age below 5 Years and Height below 3 feets) | Free |
| Senior Citizen | 20 |
| Foreigners | |
| Adult | 200 |
| Child (Age 5-12 Years and Height 3 to 5 feet) | 100 |
| Child (Age below 5 Years and Height below 3 feets) | Free |
| Tatkal (Immediate) | |
| Visitors (Age above 5 years, height above 3 feet) | 200 |
| Visitors (Age below 5 Years and Height below 3 feets) | Free |
| Educational Tour | |
| Class I to V | Free |
| Class VI to VIII | 10 |
| Class IX and Above | 20 |
| Teacher/staff | 20 |
| Camera Charges | |
| Still Camera | 50 |
| Video Camera | 200 |
| Filming Charges | |
| Documentary | 2000/day |
| Feature Film | 20000 per day |
| Wheel Chairs | Free |
| Cloak Room for deposit items | 1 Rs per 1 Rs per piece |
Battery Operated Trolley Rates in Delhi Zoo
Multiple trolleys are running in the Delhi zoo for the convenience of the visitors. These are helpful for those who wants to cover the whole zoo in less time and don't want to walk less. These trolleys covers the zoo in less time and covers all the important animals and birds of zoo. Prices are reasonable and complete price chart is shared below.
| Category | Price in Indian Currency |
| --- | --- |
| Adult | 67 |
| Child 5-12 years | 34 |
| Child below 5 years | Free |
| Full Trolley Booking | |
| Small trolley 8 people for School Group | 399 |
| Small trolley 12 people for School Group (100 Rs concession for School) | 665 |
| Small trolley 14 people for School Group (100 Rs concession for School) | 799 |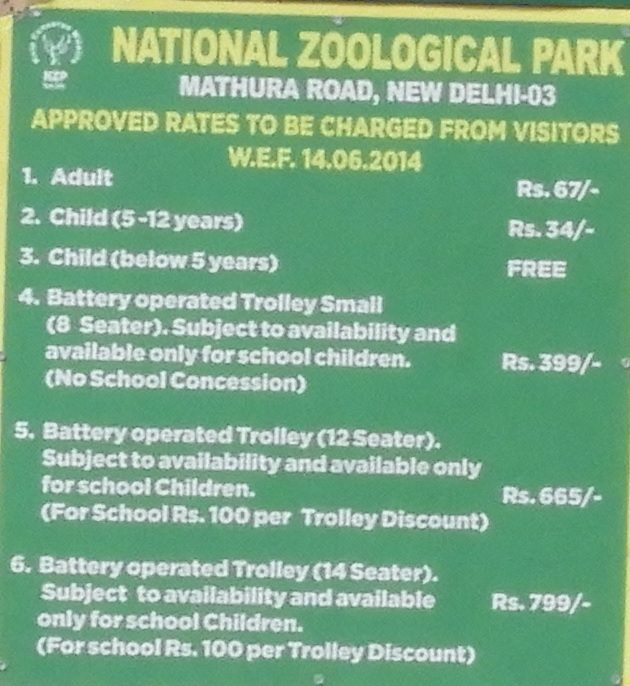 Delhi Zoo Guide Map
Zoo spreads in large area and guide map is very helpful to watch all the animals. This interactice map is showing all the animals, birds, reptiles location marker along with suggested route, toilets, drinking water, first aid, battery vehicle stop (BOT stop).
Birds in Delhi Zoo
Different types of birds are available in the zoological park. Some birds are in open space which came here from other parts of country and some are from other parts of the world. Some of the endangered species of bird are kept in aviary for the exhibitions of visitors. These are very rare and colorful birds. These beautiful birds are very hard to notice normally and other zoo parks. Some of the birds are painted storks, owl, fowl, golden pheasant, parakeets, different types of macaw, eagles, kites, etc. Some of the images are shared below.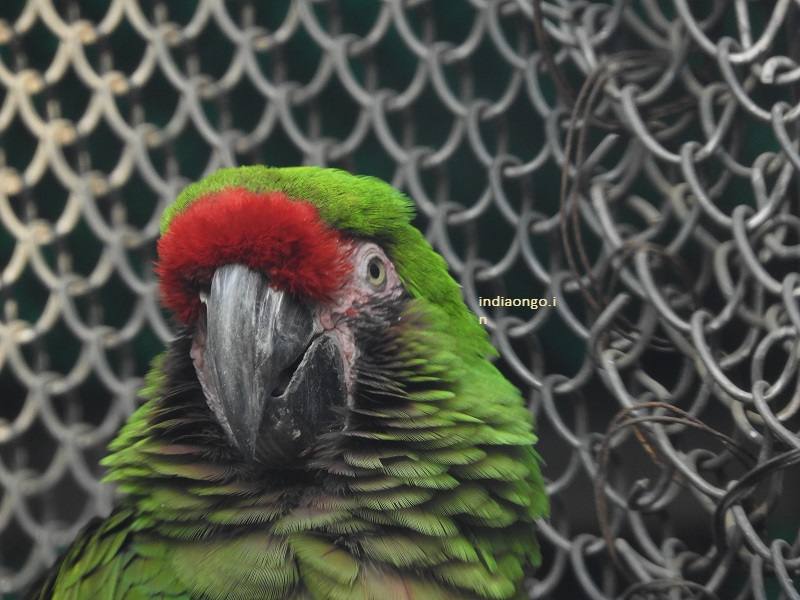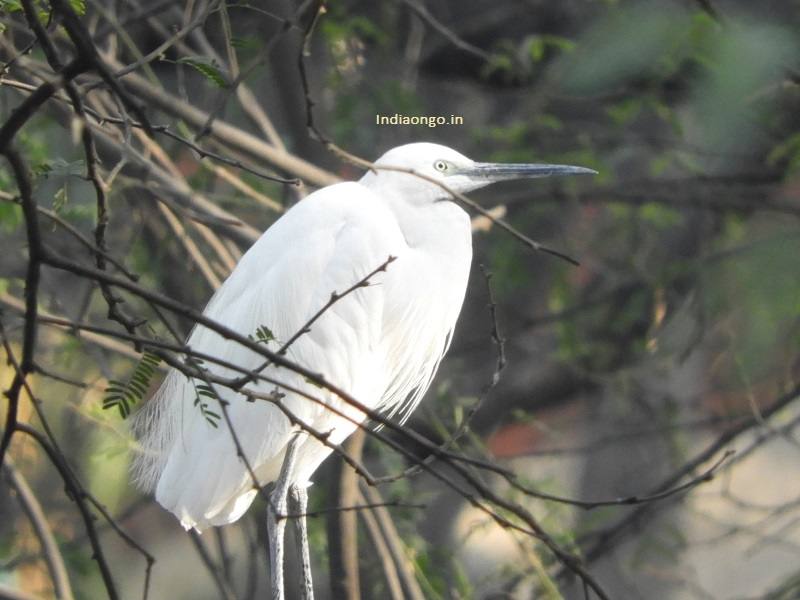 Reptile House
A reptile house is also set up in the zoo premise behind the white tiger enclosure. Reptile house displays some snakes in the glass enclosure. Snake house opening timing is same as zoo open time and closing time is 4.30 PM. If you enter late in the zoo, try to cover this place before 4.30 PM.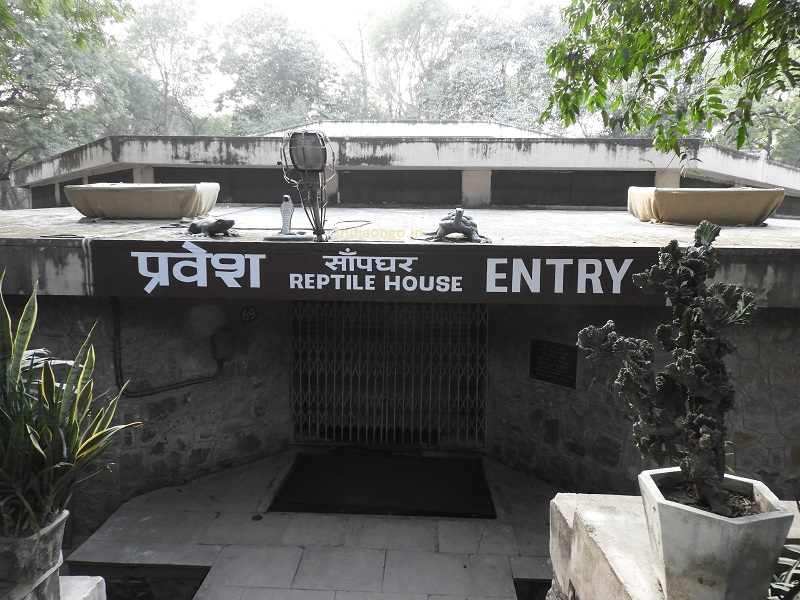 Restrictions in Delhi Zoo
There are some items restricted in Delhi Zoo for the safety of animals. Food, Alcohol, Tobacco, cigarettes, lighter, fire items, weapons, polythene, etc. are not allowed in the Zoo. You can take only water bottle in the Zoo. The cafeteria is located inside the Zoo. Do no tease and feed the animals and birds. Follow all rules and regulations of Zoo authorities. Do not try to go near the closures of the wild animals. The Delhi Zoological Park remains in Highlights in 2014 due to death of a person named Maksood in White Tiger Enclosure.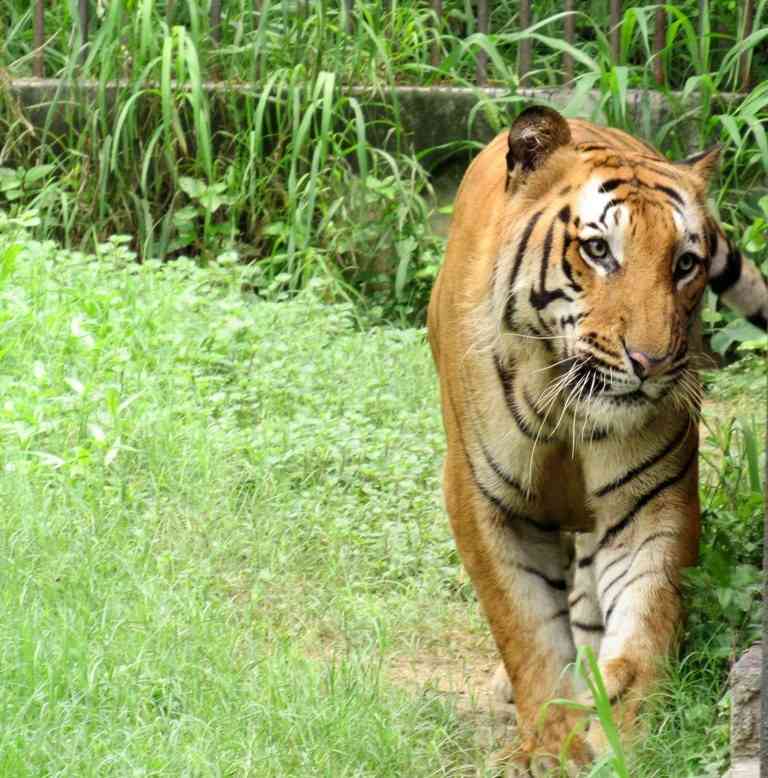 Facilities at the Zoological Park
It also has the facility of the cloakroom, and wheelchair for the physically handicapped person. Pai Two Wheeler and car parking is available at the Zoo complex, the canteen is present at outside and inside of the Zoo. Union Bank of India ATM is also present at near to the entry gate of the Zoological Park. Breastfeeding cabins are also opened by zoo officials for the conveniences of ladies who visit the zoo along with infants or kids. 10 pram are also available at the entry gate of the zoo.
Best Time to Visit and How to Reach
Winter is considered as the best time to visit the Zoo. Summers are quite hot in Delhi and temperature can shoot up to 45C. It is advisable to visit the Delhi Zoo on pleasant days. Also, in summers you may miss many animals due to harsh weather. In the summer afternoons most of the animals reside inside their cool enclosure.
Nearest Metro station are CGO Complex Lodhi Road and Pragati Maidan, both stations are 2 KM away from the Zoo. Also, you can take the bus service of the Delhi Transport Corporation (DTC). Auto and cab are also easily available to reach Zoo. You can also enjoy the boating at Purana Qila and India Gate, both are located at walk able distance.
Update: Good News, Delhi Zoo opened up for visitors after 84 days.
Check Places to visit in Delhi
Tourist can visit other places in Delhi like Humayun Tomb, Agrasen ki Baoli, Birla Mandir, India Gate, Purana Qila, Red Fort and other tourist places of Delhi.
Check the Delhi Zoo Images.