Delhi Zoo Timings, Entry Fee 2023 and Address
Delhi Zoo, which is also known as Chidiya Ghar in Hindi is located near Purana Qila on Mathura Road. Delhi Zoo is one of the most visited and interesting places in Delhi. It attracts visitors of all age groups, from kids to senior citizens. Delhi Zoological Park is spread over an area of 176 Acre. National Zoological Park was officially ingratiated on 1 November 1959. It got the status of Zoological Park in 1982 to make it the model zoo for other zoos in the country. The Zoo has more than 1300 animals of 130 species of birds and animals. The zoo is at the center of the city and it attracts a very high footfall during the holidays. Some of the local visitors come here to experience the feel of roaming in the forest in the middle of the capital of the country.



Delhi Zoo Information
The Zoo can be visited during most of the time of the year. You can visit the entire Zoo on foot by following the route mentioned by Zoo authorities. However, it could get boring if you plan to visit the zoo in two hours. If you follow the path suggested by authorities very strictly and do not spend much time at the enclosures, you can cover it in two hours. If you are on a tight schedule, this could be a wise decision. For the people visiting with their family or friends and have ample time, you need at least 4 to 5 hours. Inside the zoo, there are various places where you would definitely want to spend some time. Apart from Animal's Enclosure, Bird section and the reptile section are worth watching. In Birds section, many colorful birds of various species are housed. You would be able to see the white peacock, Macaw birds, White Vulture, Red Macaw, Kite, Grey Hornbill, Great Indian Hornbill, etc. In the Snake section, magnificent species such as King Cobra, Python are some of the main attractions among others.
Animals in Delhi Zoo

The list of animals in Delhi Zoo is quite long. It has some of the rare and exotic animals and birds from around the different continents of the world. You will find native animals of Africa, Asia, Australia, America, Europe. Some of the main attractions of this section are White Tiger, Royal Bengal Tiger, Lion, Black Buck, Indian Rhinoceros, Leopard, crocodile, Emu, Gaur, King Cobra, Giraffe, Elephant, African Elephant, etc.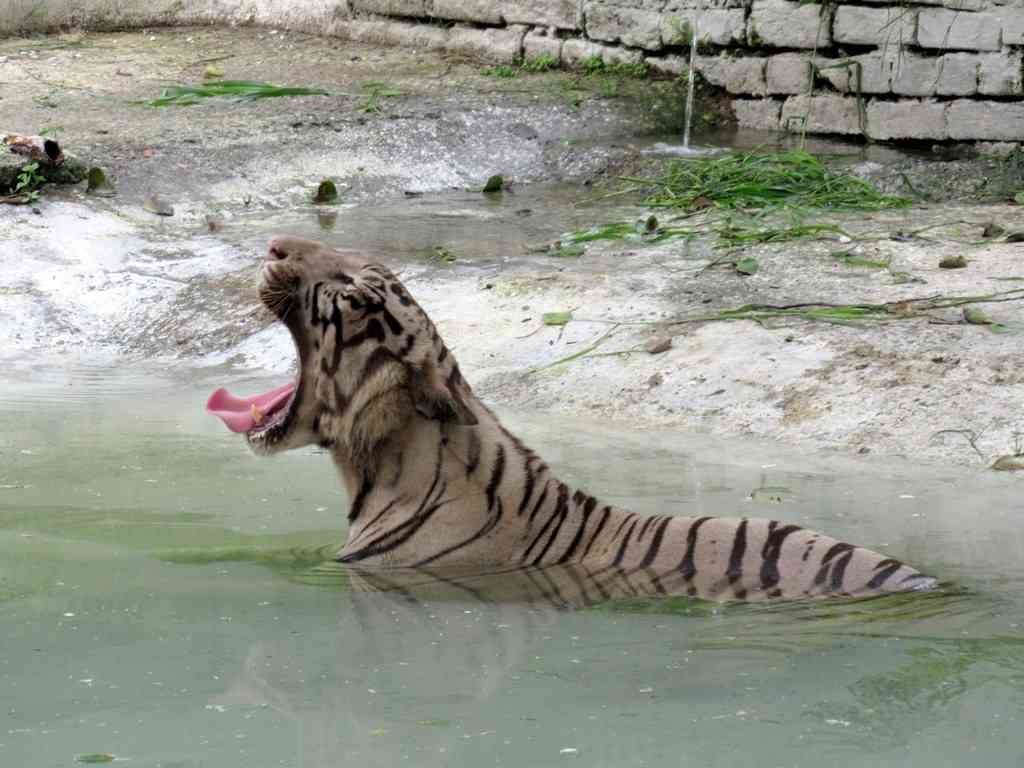 Delhi Zoo Timings
| Date | Timing |
| --- | --- |
| 1st April to 15th October | 9:00am to 4:30pm |
| 16th October to 31st March | 9:30am to 4:00pm |
| Weekly Off | Friday |
| Also closed on national holidays | |
Timings of Delhi Zoo are 9.00 AM to 4.30 PM from 1st April to 15th October (Summer) and 9.30 AM to 4 PM from 16th October to 31st March (winter). It remains closed on Every Friday and National Holidays (26 January, 2 October, and 15 August). The Zoo has different timings during the winter and summer season. The timing of sunset and sunrise differs during different seasons which led to the different timings of Delhi Zoo. It records the maximum number of visitors on Saturday, Sunday, and on Holidays.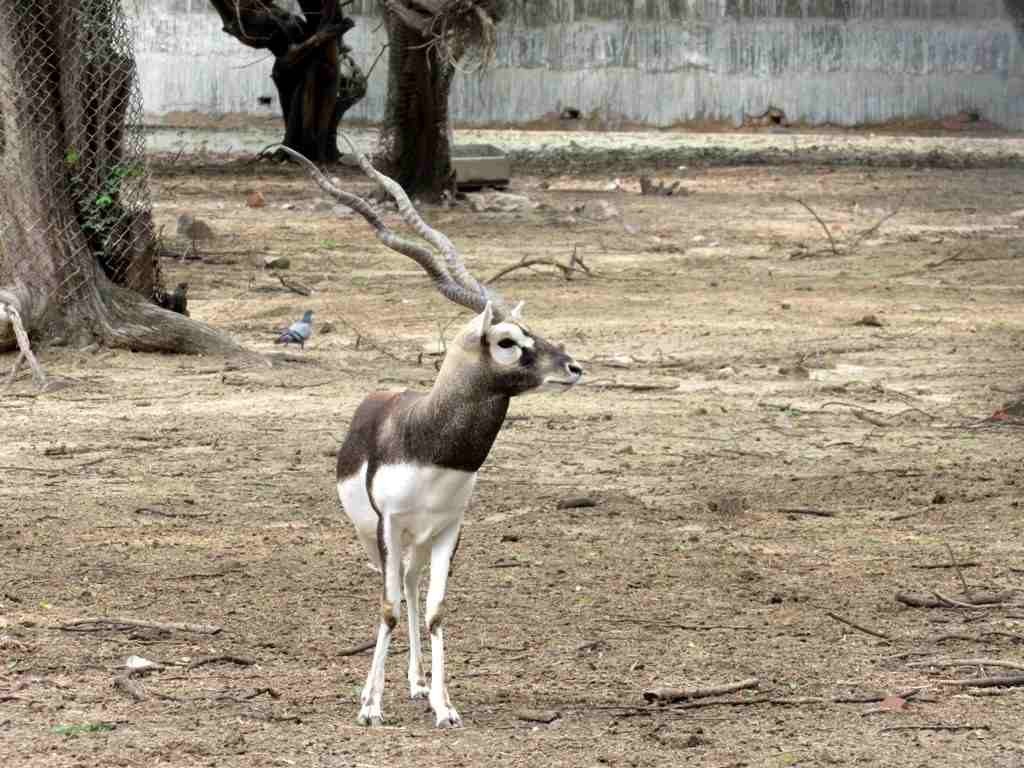 Delhi Zoo Ticket Price 2023 and Other Charges
The Delhi Zoo Entry fee is 80 Rs per head for Indian National and 400/200 Rs for foreigners. You may check the below table for the detailed ticket price. As of now, only Delhi zoo online tickets are available for sale through official website. It also has the facility of the cloak-room, baby pram and wheelchair for the physically handicapped person. Parking is available at the Zoo complex, outside the Delhi zoo ticket counter. The canteen is also present inside the Zoo. There is a rather big food court type set up right outside Delhi Zoo, there are multiple outlets here and the menu is also diverse. Delhi Zoo entry prices have been increased and we have shared the revised National Zoological Park ticket prices 2023 below.

| Entry Fee | Charges in Indian Currency |
| --- | --- |
| Indians | |
| Adults | 80 Rs |
| Children 0 to 5 Years | Free |
| Children 5 to 12 years | 40 Rs |
| Senior Citizens (60+) | 40 Rs |
| Foreigners | |
| Adults | 400 Rs |
| Children up to 5 Years | Free |
| Children 5 to 12 Years | 200 Rs |
| Foreigners SAARC Countries | |
| Adults | 200 Rs |
| Children up to 5 Years | Free |
| Children 5 to 12 Years | 100 Rs |
| Educational Tours / Student in Groups | |
| Student (1st -5 Std.) | Free |
| Student (6th -8th Std.) | Rs. 20/- per head |
| Student (9th And Above) | Rs. 40/- per head |
| Accompanying Staff | Rs. 40/- per head |
| Tatkal Tickets | Rs. 400/- per head |
| Battery Operated Vehicles Rate | |
| Adults | Rs. 70/- per head |
| Child (Between 5 -12 years) | Rs. 30/- per head |
| Child (Below 5 Years) | Free |
| Small 8-10 Seater (Per Trip) Without School Concession | Rs. 400/- |
| 14 Seater (Per Trip) For School Rs.100 per Trolly discount. | Rs. 800/- |
| 20 Seater (Per Trip) For School Rs.100 per Trolly discount. | Rs. 1100/- |
| Guide Map | Rs. 10/-Each |
| Camera Charges | |
| Digital Still Camera | Free |
| Amateur | Free |
| Documentary | Rs. 2000/- per day |
| Feature Film | Rs. 50,000/- per day |
| Other Facilities | |
| Wheel Chairs for physically challenged | Free of cost |
| Baby Pram Service | Free |
| Cloakroom | Rs. 1/- per piece of luggage |
Restrictions in Delhi Zoo
There are some restrictions inside the Delhi Zoo. There is a certain number of items restricted in Delhi Zoo for the safety of animals as well as visitors. Items such as Food, Alcohol, Tobacco, cigarettes, lighter, fire items, weapons, polythene, etc. are not allowed in the Zoo. Visitors are allowed to take the water bottle inside the Zoo. You may fill the water bottles from various water coolers present inside the zoo campus. If one feels hungry or the need for snacks, the cafeteria is located inside the Zoo. One must not tease and feed animals and birds. Visitors should follow all the rules and regulations laid out by the Zoo authorities. Do not try to go near the enclosures of the wild animals. The Delhi Zoological Park remained in news in 2014 due to the death of a person named Maksood in White Tiger Enclosure. To avoid any such incident in the future, zoo authorities have taken multiple steps. It is also the responsibility of the visitors to keep vigilant and avoid breaking any rules.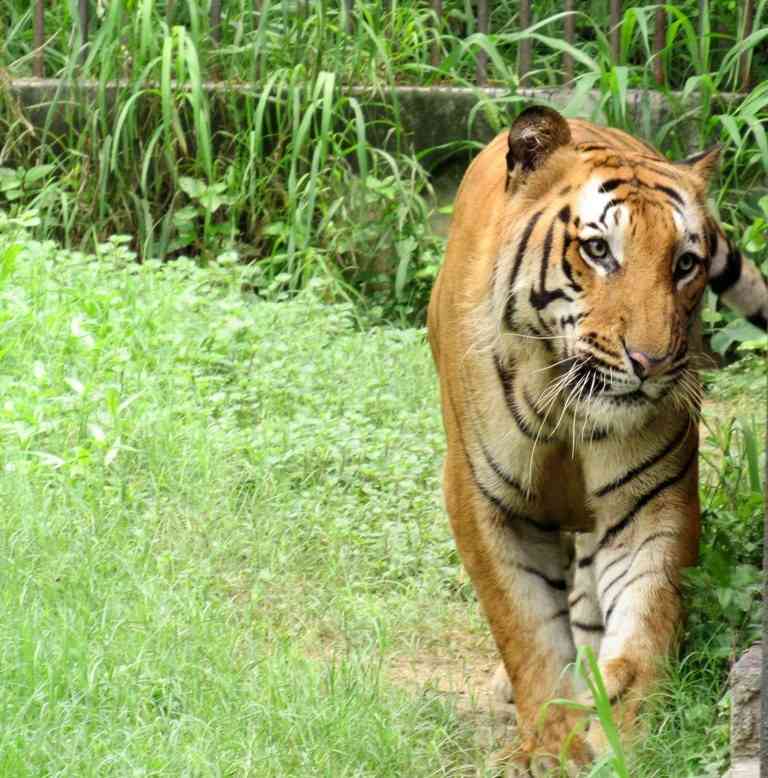 Best Time to Visit and How to Reach
The winter season is considered as the best time to visit the Zoo. The cold weather of the rest of the year doesn't turn out to be pleasant for the visitors. During the colder part of the year, animals also prefer to remain out of the enclosures. They come out to get some sunlight during the afternoon. However, during summers, animals and birds remain inside their enclosures most of the time of the day. Summers are quite hot in Delhi and temperature can shoot up to 45C. Hence, it is advisable to visit the Delhi Zoo on pleasant days. The winter season and holidays see a lot more visitors than in the summer holidays. The kids and children especially love this place. They can watch the animals and birds up close while remaining inside the city. This could be a magnificent experience for the younger ones, witnessing these magical creatures.



Nearest Metro stations are CGO Complex Lodhi Road and Pragati Maidan, both stations are 2 KM away from the Zoo. You can also take the bus service of the Delhi Transport Corporation (DTC). Auto and cabs are also easily available to reach Delhi Zoo. You can also enjoy the visit at Purana Qila and India Gate, both are located at walkable distance. You can visit all these places on the same day if start your day a bit early.
Delhi Zoo Map
National Zoological Park Delhi guide map is shared below which is useful in finding the directions inside the Delhi zoo. All the important amenities, animals, locations, path track, entry, exit, parking, ticketing counters, nearby roads, washrooms, etc are clearly depicted on the Delhi Zoo Map.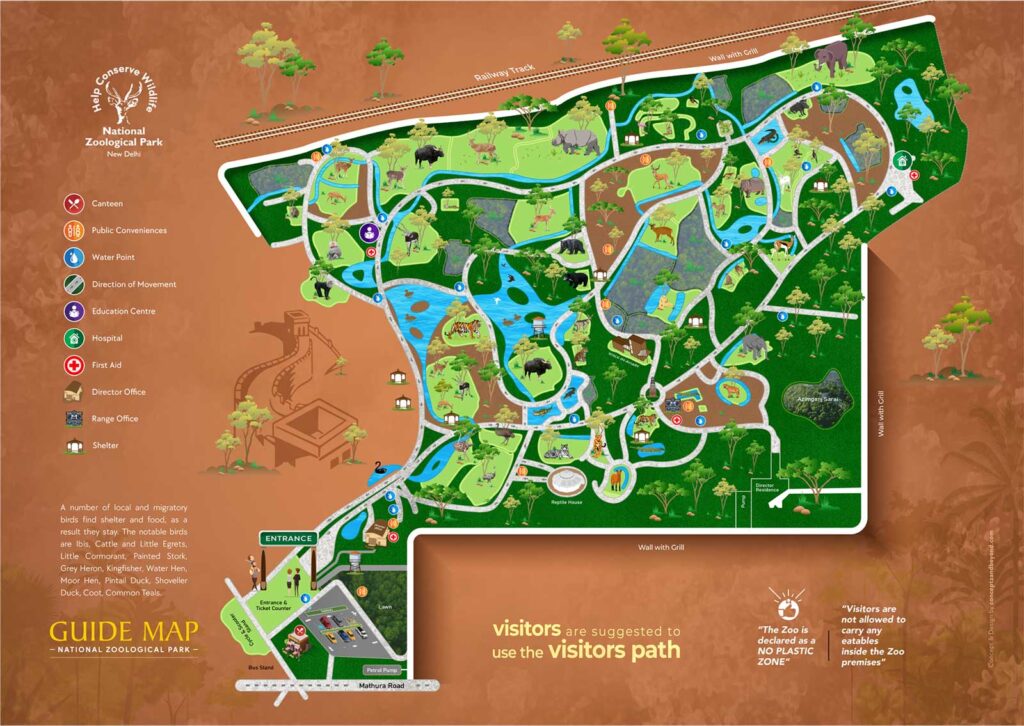 National Zoological Park Visitor Amenities
Delhi zoological park is a model zoo for all the zoos in India. It has many facilities for the visitors. It has battery operated cart, parking facilities for car, bus, two wheelers, direction signages, drinking water, cloakroom, souvenir shop, washrooms, wheelchairs, baby prams, ATM, guide map, etc.