Atlantic Water World Tickets Price 2023, Timings, Nearest Metro Station, Address
Atlantic water world is a water park located in New Delhi near the Kalindi Kunj area. It is one of the most visited Water Parks of Delhi NCR and during the summer months, it is visited by thousands of guests every day. It is a relatively new water park as compared to other water parks in Delhi NCR therefore the slides and other facilities are comparatively new. This place is preferred by families and friends. In Delhi NCR, May and June are vacation months for kids therefore it is a very popular place for kids.

People from where is parts of Delhi and NCR came to Atlantic water park to spend some time with their loved ones. It is an ideal place to get some relief from the scorching heat of the sun. It is located in the Kalindi Kunj area near to Kalindi Kunj metro station. This place has many water pools and water slides. Some of the water slides are unique in Atlantic water park. It provides a safe and fulfilling experience to its guests. We are sharing all the important information related to Atlantic water park ticket prices 2023, timings, nearest metro station, and address. Visitors can also navigate to the official website of Atlantic water park to get more information related to this amazing Water Park.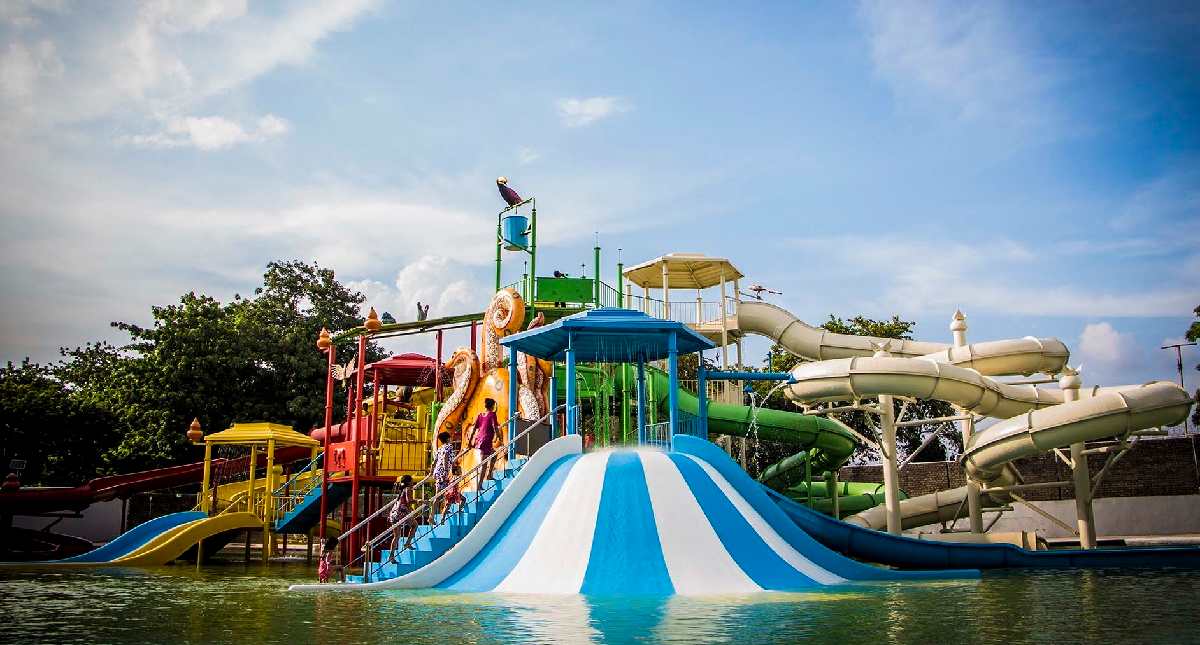 Atlantic Water World Ticket Price 2023
| Tickets Type | Adults | Kids (3 to 4 feet) | Senior Citizens (60+ age) |
| --- | --- | --- | --- |
| General Tickets | 1299 | 799 | 899 |
| Evening Slot (4PM to 7 PM) | 699 | 399 | 449 |
| Black Friday Sale | 799 | 799 | 899 |
| Midnight Madness | 699 | 399 | 449 |
| Bada Group Bada Discount | 1299 | 799 | 899 |
| Early Bird | 849 | 599 | 699 |
| Defence and Police | 799 | NA | NA |
| Satte pe Sataa | 861 | 799 | 899 |
| College Fest | 700 | 799 | 899 |
| Water Park + Buffet Lunch | 1299 | 999 | 1299 |
| Couple Water Park + Buffet Lunch | 2399 for Couple | NA | NA |
| Girls/Diva Day Out | 649 | 799 | 899 |
| Family of 4 | 849.75 | 799 | 899 |
| Family of 4 | 833.16 | 799 | 899 |
| Student Ticket | 749 | NA | NA |
*Above ticket rates are taken from the official website at the time of writing this article. Visitors should check the official website also for the confirmation of Atlantic water world tickets. Bada Group Bada Discount offers an additional discount on tickets.

Before visiting this water park, visitors tend to check Atlantic water world ticket rates so that they can plan their visit accordingly. General ticket rates for Atlantic water park Kalindi Kunj are 1299 for adults and a kid's entry ticket is 799. Children in the height range of 3 to 4 feet are considered as children. Kids below 3 feet in height are eligible for free entry. Visitors above 60 years of age are considered senior citizens and they're entitled to discounted tickets of 899 for entry. Multiple packages and deals are running on the official website from time to time. By using the deals on the official website visitors can buy Atlantic water world tickets at a very good price after a discount.
Black Friday sale, midnight Madness, Bada group Bada discount, family of 4, family of 6, early bird, Satte Pe Satta, student tickets, College Fests, couple water park plus buffet lunch, girls Day Out, defense and police are some of the important categories on the official website which are helpful in booking Atlantic water tickets online to save a very good amount. To get awesome deals and discounts on Atlantic water world tickets visitors should book Atlantic Water World tickets online from the official website online.

People who want to spend less time in the water park can opt for second-inning tickets. These tickets are valid from 4:00 p.m. To 7:00 p.m. Adult entry fee for the evening Slot is 699 and kids entry fee is 399. Senior citizen entry ticket is 449.
Atlantic Water World Timings 2023
The time of Atlantic Water World Water Park is 10 a.m. To 7:00 p.m. It opens at 10 in the morning and it closes at 7 in the evening. It remains open on all days of the week and has no weekly off. For evening slot also called as second inning times slot is 4:00 p.m. To 7:00 p.m.
Atlantic Water World Address and Nearest Metro Station
It is located near Kalidi Kunj metro station and the address is Kalindi Kunj Park, adjacent to Kalindi Kunj Metro Station. It is situated on the waterfront of the Yamuna River. Atlantic water world nearest metro station is Kalindi Kunj Metro station of the Magenta line. Kalindi Kunj is a well-known place in Delhi NCR and it is very well connected with all parts of Delhi NCR. Visitors can reach here via Delhi Metro, City buses, auto, and private vehicles.
Atlantic Water World Rides and Attractions
Some of the notable attractions and water rides of Atlantic water world are Gravity, Yippee Land, Baby Cool, Loopy, Family Pool, Wave Attack, Atlantic Cafe, Storm Eye, Tornado, Racer, Slow Flow, and Buffet Lunch Restaurant.

Atlantic Water Park Facilities
This water park has all the amenities and facilities for the comfort of its guests. Ample parking space is available inside the premises of the water park for the parking of vehicles. Costumes, deposit lockers, restaurants, etc. are situated inside the water park.