Heritage Charkha Museum CP Timings, Ticket Price, Nearest Metro Station
The Heritage Charkha Museum is a newly built museum in Connaught place in New Delhi. This Charkha museum of CP is dedicated to the history of Charkha and Mahatma Gandhi. This museum is built by the New Delhi Municipal Council (NDMC) and it was inaugurated on 21st May 2017. The dimension of Charkha is 26 feet long, 13 feet high and weights 5 tons. This Charkha is the biggest in the world and made of stainless steel. This Charkha can withstand in any weather condition and has very less maintenance cost.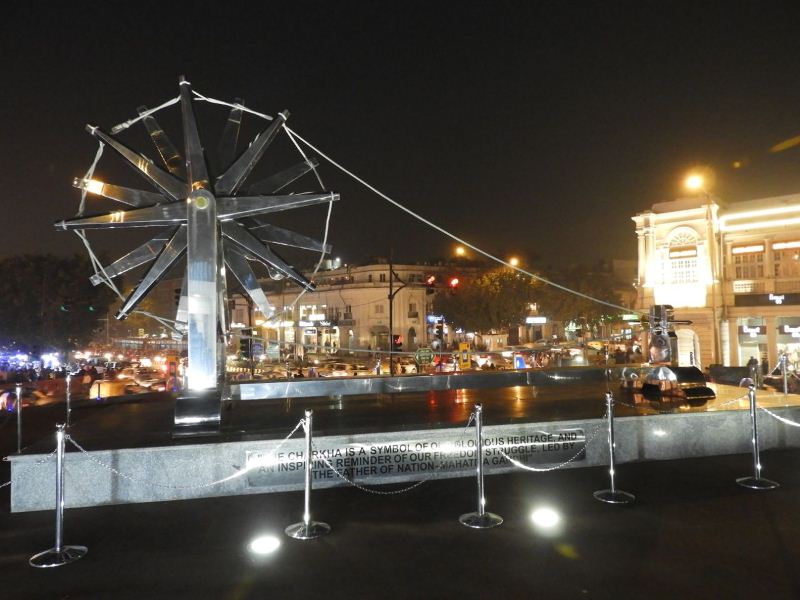 Charkha Museum CP Location
It is located above the Palika Bazaar and opposite to the Khadi India outlet and Regal Cinema. It is on the road opposite to the Bangla Sahib road. A small museum is also located in the Charkha museum complex, around 15 chakras display inside the museum. A working Charkha machine is also located inside the museum. Visitors need to remove their shoes before entering into the museum. Mahatma Gandhi statue, Gandhi ji ke 3 Bandar (Gandhi's 3 Monkey Statue) also installed in the complex. A wall painting of MK Gandhi ji is also depicted on the wall of the museum.
Charkha Museum Entry Tickets Price, Timings and Nearest Metro
The entry ticket price of Charkha museum is nominal and visitors need to pay only 20 Rs for per person. Timings of the NDMC Charkha museum is 10 AM to 9 PM from Sunday to Monday. A hand spun Khadi souvenir made by Tihar jail inmates is free with every ticket. The Rajiv Chowk metro station is the nearest metro station to reach here.
20 to 30 Minutes are sufficient to visit this small museum. Park is well maintained and easily accessible.
NDMC Charkha Museum Images