Humayun Tomb Timings, Tickets, Address and Information
Humayun's Tomb is situated in east Nizamuddin of New Delhi city near Nizamuddin Dargah. It was declared as UNESCO world heritage site in 1993. It is one of the most visited historical place of New Delhi and India. It is very popular among Indians and as well as foreign travelers. US President Barack Obama preferred Humayun's Tomb over Taj Mahal during his India visit in November 2010. This is the best time to visit Delhi monuments due to pleasant weather of city. In this post, check Humayun Tomb Timings and tickets price along with closing day of this beautiful monument.
Humayun's Tomb Full View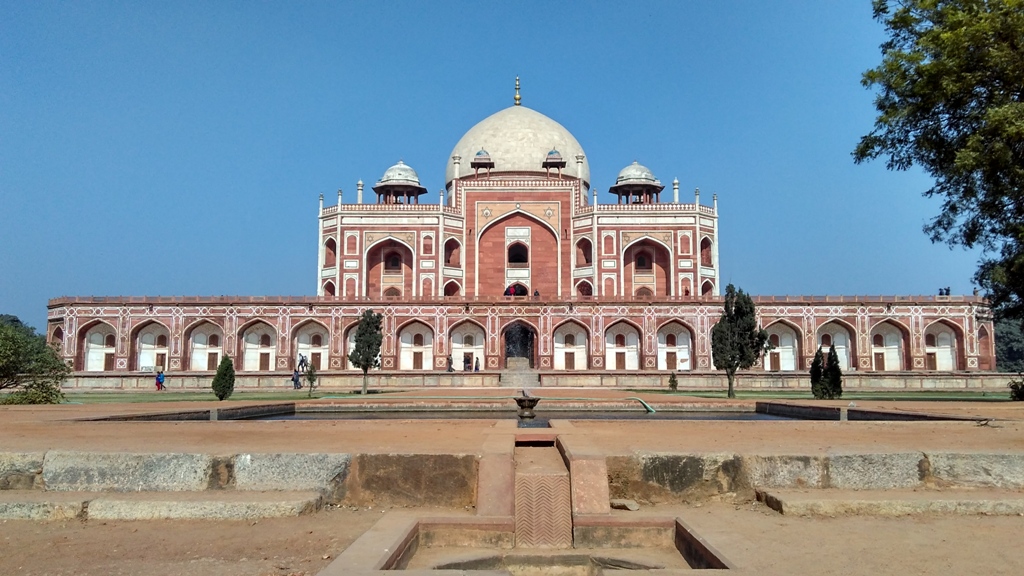 Mughal emperor's Humayun tomb is present in the complex and it was the first garden tomb of Indian Subcontinent. The tomb was constructed by Humayun's son Akbar and his widowed wife Bega Begum in 1569-70 with the help of Persian architecture Mirak Mirza Ghiyas who designed the tomb. It is based on Mughal architecture. The construction of main tomb took eight years and the area of complex is 30-acre (120,000m2). Red stone was firstly used for this structure at this extensively large scale.
Humayun Tomb Side View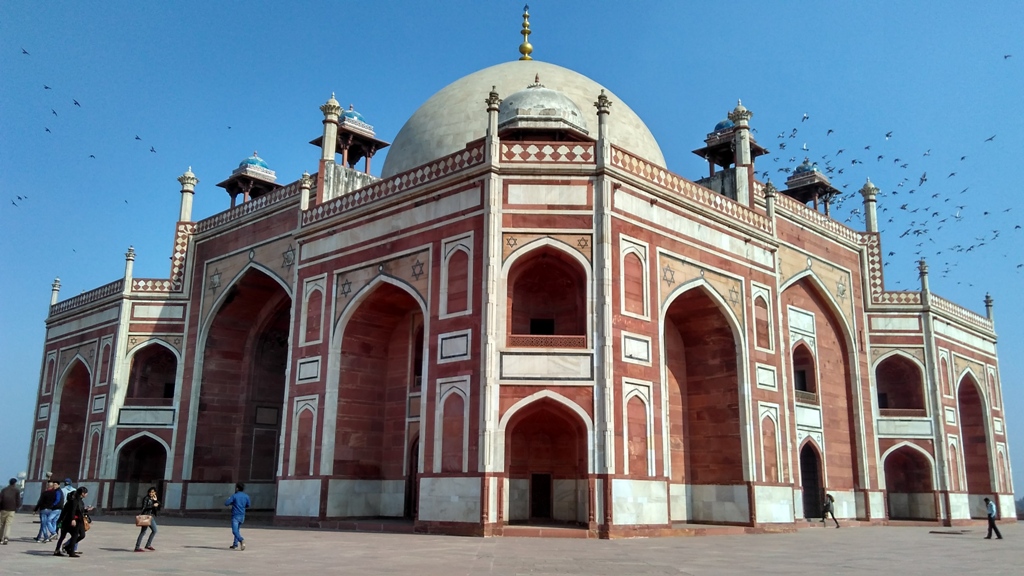 Complex has burials of many graves like Bega Begum, Hamida Begum, Dara Shikoh, Emperor Jahandar Shah, Farrukhsiyar, Rafi Ul-Darjat,Rafi Ud-Daulat and Alamgir II. These graves are also present in the complex along with Humayun,s grave. Humayun tomb is placed between the Char bagh garden of Persian style with quadrilateral layout which was first type of garden in whole south asia at that time period. The main complex consists various beautiful fountains, water-ways, pathways, magnificent gardens and trees. The main tomb looks stunning and pictorious from all four sides of the garden. Many amateur and professionals can be seen there playing with their camera gears. We also spotted some newly married couples with camera-mans to capture the beauty of monument in their wedding album beside their other half.
Humayun's Tomb View from Entry Gate
Some other monuments like Tomb and mosque of Isa Khan, Bu Halima's Tomb and Garden, Afsarwala Tomb and mosque, Araba Sarai, nila gumbad, Chillah Nizamuddin Aulia and Barber's tomb are also present in the complex of Humayun Tomb. More than 100 graves are buried there, and thats the reason why it is also known as dormitory of Mughals.
Barber Mosque
Other Monument in Humayun Tomb Complex
Humayun Tomb Location Map
How to Reach Humayun Tomb
The monument is located in Nizamuddin which is well connected by various modes of transport and nearest railway station is Hazrat Nizamuddin which is just two KM away and it is one of the main railway station of New Delhi City. Nearest metro station is Jawaharlal Nehru Stadium of violet line which is also just 2 KM away from the tomb. Auto-Rickshaws, cabs and various DTC buses can be availed from the metro station. City buses will drop you on the front of the monument gate. The Indira Gandhi International airport (IGI) is one of the biggest and busiest airport of country and connected with mostly all countries of world and it is 16 KM far from the tomb. New Delhi Railway Station and Old Delhi Railway station are also in close proximity of this monument.
Inner Roof of Humayun's Tomb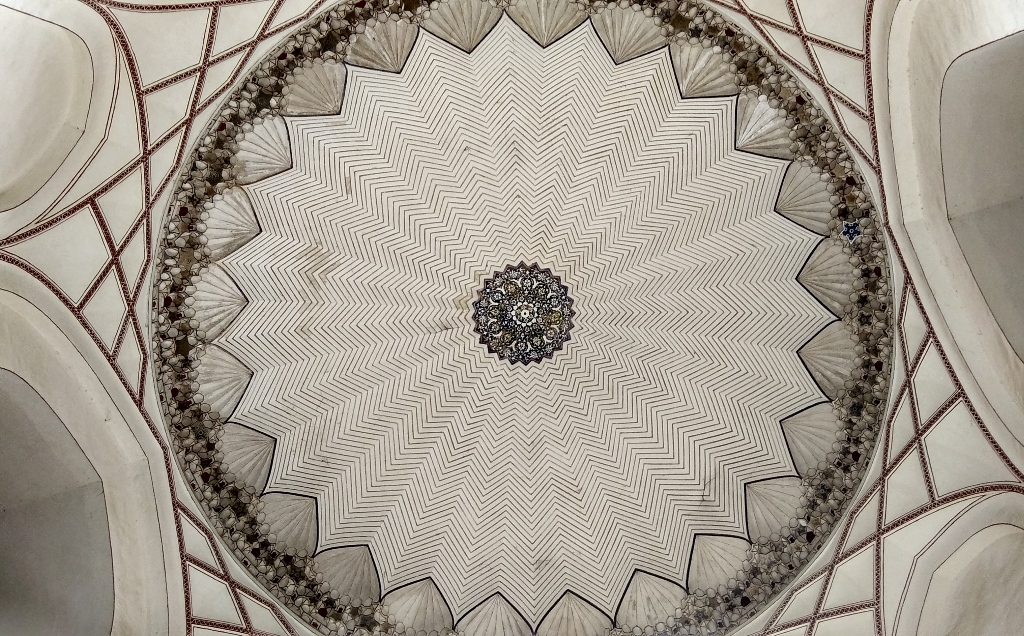 Ticket price of Indian national is just 10 Rs, and for foreign national is just 250 (approx. 4 US$ ) rs. There is no charges for personal camera, however, videography charges are 25 Rs. Timings of monument are Sunrise to Sunset.
Also check Qutub Minar


Best time to visit tomb of Humayun is from September to March. Avoid the hot and humid of summer (April to August) specially afternoon time.
Humayun Tomb Entry Fee 2018, Timing, Address, Official Website
Address
Opposite Dargah, Nizamuddin, New Delhi
Entry Fee :
Entry fee for Indians : 30 Rs.
Entry fee for Foreigners: 500 Rs.
Entry free for Children below 15 Years & Senior Citizen
Timings :
Sunrise to Sunset on All Days
Phone No (Official)
+91-11-24355275
Official Website
www.delhitourism.gov.in
Photography allowed or not
Allowed
Camera Fee :
Nil
Videography Charges
Rs.25.00
Nearest Railway Station
Nizamuddin Railway Station (2 KM away)
Nearest Metro Station
Jawahar Lala Nehru Metro Station (2 KM away)
Time Required to Visit
Around 1 to 2 Hour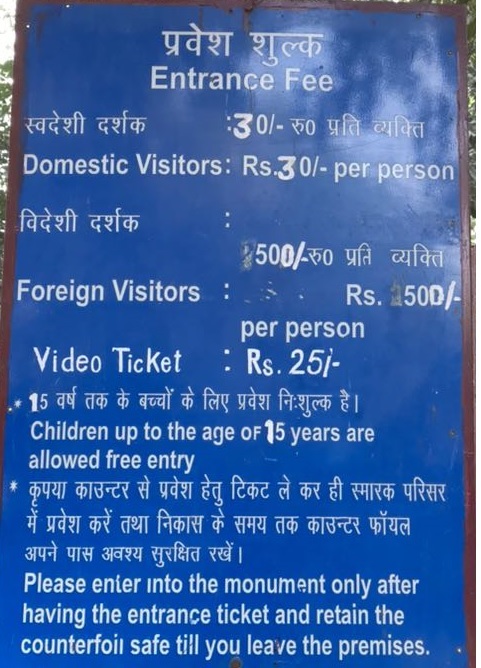 Humayun Tomb opens from Sunrise to Sunset on all days of the week. An Indian national has to pay 30 Rs as entry fee of the Monument and foreigners have to pay 500 for visiting the Humayun's Tomb. Entry ticket is free for Senior Citizen and Children below 15 Years. 2 hours visit is sufficient to visit the compete complex.
Also visit India Gate, Red Fort, Old Fort, Safdarjung Tomb, Agrasen ki Baoli, Qutub Minar