Jhandewalan Mandir Timings 2023, Aarti Timings and Information
Jhandewalan Mandir is a Hindu Temple located in the Jhandewalan area near Karol Bagh. The temple is dedicated to the goddess Aadi Shakti. Temple was founded in the 18th century by Shri Badri Bhagat Ji. Jhandewalan Mandir is also known as Shri Badri Bhagat Jhandewalan Mata Mandir. Every day thousands of devotees come to the temple to offer their prayers to Hindu Goddess.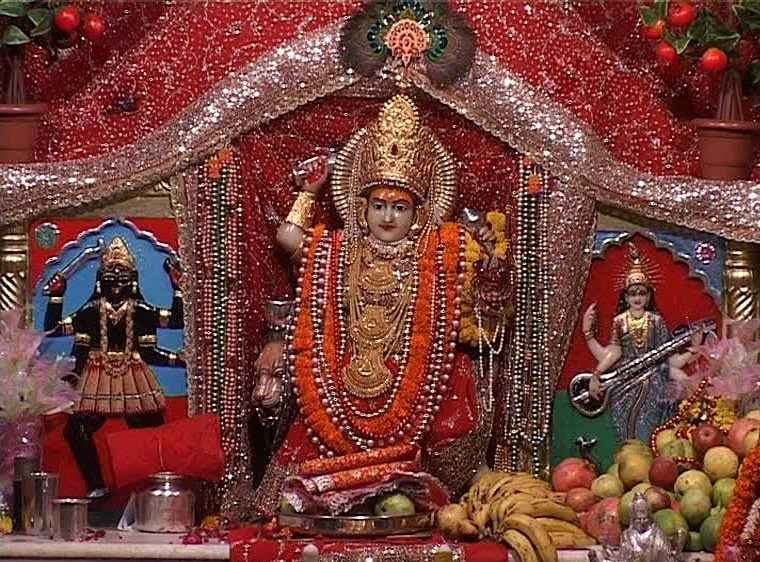 During the Navrati period lacs of visitors came here for worship. Very long queues of visitors can be seen here for the Darshan of Jhandewali Mata.
Jhandewalan Mandir Timings 2023
Check the Jhandewalan Temple opening Time, closing time, and Aarti timings.
| Day | Timings |
| --- | --- |
| General Day Timings | 5 AM to 1 PM, 4 PM to 10 PM |
| Timings on Tuesday, Sunday, Shukla Ashtami | 5 AM to 10 PM |
| Timings on Shri Durga Ashtami | 24 Hours |
| Jhandewalan Mandir Timings in Navratri | 4 AM to 12 AM |
| Closed in Navratri (for Cleaning) | 6.15 PM to 7 PM |
Jhandewalan Mandir Aarti Timings
| Aarti Name | Offerings | Summer | Winter |
| --- | --- | --- | --- |
| Morning Mangal Aarti | Dry Meva | 5.30 AM | 6 AM |
| Shringaar Aarti | Cheele, Chane, Milk, Cocunut | 9 AM | 9 AM |
| Bhog Aarti | Rice,Pulses,Roti | 12 PM | 12 PM |
| Evening Aarti | Chane | 8 PM | 7.30 PM |
| Night Aarti | Milk | 10 PM | 9.30 PM |
Jhandewalan Mandir Aarti Timings in Navratri is at 4 AM and 7 PM. Daily Hawan timings is from 7 AM to 7.30 AM, Kirtan timing is from 7.30 AM to 8.30 AM and from 10 AM to 12 PM. Special Katha and Kirtan are organized on Poranmasi (full Moon). Santoshi Mata Katha is organized on every Friday; Every Tuesday and Saturday Mata ki Chowki is organized. Jagran is organized on every Shukla Ashtami.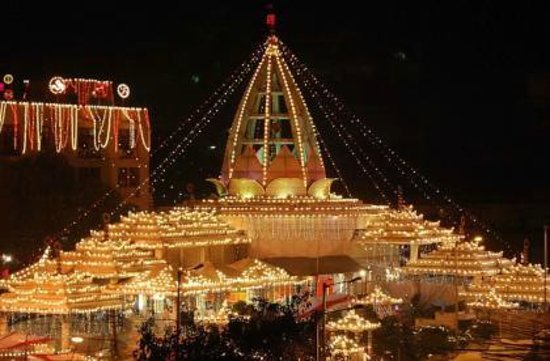 Nearest Metro Station and How to Reach


Jhandewalan Metro Station is the nearest metro station and it is located just 1 KM away from the temple. Delhi Metro is the best way to reach here. Devotees can take battery operated rickshaw, auto to reach here. This distance can also be covered on foot in just 10 minutes. New Delhi Railway station is 4 KM away from the temple. Temple is located in the busy area of New Delhi near Karol Bagh and Paharganj, so it is advisable to reach here via public transport.
Jhandewalan Mandir Map
An allopathic dispensary, goshala, and library is situated inside the temple complex. Shops situated outside the temple complex for buying Prasad, religious items and books. The prasad starts from 21 rs. Free shoe deposit counter and drinking water are available in the complex.
Jhandewalan Mandir Car Parking Map

A new parking lot is built near the temple which can accommodate large number of vehicles. Parking is free at the time of writing this post and it is located very near to Temple.
Photography is restricted inside the temple complex.
Also visit Chhatarpur Mandir, Iskcon temple, Kalkaji Temple, Lotus Temple of Delhi.