Sultanpur National Park Timings 2023, Entry Fee 2023, Map
Sultanpur Bird Sanctuary or Sultanpur National Park is located in Gurgaon (Gurugram) district on Farukhnagar Road. Sultanpur got its status as a national park in the year 1989 after 17 years when it was declared a bird sanctuary in 1972. The total area of the park is 1.43 square KM. A big lake in the middle of the park is the main habitat of birds. The Sultanpur lake has multiple small islands where the birds made their nest in the trees. The park is the home of migratory birds which flew from all over Asia and Europe. If you are a bird lover, want to trail in nature, and spend some quality time in nature then this is the best place in Delhi NCR for you. The total area of the national park is 352 acres and the nature trail is 3.5 KM long. The area of Sultanpur lake is 150 acres.




Sultanpur National Park Timings 2023
Sultanpur Bird Sanctuary Timing is 7.00 to 4.30 PM. Sultanpur National Park opening time is 7 AM, however, you can enter the park at 6 AM in the morning after obtaining written permission from the Divisional Wildlife Officer's Office in advance. You must leave the park before sunset. The best season to visit Sultanpur National Park is in the winter season (December to February). The Best time to visit the park is at the time of Sunrise when the maximum number of birds can be seen in the park or in the sky. It remains closed Every Tuesday.
| Particulars | Details |
| --- | --- |
| Park Timings | 7 AM to 4.30 PM |
| Weekly Off | Tuesday |
| Opening Season | 1 October to 30 April |
| Closing Season | 1 May to 30 September |
The heavy fog in the winter season can disappoint you and break your dream of bird-watching in the early morning. A Minimum 2 to 3 hours are required to cover the park, if you are a true bird lover then the whole day is insufficient for you. There is a circular path around the Sultanpur lake which can be visited to watch a variety of birds, however, half of the circular path was closed during our visit on February 2019.
Sultanpur Sanctuary remains closed from May to September Every Year. It open in the month of October to April.
Sultanpur Bird Sanctuary Tickets Price 2023
| Entry Fee | Charges |
| --- | --- |
| Indian Adults | 5 |
| Children (5 to 12 years) | 5 |
| Foreigner | 40 |
| Parking Charges | |
| Car / Jeep | 10 |
| Scooter / M Cycle | 5 |
| Heavy Vehicles | 50 |
| Bicycle | 2 |
| Camera Charges | |
| Still Camera | 25 |
| Video Camera | 500 |
| Movie Camera | 2500 |
| U-Metic Movie Camera | 5000 |
Sultanpur Bird Sanctuary ticket price is 5 Rs. and the digital camera charge is 25 rs. The parking charge for four wheelers is 10 and two wheeler is 5 rs. Only. Foreign travelers have to pay 40 rs for entry.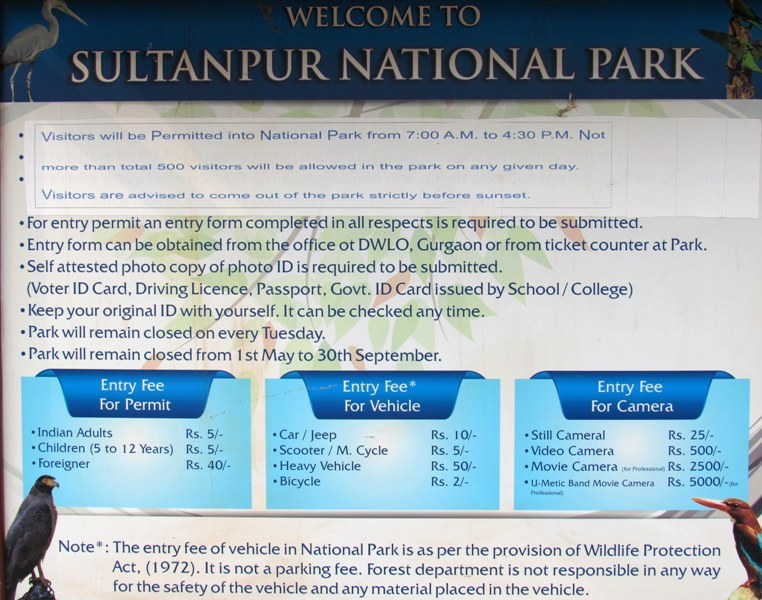 Sultanpur Bird Sanctuary Guide Map and Google Map
How to Reach Sultanpur Bird Sanctuary
It is 40 KM away from Dhaula Kuan, and 50 Km from New Delhi. It is 14 km away from the Gurgaon Bus stand and Railway Station. Visitors can reach here via bus running Gurgaon Farukh Nagar Road. The public transport facility is not good in this area. The best way to reach here is via your own vehicle.

Sultanpur National Park Facilities
A hall near the entry gate of Sultanpur sanctuary is dedicated to Dr. Salim Ali where his research, photographs, and write-up are kept there. A newly built interpretation center is also in the sanctuary where interactive route maps of migratory birds are displayed on the wall. Information about different birds is also displayed on the wall along with their habitats, route, migration reason, food choice, etc. An electronic board with multiple switches can be used to listen recorded chirping of birds. The interpretation hall is very informative and kids will love this.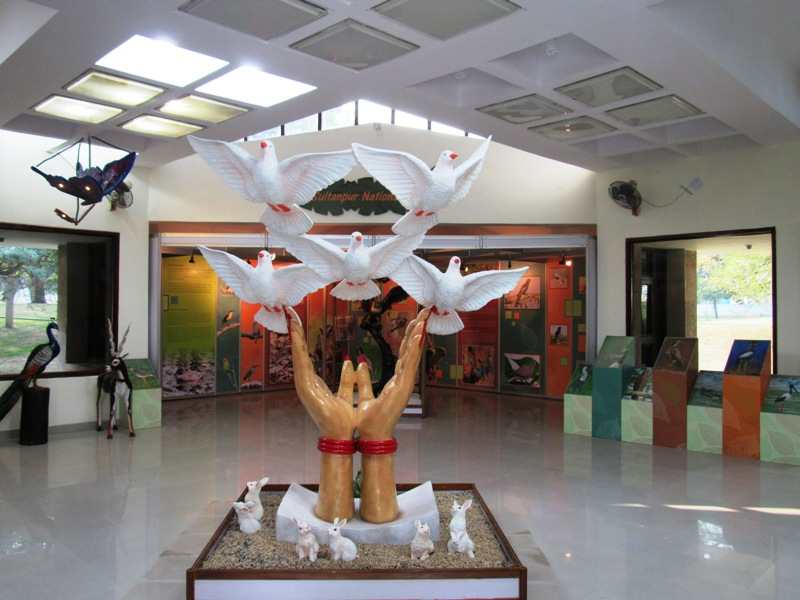 The National park has a parking space that can accommodate around 40-50 vehicles, which feels small on the weekends or holidays, I saw many vehicles parked on the road due to lack of space. A washroom and drinking water facility are available in the park. Food is not allowed in the national park premises; however, you can enjoy the food in the small park adjacent to the boundary of the bird sanctuary.
There are four watch towers in the park, out of four towers three were closed during our visit. Only one watch tower near the entry gate is open for visitors. View from the watchtower is good and it can occupy a maximum of 5 to 6 people, The stairs of the watchtowers are too steep, so kindly take precautions while climbing the towers.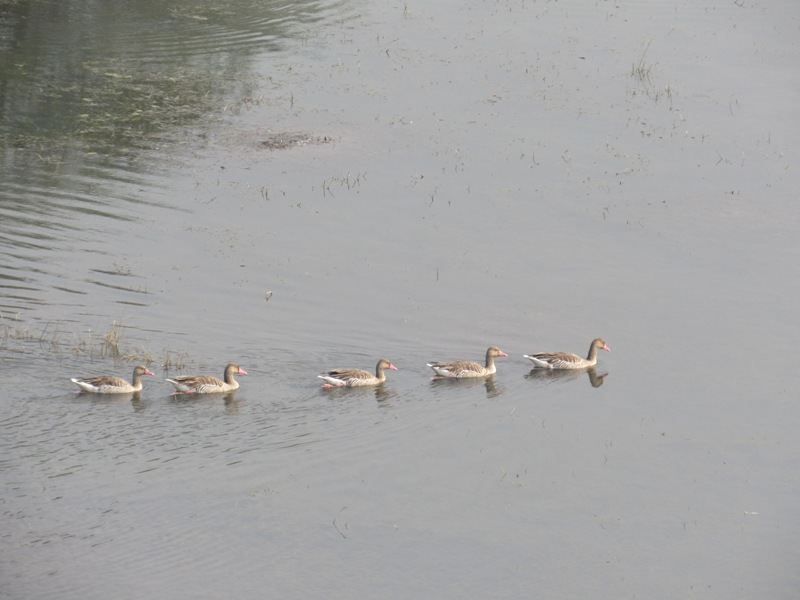 A small shop beside the ticket counter owned by the forest department sells water bottles and animal statues. There is no food facility on the campus of the Park. Some street vendors sell snacks and other eatables outside the gate of the park, so make your plan accordingly. There are some good and hygienic restaurants in a radius of 1 to 2 KM like Village Dhaba and OM Dhaba. We took our lunch in a Dhaba located near the sanctuary, the food quality is good and the total cost for 4 persons is around 600 including 3 sweet curd lassi.

Cautions to be Taken
The bird sanctuary is located remotely from the city so make your food arrangement accordingly, food is not allowed inside the park. If you are going with the kids, keep them with you. Keep yourself aside from hedges and brambles. Do not try to go into the lake. Always wear full clothes which cover your body and wear good quality comfortable shoes. Keep your valuable items safe from the monkeys of the park. Take extra precautions while climbing the watch tower.
We saw many birds on our visit of Sultanpur sanctuary in the month of February. We spotted the white-throated kingfisher, Siberian crane, Red-wattled lapwing, Sarus crane, Northern pintail, Painted stork, etc. Sultanpur Bird sanctuary is the home of many migratory and resident birds, however, I saw many birds at the park but I don't know the name of every bird. It was a pleasurable experience to watch many birds at a single place. Apart from the birds, you can spot Nilgai in the park along with street cows and bulls.
Sultanpur Bird Sanctuary Information
| Useful Information | |
| --- | --- |
| Park Opening Months | October to April |
| Park Closing Months | May to September |
| Timings | 7 AM to 4.30 PM |
| Entry Ticket Price | 5 Rs for Indian |
| | 40 Rs for Foreigners |
| Digital Camera Fees | 25 Rs |
| Video Camera Fee | 500 Rs |
| Movie Camera Fee | 2500 Rs |
| U Metric Band Movie Camera Fee | 5000 Rs |
| Parking Facility | Yes |
| Parking Charges | |
| Motor Cycle / Scooter | Rs. 5 |
| Car / Jeep | Rs. 10 |
| Bus / Heavy Vehicle | Rs. 50 |
| Bicycle | Rs. 2 |
| Official Website | haryanaforest.gov.in/SultanpurNationalPark.aspx |
I hope you like the Sultanpur Bird Sanctuary Pictures. All pictures were clicked by our team during our visit to the park.
Tip: Wear comfortable shoes, carry a good quality digital camera or DSLR, and binoculars for bird watching.
Also Check: Places to visit in Delhi