Mehrangarh Fort Timings 2023, Entry Fee 2023, Information
The famous Mehrangarh Fort is located at Jodhpur Rajasthan. It is one of the most visited tourist places in Jodhpur. Rajasthan is a highly recommended tourist place in India. It is the traditional state which shows the ancient culture of Rajasthan. It has many forts and monuments which show royal culture and architectural beauty within it. many tourists from around the world came to India to visit Rajasthan and it is one of the favorite places of Indian tourists too. The Mehrangarh Fort is situated at Jodhpur, which was founded as capital in 1459 of Marwar. Marwar is Western Region of Rajasthan. Previously Mandore was the capital of Marwar.


The Mehrangarh Fort was constructed in 1459 by Rao Jodha and built through the Rathore Dynasty of Rajasthan. Fort hilltop height is around 120 metres from the plains. This Fort provides you the excellent architectural views with historical information.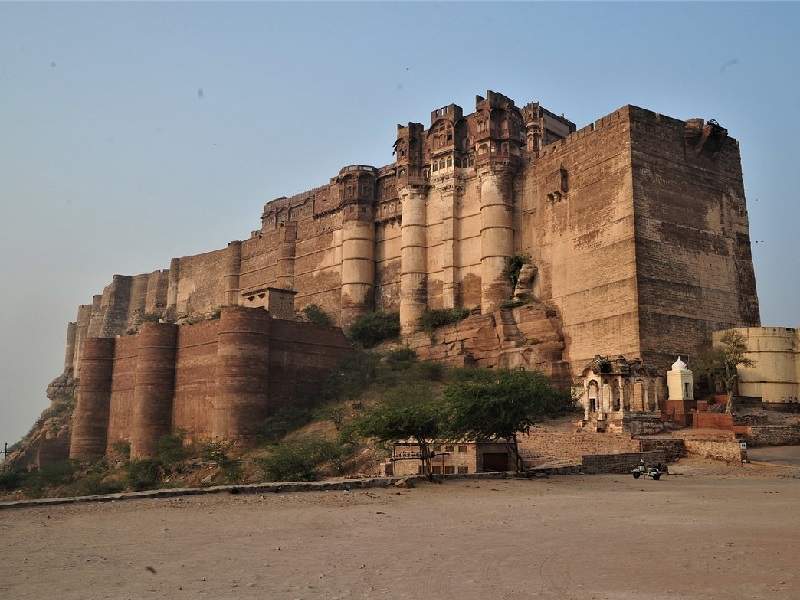 Mehrangarh Fort Ticket Price 2023
| Description | Ticket Price |
| --- | --- |
| Domestic Visitor | 200 |
| Domestic (Sr. citizen, Student, Para Military Personnel) | 100 |
| International Visitor | 600 |
| International Student | 400 |
The Mehrangarh fort entry fee 2023 is given above. The fort is managed and maintained by the Government of Rajasthan. The government has set the entrance fee for the Fort visit. The charges are nominal for this historic monument.


Mehrangarh fort ticket price for students is 100 Rs and the normal visitor entry fee is 200. Senior citizen, para military personal ticket rate is 100 INR. The international visitor entry charge is 600 INR and the foreign student ticket price is 400 Rs. Visitors should carry proof to get discounted ticket prices.
Mehrangarh Fort Timings 2023
| Day | Timings |
| --- | --- |
| Monday | 9 AM to 5 PM |
| Tuesday | 9 AM to 5 PM |
| Wednesday | 9 AM to 5 PM |
| Thursday | 9 AM to 5 PM |
| Friday | 9 AM to 5 PM |
| Saturday | 9 AM to 5 PM |
| Sunday | 9 AM to 5 PM |
2 to 3 hours are sufficient to explore this place and it depending on visitors' interest. The Mehrangarh fort opens Monday to Sunday on all days of the week from 9 AM to 5 PM. This Fort is an amazing tourist place. Visitors can visit this fort and enjoy its beauty without any hecticness.
Mehrangarh Fort Museum


Mehrangarh Fort Museum Jodhpur is one of the best museums for history, ancient, and architecture lovers. This museum provides you best atmosphere to visit and share very old 17th to 19th-century collections like furniture, paintings, decorative arts, books & armor, etc. This museum has 07 rooms named Phool Mahal, Sheesh Mahal, Sardar Vilas, Jhanki Mahal, Moti Mahal, Deepak Mahal, and Thakhat Vilas, and 06 galleries named Howdah, Daulat khana, Arms, Painting, Textile, and Palanquin Gallary.
Mehrangarh Fort Facilities
Many facilities are available at Mehrangarh fort like
Folks Songs: The folk song played by Rajasthani artists enhances the taste of the beauty of this fort.
Food & Shopping: Many governments approved Shopping points and restaurants/cafes are situated here. You can also enjoy the famous Lassi & Lemonade here.
Lift/Elevators: The Mehrangarh fort is known as a well-maintained fort in India. They also provide the Lift/Elevator facility to the visitors additionally on nominal charges @ Rs. 50 for one way.
Camera: If you are a Photoholic, you can carry your camera for photography & videography. Visitors need to pay charges for taking their cameras inside the fort. Still camera fee is 100 Rs and the video camera charge is 200 Rs.
Guide Facility: Tourists can also take the guide to explore the Fort & its history. They explain everything about the history of this Fort. The charges here are given below for the guide including GST.
| Number of People | Amount |
| --- | --- |
| 01 to 04 person | 500 |
| 05 to 15 Person | 600 |
| 16 to 30 Person | 800 |
| 31 to 50 Person | 1000 |
Audio Guide: it is available here by paying 180 Rs and students can avail audio guide at a discounted price of 120 Rs.


Parking: The Parking facility is also available at the Fort. You can reach here by your vehicle. The parking charges are given below:
| Vehicle Type | Charges |
| --- | --- |
| Two Wheeler | 10 |
| Auto | 10 |
| Car | 50 |
| Mini Bus | 80 |
| Bus | 100 |
Mehrangarh Fort Location and How to Reach
Mehrangarh Fort is located near the center of the city and it is just 5 KM far from Jodhpur junction railway station. Visitors can reach here via public transport and by own vehicles too very easily.
Mehrangarh Fort Charges and Information
| Particulars | Detail |
| --- | --- |
| Mehrangarh Fort Timings | 9 AM to 5 PM |
| Mehrangarh Fort Entry Fee | |
| Domestic Visitor | 200 |
| Domestic (Sr. citizen, Student, Para Military personnel) | 100 |
| International Visitor | 600 |
| International Student | 400 |
| Mehrangarh Museum Timings | 9 AM to 5 PM |
| Jaswant Thara Timings | 9 AM to 5 PM |
| Jaswant Thara Entry Fee | |
| International Visitor | 50 |
| Domestic Visitor | 30 |
| Jaswant Thara Guide Fee | |
| 1 to 4 Person | 100 |
| 5 to 15 Person | 135 |
| 16 to 30 Person | 170 |
| 31 to 50 Person | 225 |
| Chokelao Bagh Garden Entry Fee | |
| Indian | 30 |
| Foreigners | 100 |
| Children | 20 |
| Rao Jodha Desert Rock Park Fee | |
| Entry Fee | 100 |
| Student up to class 12 | Free Entry by showing an ID card |
| Naturalist Guide Charge | 200 |
| Rao Jodha Desert Rock Park Timings | |
| April to September | 7 AM to 6.30 PM |
| October to March | 8 AM to 5.30 PM |
| Open | All days |
| Still Camera | 100 |
| Video Camera | 200 |
| Elevator (one-way) | 50 |
| Audio Guide Charges | 180 |
| Audio Guide Charges for Students | 120 |
| Mehrangarh Fort Guide Fee | |
| 01 to 04 person | 500 |
| 05 to 15 Person | 600 |
| 16 to 30 Person | 800 |
| 31 to 50 Person | 1000 |
| Parking Charges | |
| Two Wheeler | 10 |
| Auto | 10 |
| Car | 50 |
| Mini Bus | 80 |
| Bus | 100 |
| Location | Jodhpur |
| Area Covered | 1200 Acres |
| Type | Fort |
| Built By | Rathore dynasty of Jodhpur |
| Year of Construction | 1459 |
| Present Custodian | Gaj Singh |