New Town Eco Park Rajarhat Kolkata Timings, Entry Fee 2023
The New Town Eco park is an urban park situated in Rajarhat area of Kolkata, West Bengal. It is a unique kind of Ecological garden developed in the eastern part of India. In Bengali language it is known as (Prakriti Tirtha) Eco Tourism Park. Eco park is spread in a huge area of 480 acres and it includes a huge lake of 104 acres. The concept of the park was brought forward by Chief Minister of West Bengal Ms. Mamta Banerjee on July 2011 during her way to the airport.
Eco Tourism park is designed by Pradeep Sachdeva Associates and it is operated by West Bengal Housing Infrastructure Development Corporation (WBHIDCO). The inauguration of the park was done by Hon'ble Chief Minister of West Bengal on 29th December 2013 and it was opened to the general public on the occasion of New Year (1 January 2013). On 27 December 2013, Chief Minister inaugurated some more parts of the Rajarhat Eco Park.


Prakriti Tirtha – Eco Tourism park Kolkata is divided into three broad segments such as ecological zones, theme gardens and urban recreational spaces. These segments further divided into multiple categories such as Children's Eco Park, Floating Musical Fountain, Biswa Bangla Haat, Butterfly Garden, Play Area for kids, Bamboo Garden, Fruits Garden, Food Court, Adda Zone, Grass Land, Tea Garden, Mask Garden, Formal Garden, Eco Island etc. Rajarhat New Town Eco Park is a well maintained garden provides very peaceful and calm area from the hustle bustle of city traffic.
Eco Park Kolkata Timings

Eco park opening timing is 12 PM from Tuesday to Saturday. Entry timings for Sunday and holidays are 11 in the morning. The Eco Park closing timing is 7.30 from Tuesday to Sunday. Eco Park weekly off is Monday, therefore it remains closed on every Monday for the maintenance work. Ticket counters are open till 6.30 PM, therefore last entry to Eco Tourism Park is allowed till 6.30 PM.
Park can be used for morning walk on regular basis from 5.30 AM to 8.30 AM. Monthly entry fee is 750 and yearly entry fee is 8250 for morning walk in the eco park.
Kolkata Eco Park Ticket Price 2023
Entry to Eco park Rajarhat is not free and a small entry fee is charged for every visitor who is willing to visit this phenomenal park of the city. Entry ticket price for adults is 30 Rs and kids above 3 years need to purchase full ticket. Kids under 3 years are eligible for free entry into the park. Ticket counters close at evening. Tickets can also be booked online.

Major Attractions of Eco Park Kolkata
Ecotourism garden provides multiple activities for the entertainment of the visitors.
Many activities and sports which can be performed in the park are toy train, Ice skating, archery, baby cycling, bird watching, bull ride, butterfly release, cruise, cycling, duo cycling, E byke, Eco cart, floating, floating pontoon, gaming zone, high speed boat, kayaking, laser bumpy boat, mickey mouse, paddle boat, paint ball, remote car, rifle shooting, roller skates, family shikara, trampoline, water cycling, water zorbing, land zorbing, etc.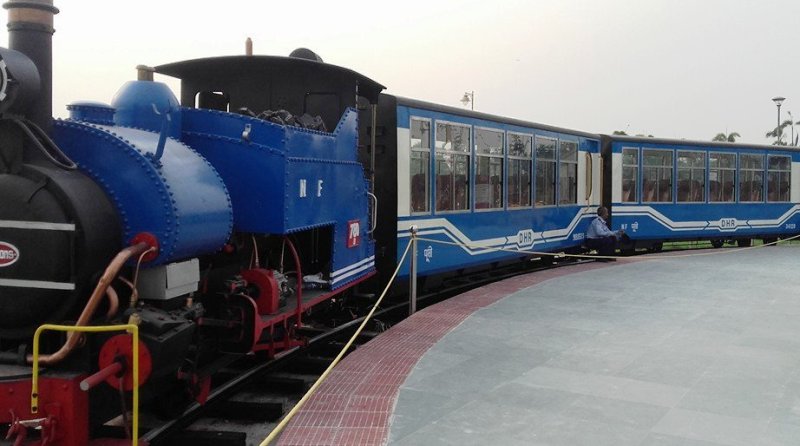 Apart from the various activities Eco Park is divided in multiple thematic part such as formal, garden, mother's wax museum, adda zone, fruits garden, graffiti walls, meadow garden, musical fountain, mask garden, play area, tropical garden, tea garden, sculpture garden, seven wonders, sangraha, etc. Eco Island is an island surrounded by the lake. A Japanese park is also built and opened to the public in 2017.
Eco Park Kolkata Entry Fee 2023 and Other Charges
In below table we have included the ticket charges of various activities like boating charges, parking charges, water zorbing, mountain bike (cycle), roller skating, land zorbing, trampoline, rifle shooting, archery, eco cart, bird watching, bull ride, high-speed boat, etc.
| Particulars | Ticket Cost in INR |
| --- | --- |
| Entry Fee | 30 |
| Parking Charges | |
| Four Wheeler | 50 |
| Two Wheeler | 20 |
| Family Shikara 4 People for 30 Minute Ride | 200 |
| Paddle Boat 30 Minutes | 150 |
| Kayaking 30 Minutes | 150 |
| Water Cycling 20 Minutes | 100 |
| Water Zorbing 10 Minutes | 150 |
| Floating Pontoon 25-30 Minutes | 100 |
| Cruise 40 Minute | 150 |
| Duo Cycling 20 Minute for 2 People | 100 |
| Baby Cycle 15 Minute | 50 |
| Roller Skating Ride 30 Minute | 50 |
| Remote Car Children 15 Minute | 50 |
| Land Zorbing 10 Minute | 150 |
| Trampoline 15 Minute | 20 |
| Rifle Shooting 10 Shots | 50 |
| E-Byke (Segway) 20 Minute | 200 |
| Eco Cart One way from Counter 1 to Children Park | 50 |
| Bird Watching | 10 |
| Butterfly Release Program | 50 |
| Angling Everyday from 7 AM to Sunset | 1500 |
| Gaming Zone 1 Hour | 50 |
| Laser Bumpi Ride 20 Minute | 200 |
| Paint Ball Five Balls | 50 |
| Bull Ride 2 Falls | 30 |
| Mickey Mouse 15 Minutes | 20 |
| High Speed Boat One Round of Lake | 100 |
Source : wbhidcoltd.com/Notice_1/rates_ecopark_ride_final.pdf
Eco Park Facilities and Amenities

Bio Toilets are present in the Kolkata Eco Park complex for the conveyance of the visitors. Multiple food kiosks and restaurants are available inside the park. Two parking lots are present here, which can accommodate around 350 vehicles. Parking charges are Rs 50 for 4 wheelers and 20 Rs for 2 wheelers. Park spread in a vast area and visitors can use the facility for battery operated E cart to carry passengers between gate No. 1 and 3. Eco Cart charges are 50 Rs per person. Water ATM is also located in the garden. Visitors can bring home food in the park and photography is also allowed inside the garden.
Eco Park Guide Map and How to Reach
Rajarhat New Town Eco Park covers a vast area and guide map is necessary to cover the whole park efficiently. Eco Park layout is showing all the parts of the park along with all entry gates, police camp, parking lot, food area, gardens, deer park, lake, etc.
Eco Park Rajarhat is a little far from main Kolkata. Distance from Railway station is around 15 KM and Kolkata international airport is around 10 KM. Park is well connected by the roads and various modes of public transports are available to reach here. Buses are low in number in this route, therefore booking a taxi is a better option to reach here. Visitors can come here via private cars also and park their vehicles in the parking by paying a nominal fee.
Eco Park Resort Kolkata
Ekante Cottage is located inside the Kolkata Eco Park on Eco Island. These cottages can be booked for staying in the Eco park of the Kolkata. This resort provides all modern amenities to their visitors along with delicious food and one of the best view of the town. Eco Park Kolkata resort booking can be made via multiple online partners and in offline mode also. Eco Park Cottage price depends on the season and demand of the cottage.

Best Time to Visit Eco Park
Kolkata Eco Park is a very good place for outings with family, kids, loved ones, friends, etc. Peoples can visit this visit this place in every weather due to the nice surroundings of the area. Park often crowded on Sunday and holidays. It is most visited park of the Kolkata and a full day is required to visit this huge park. It is a good place to visit in Kolkata for couples also.
Address of Eco Park Kolkata is Eco Tourism Park, Action Area II, Major Arterial Road, New Town, Kolkata, West Bengal. Contact Number is +91-9051087099
Kolkata Eco Park is a very calm and cool place to visit in the city, if you are in the city, make sure to visit this place along with your buddies. Visitors can also Visit Alipore Zoo of Kolkata and Eden Garden Stadium during cricket matches.