Worlds Of Wonder Water Park Ticket Price 2023, Timings And Rides
The summers in NCR can be too harsh and you need a break from such weather. The water parks are considered perfect for such an outing. One may go out with family or friends and have a splashing cool day. Out of the many water parks located in NCR, WOW is one of the most sought after water park. The Worlds Of Wonder Water Park ticket price 2023, timings, deals, coupons are some of the first things people look for while planning a visit here. You would also like to know about how to reach the WOW Water Park in Noida. We have shared a whole lot more information that will be beneficial for you along with these mandatory details.

The Worlds Of Wonder water park is one of the most famous water parks in Delhi-NCR. It experiences a decent footfall in the summer when the weather is blazing hot. This water park is quite big and have a large number of rides and slides for the kid in you. They have got a separate kid section as well with relatively smaller and safer slides. They have a amusement park as well which has many fun-filled rides. People sometimes prefer to buy the combo tickets which includes entry to Worlds of Wonder Amusement park and water park. This is the wow-factor of WOW, as you can visit for rides in the amusement park as well. You can also opt for Go-Karting, after paying an additional amount.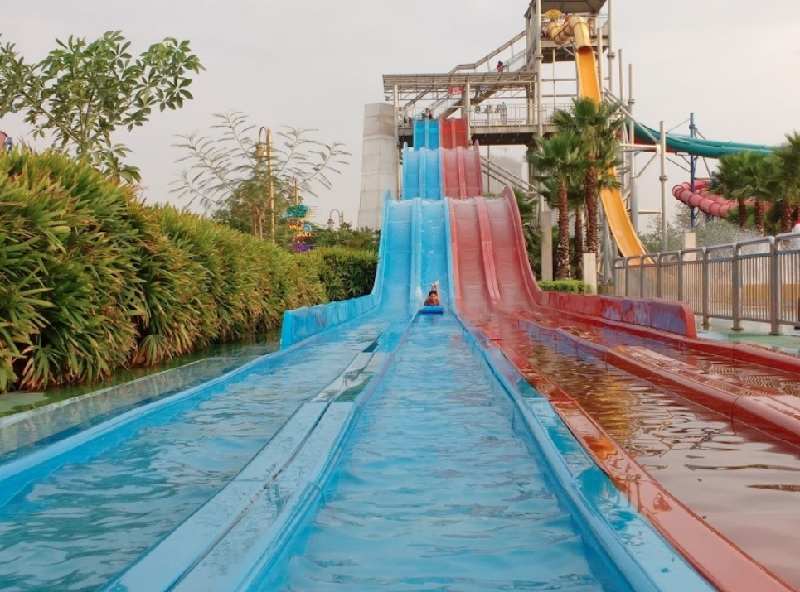 Worlds Of Wonder Ticket Price 2023

The WOW Noida water park has the same prices for weekends, public holidays, and weekdays. The ticket prices are the same for the weekdays, weekends and Public holidays. World of Wonder ticket prices for kids are lesser than for adults. WOW Amusement park will be opened soon.
| Water Park Tickets | Tickets Price |
| --- | --- |
| Adult (130 cm and above) | 1399 Rs |
| Senior Citizen (60 years and above) | 699 Rs |
| Child (90cm-129 cm) | 999 Rs |
| Armed Forces & Police | 999 Rs |
| Amusement Park Tickets (Closed Now) | |
| Adult (130 cm and above) | 999 Rs |
| Senior Citizen (60 years and above) | 449 Rs |
| Child (90cm-129 cm) | 599 Rs |
| Go Karting | |
| Adult (150 cm and above) 12 Minutes session | 1000 Rs |
The entry ticket for adults are priced at 1399 Rs and the tickets for children are priced at 999 Rs. Visitors may buy Worlds of Wonder tickets from the official website, ticket counters, or from some of the tickets selling websites.
Worlds Of Wonder Tickets Discounts, Coupons and Deals

The Worlds of Wonder ticket discount can be found on Goibibo adventure section. There are certain bank offers which you may apply and get cheaper deals for tickets. The   Makemytrip app also has activities and events section where you may find the tickets. There are mostly few discounts and bank offers which may be applied to book WOW tickets. These deals and coupons are ever changing and you may check at these portals along with nearbuy to get a good deal.
How To Reach Worlds Of Wonder
There are multiple ways to reach the water park. One of the easiest way is to catch a metro and get down at nearest metro station. The Worlds of Wonder nearest metro station is Noida Sector 18 metro station of blue line. The water park is at a walking distance from the metros station. The metro station is at a distance of 1.1 Km from the water park.  You may also take cab, auto or buses to reach to the park. The water park is very near to The Great India Place mall.
Worlds Of Wonder Water Park Timings
The timings of operation is same on weekends and weekdays. The World of Wonder water park timings is between 10 AM – 6 PM. The park opens at 10 AM every day and it closes its operation at 6 in the evening. There may be changes to  the timings on some special occasions, such as new year, Holi etc. The timings shared here is taken from the official website and there may be a bit of deviation in the timings.
Worlds Of Wonder Water Park Season Details

The water park doesn't remains open through out the year. It is open for a particular number of months. The Worlds of Wonder water park opening day is 1st March of every year and it closes in the month of October. The park remains closed for the rest of the months. The water park opening and closing date may change a little bit depending on the weather.
World of Wonders Water Park Rides
There are multiple rides in the water park which will make your visit thrilling. They have many adventurous rides for the thrill seeker and it also contains rides for people who like to have some lazy time. There are many slides like Free Fall, Rapid Racer, Turbo Tunnel, Boomerango, Rip Tide, RipCurl, Raft Ride, Deep Sea Adventure, Deep Sea Explorer, Underwater World. There are some additional attractions such as Big Splash, Little Splash, Lazy River and Wave Pool. These are some of the main attractions of Worlds of Wonder Water park which will keep you busy throughout your visit.

This place is having all the basic facilities and the infrastructure is also very nice. The facility is quite well maintained and you will have a great time here. The water park is for each and every age group. The visiting time of this water park will be around 5-7 hours. However, you might stay here for the complete day. I have shared complete details of the Water Park in the table below:
| Particulars | Important Information |
| --- | --- |
| Location / Address | Entertainment City, Sector-38 A, Near The Great India Place Mall, Noida |
| Main Attractions | Water Park, Amusement Park, Adventure Rides, Go Karting |
| Amusement Park | Yes |
| Water Park Timings | 11.00 AM TO 7.00 PM |
| Amusement Park Timings | 11.30 AM TO 8.00 PM |
| Water Park Season Timing | March to October / November from 11.00 AM TO 7.00 PM |
| Visit Duration | 5 – 7 Hours |
| Nearest Metro Station | Noida Sector 18 Metro Station of Blue Line |
| Contact No. | 1800-103-1415 |
| Website | worldsofwonder.in |
| Landmark | The Great India Place Mall |
| Photography Allowed | Yes |
| Food Court Facility | Yes |
| Rest Room | Yes |
| Parking facility | Yes |
| Membership Plan | Yes |
| Birthday Party Packages | Yes |
| Go Karting | Yes |
| Age Group | All |