Mysore Zoo Timings, Tickets, Entry Fee and Address
Mysore Zoo is located in Mysore, India. It is also known as Sri Chamarajendra Zoological Gardens, its official name. The Zoo was established in 1892 and the total area it covers is 157 acres. It is one of the best Zoo of India. The Mysore Zoological garden is operated by an autonomous body, Zoo Authority of Karnataka. It was established by the Ruler of Mysore Sri Chamarajendra Wadiyar Bahadu and it is one of the oldest zoo in the country. The Zoo is mainly dependent on the entry fees as its main financial assistance. Around 2000, Zoo introduced an adoption scheme to arrange the much needed financial help. It has been a very successful plan since its introduction as many people has participated in the scheme.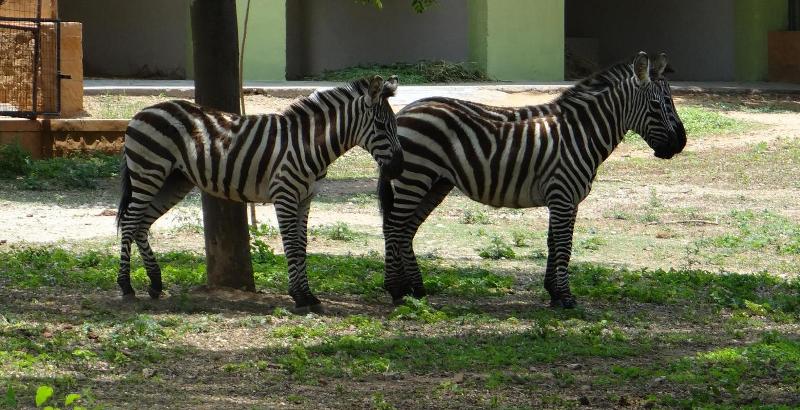 Mysore Zoo Animals
There are a total number of around 1500 animals in the Mysore Zoo. It houses more than 155 species. The latest reports were taken in the end of year 2016. There are various animals which were transferred from different continents around the globe. Asiatic elephants are one of the most important attraction inside the zoo. It has a total number of 9 elephants, more than any other zoo in India. Mysore Zoological garden has lions, tigers, Monkeys, various reptiles and it houses an aquarium area as well. It is home to Giraffe along with various other large mammals. Mysore Zoo animals has very big and clean cages where they can be easily seen.
Mysore Zoo Ticket Prices
| Particulars | Normal Rates | Saturday/Sunday/ Govt. Holidays |
| --- | --- | --- |
| Entrance Fee | | |
| Adults | 50 Rs | 60 Rs |
| Child (5-12 Years) | 20 Rs | 30 Rs |
| Child (Below 5 Years) | Free Entry | Free Entry |
| Students | | |
| LKG/UKG | Free Entry | Free Entry |
| 1st to 7th Class (Upto 12 years) | 15 Rs | 20 Rs |
| 8th to 10th Class | 25 Rs | 30 Rs |
| Teacher (with 50 Students) | 25 Rs | 30 Rs |
| Camera Charges | | |
| Video Camera Fee | 150 Rs | 150 Rs |
| Still Camera Fee | 20 Rs | 20 Rs |
| Luggage Tariff | 5 Rs | 5 Rs |
| Battey Operated Vehicle | | |
| Adults | 125 Rs | 125 Rs |
| Child (5-12 Years) | 75 Rs | 75 Rs |
| Child (Below 5 Years) | 75 Rs | 75 Rs |
| Vehicle Parking | | |
| Cycle | 5 Rs | 5 Rs |
| Scooter / Motor Cycle | 10 Rs | 10 Rs |
| Car | 30 Rs | 30 Rs |
| Mini Bus | 50 Rs | 50 Rs |
| Bus | 70 Rs | 70 Rs |
The Mysore Zoo entry fee is 50 Rs for adults and 20 rs for Kids on weekdays. Children between 5 to 12 years of age has to pay 20 Rs for entry tickets. The children below 5 years of age has free entry inside the Mysore Zoo. On weekends, the Zoo admission ticket price goes up by 10 Rs. The Adult ticket costs 60 Rs and children ticket costs 30 Rs on Weekend and Government holidays. Battery operated vehicles are also available inside the Zoo on a nominal charge of 125 Rs for adults and 75 Rs for Senior Citizens and Children. Mysore zoo electric vehicle booking is as per availability after entering inside the complex.There is a special concession for students visiting the Zoo in Group of at least 25 Students, other students have to buy normal tickets for entry.
Mysore Zoo Timings
| | |
| --- | --- |
| Timings | 8:30 AM – 5:30 PM |
| Weekly Off | Tuesday |
Mysore Zoo timing is between 8:30 AM and 05:30 PM. Zoo opening time is early in the morning at 8:30 AM and you can start your day with the chirping of the birds. Zoo opens for six days a week and it remains closed every Tuesday. The best Mysore Zoo timings to feel the natural beauty is during morning or evening. It is really refreshing to see the green environment during calm mornings.
Best Time to Visit
The best time to visit the Zoo is considered before 11:00 AM or after 3:00 PM as most of the animals are active during that period. Due to the heat in the summer season, most of the animals takes rest in afternoon hours. Birds are most active in morning time when the Zoo opens. Most of the mammals starts to come out in the open area after 3:00 PM when it gets a little cold outside. Mysore Zoo experiences maximum visitors during Summer holidays, New year and the festive period of Dussehra. It is advisable to visit Zoo in Winters season as the weather is pleasant for animals and visitors. The Zoo is very crowded on weekends and government holidays. If you want to visit Mysore Zoo with your family on less busy days, prefer weekdays.
How to Reach Mysore Zoo
Zoo is located at a distance of 3 km from the Mysore Junction railway station. You can take KSRTC buses(local city transport), cabs etc to reach Mysore Zoo. The map can be used to have an idea about the location of Zoo.

Zoo Map
Mysore zoo Map shows the complete layout of zoo campus. The trail and animal enclosures are very clearly marked. Canteen is also shown in the map. You can plan your visit according to the zoo map. Entry gate, exit gate and parking are depicted in the map.
Mysore Zoo Review and Information
Total distance of Zoo trail is 3 Km. You can travel the Zoo by walking and it takes around 3 hours to finish the trail. If someone doesn't want to complete the trail on foot, battery operated vehicles can be used. Vehicle takes 1 hour to complete the zoological park. Complete map of the Mysore Zoo is shown below. The trail is covered with trees and proper shades are present inside the park. There is a dedicated canteen area inside Zoo campus, it is located near the center area of Zoo.
Zoo campus is well maintained and it is one of the most famous Zoo of country. It houses a large number of animals and some very rare species too. It is a very weekend gateway for all animal lovers. Children and adults enjoys the visit very much and one can spend hours watching various animals and forest trail. It becomes a very lovely place during winters as a result of good weather conditions. Giraffe, elephants are some rare animals which attracts a lot of visitors here. It is a very well maintained zoo with very good basic facilities. Water coolers and washrooms are present at regular distance inside the park. Parking facility is also present outside the premises. Zoo has very good reviews from various visitors.
Restrictions in Mysore Zoo
There are some rules and regulations inside Mysore Zoo for the safety and well being of animals and visitors. Food, lighter, Alcohol, cigarettes, Tobacco, weapons, fire items, polythene, etc are not allowed inside the Zoological park. It is advisable to avoid bringing such items inside the Zoo campus.Among the eatables and drinkable, only water bottle is allowed inside the Zoo. There is a canteen located inside the Zoo where you can go for refreshment. Teasing and feeding animals is not allowed. Maintain a safe distance from the animal enclosures and follow all rules set by zoo authority.
Contact Information of Zoo
| | |
| --- | --- |
| Address | Zoo Main Road, Indira Nagar, Mysuru, Karnataka 570010 |
| Contact No. | 0821 252 0302 |
Also visit Mysore Palace which is just 1.5 KM away from Zoo.