Pink Pearl Water Park Jaipur Tickets Price 2023, Timings, Location
Pink Pearl Water Park is one of the most famous and visited water parks in pink city Jaipur. It is one of the most maintained water parks with one of the best facilities. This water park provides various types of water rides, swings, amenities, and stay options in one place. It is one of the most favorite picnic destinations for the people of Jaipur and nearby areas. During summer vacations it is visited by kids, toddlers, and families. It is also a very favorite destination among the group of friends. Visitors can spend a peaceful and happening time at this Water Park.

Jaipur pink pearl water park ticket prices 2023 and timings are searched by thousands of visitors before making a plan to this Water Park. Visiting a water park in the summer months is one of the best things to get relief from the heat. It is one of the oldest water parks in the city established in 1999 therefore it is also one of the most popular Water parks in Jaipur. This place is located around 15 km from the center of the city in the outskirts. It is located in the Lush Green area with good views and a peaceful environment.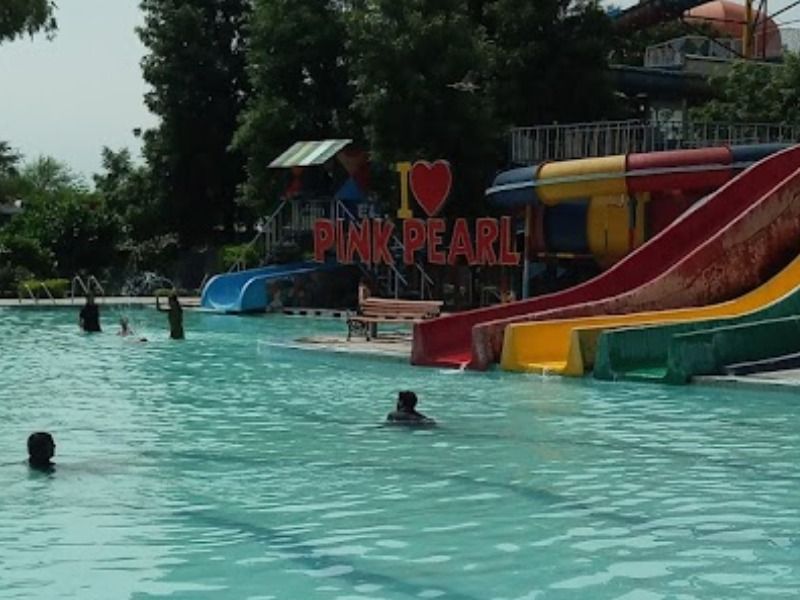 Pink Pearl Water Park Tickets Price 2023
The ticket prices of pink pearl water park are kept normal so that a maximum number of visitors can visit this amazing Water Park. Costume and locker charges are extra and they're other than the entry charges. Pink Pearl water park ticket price for kids is 400 rupees. Children of 3.25 feet to 4.5 feet are considered as kids and require an entry fee of 400. Children below 3.25 feet are eligible for free entry if accompanied by an adult. Adult entry fees are 600 and 700 depending on the season. The water park is also offering multiple packages including a stay in a hotel room along with the entry to the Water Park.

| Time | Kids (3.25-4.5 Feet) | Adults Ticket Rates |
| --- | --- | --- |
| 21st May to 30 June | 400 | 700 |
| Other Time | 400 | 600 |
Pink Pearl Water Park Timings 2023
| Days | Opening Time | Closing Time |
| --- | --- | --- |
| Monday | 10:30 AM | 7.30 PM |
| Tuesday | 10:30 AM | 7.30 PM |
| Wednesday | 10:30 AM | 7.30 PM |
| Thursday | 10:30 AM | 7.30 PM |
| Friday | 10:30 AM | 7.30 PM |
| Saturday | 10:30 AM | 7.30 PM |
| Sunday | 10:30 AM | 7.30 PM |
The time of pink pearl water park is 10:30 a.m. To 7:30 p.m. It remains open for visitors for 9 hours. Pink World Water Park's opening time is 10:30 a.m. And closing time is 7:30 p.m. Visitors can enjoy this water park for 9 hours after getting entry inside the park. This time frame is sufficient to enjoy all the rights of this wonderful water park
Pink Pearl Water Park and Fun City Facilities

This water park has all the required facilities which are essential for the guest. Lockers, washrooms changing rooms, restaurants, etc are situated inside the premises. This water park and resort can be booked for weddings, corporate events, meetings, picnics, and other functions.
Pink Pearl Water Park Address and How to Reach
The address of the water park is – 10th Mile, Ajmer Express Highway, Jaipur, Rajasthan. Visitors can reach here with the help of public transport and private vehicles. Auto and cab can be hired to reach this location. Visitors can also use Google Maps to reach this location. Ample space of parking is available to park vehicles safely.


We are advising our visitors to book pink pearl water tickets only from the official website or ticket counter. Entry ticket prices mentioned on the website are subject to change and check the official website also for updated ticket rates.