Bangalore Lalbagh Botanical Garden Tickets Price 2023, Timings, Map, Parking
Lalbagh Botanical Garden entry fee is searched by visitors while making a plan for this beautiful place. It is a botanical garden located in Bengaluru in a huge area. It was founded by Hyder Ali in the 18th century. Lalbagh Botanical Garden is one of the most visited tourist places in Bangalore and it is very popular among the locals and tourists. It is one of the hottest picnic spots for visitors too. It is located in South Bangalore in an area of 240 acres. A variety of trees and thousands of species of plants are situated in this green & beautiful garden. Travelers making a plan for Bengaluru should include Lalbagh in their itinerary. In this article, We are sharing Lalbagh Botanical Garden tickets price and timings so that people can make their plans accordingly.

Bangalore has many tourist places and Lalbagh is one of them. Bangalore has very pleasant weather around the year and it makes Lalbagh a very good place to visit in Bengaluru. This Botanical Garden is spread over a large area therefore there are four entry gates for this Garden. The 4 gates of the Lalbagh Botanical Garden are situated in the North, West, South, and East. Lalbagh Botanical Garden has a beautiful lake, artificial waterfall, parks, etc on the premises. This beautiful Park has many attractions inside the premises and at least 3 to 4 hours are required to cover the whole Park. Many tourist spots are located inside the park and they are divided into sections.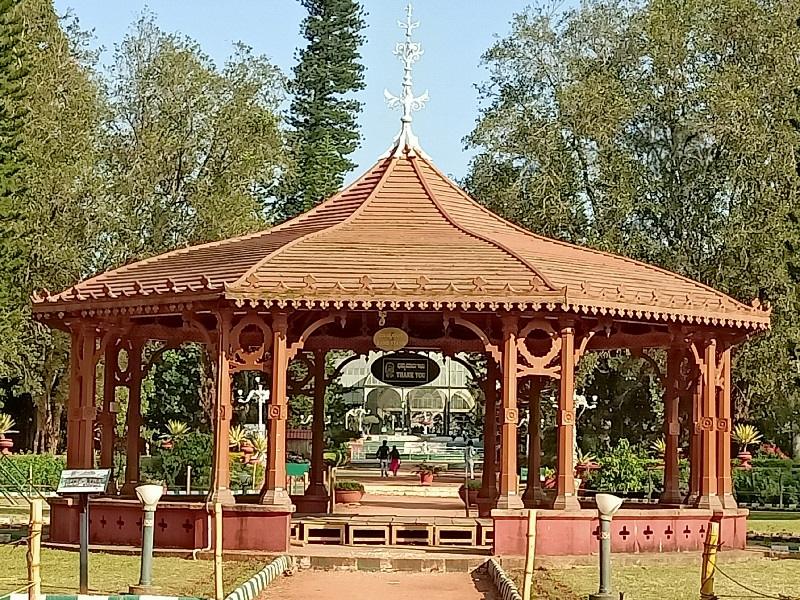 Two flower shows are hosted in Lalbagh on the occasion of Republic Day and independence day every year. Lakhs of people attend this magnificent show. At the time of publishing this article, boating facility is not available in the lake.
Lalbagh Botanical Garden Tickets Price 2023
| Particulars | Charges |
| --- | --- |
| Entry Fee | 30 Rs |
| Child under 12 years of age | Free |
| Entry Fee for walking | Free |
| Still Camera Fee | 50 Rs |
| Video Camera Fee | 50 Rs |
| Flower Show Tickets | 40 Rs |
| Guided Tour | 100 Rs |
The entry fee to Lalbagh Botanical Garden is 30 rupees for adults and foreigners ticket price is also the same. Children below 12 years of age are entitled to free entry inside the Bangalore botanical park. The still camera and video camera fee are Rs 50. Entry is free for Walkers from 5:00 a.m. to 9:00 a.m. and 4:00 p.m. to 7:00 p.m. Flower show charges 40 per person and during weekends and holidays, charges might be on the higher side.

Lalbagh Botanical Garden Bangalore Timings 2023
This Botanical Park opens every day from 6:00 a.m. to 7:00 p.m. and the last admission is accepted till 6:30 p.m.
| Day | Timings |
| --- | --- |
| Monday | 6 AM to 7 PM |
| Tuesday | 6 AM to 7 PM |
| Wednesday | 6 AM to 7 PM |
| Thursday | 6 AM to 7 PM |
| Friday | 6 AM to 7 PM |
| Saturday | 6 AM to 7 PM |
| Sunday | 6 AM to 7 PM |
Lalbagh Botanical Garden Map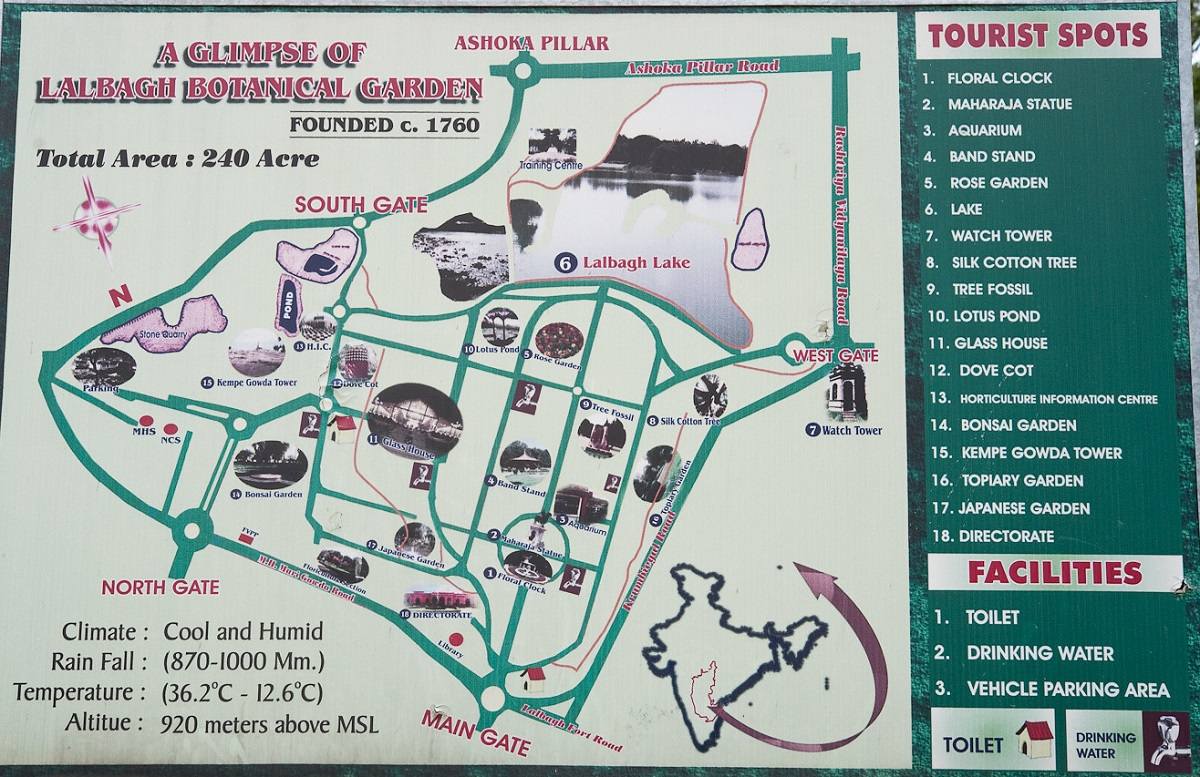 Lalbagh Botanical Garden has many tourist attractions inside the park. We have shared the Lalbagh map above and all the important tourist spots are clearly depicted on the map. Toilets, drinking water, and parking area are also shown on the shared map. Aquarium, Bandstand, Lake, Rose garden, Watch tower, silk garden, glass garden, and many other attractions are clearly drawn on the map. The location of all the entry Gates along with nearby roads are also mentioned on the map clearly. The path of the garden depicted on the maps makes it easy for the visitor to complete the visit to the garden easily. Lalbagh Botanical Garden map is very useful for the visitors to plan their visit to the park in advance.
Facilities

Drinking water and toilet facility are available inside the park. As per the information provided online baby feeding Road is also located. Snack counters, Sitting area, activity zone, parking, and all important facilities are available.