Qutub Minar Timings, Entry Fee 2023, Nearest Metro Station and Information
Qutub Minar is an UNESCO world heritage site located in Mehrauli area of New Delhi. Qutub Minar was built by Qutb al-Din Aibak, Iltutmish and Firoz Shah Tuglak. The construction of Qutub Minar was started in 1199 AD by Qutb al-Din Aibak. Qutub Minar height is 72.5 meters (238 feet) and it is the world's highest brick minaret. Minar has five storeys with a balcony on each floor and diameter at the base of the tower is 15 meters and diameter at top is just 2.5 meters. Minar has 379 steps to reach at the top, however, the entry within the Minar is closed. Qutub Minar is also spelled by different names such as Kutub Minar, Qutb Minar and Qutab Minar. In this post, I am sharing the details regarding Qutub Minar ticket price 2023 and entry timings.

Qutub Minar History
The foundation of Qutub Minar was laid in 1199 by Qutb al-Din Aibak after the victory on Delhi's last Hindu empire. It was built to show the Muslim dominance in Delhi. 27 Jain and Hindu temples were demolished to obtain the material to build the Minar. Qutb al-Din Aibak managed to build only the foundation of the tower, later, three stories of Qutb Minar was built by his successor Iltutmish. Firoz Shah Tuglak constructed the 5th and last storey in 1368. The last floor was built with white marble and can be distinguished easily.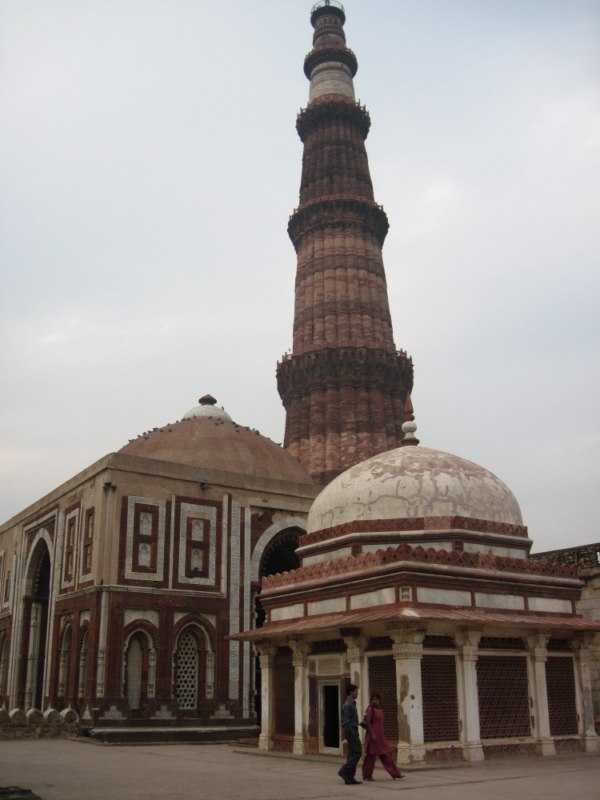 Quwwat-ul-Islam Mosque, the first mosque of India is present in the foot of the Minar. As per the inscription at east gate 27 Jain and Hindu temples were demolished to obtain the material to build the mosque. Qutub Minar architecture is based on the Indo-Islamic architecture and it is a good example of Mughal architecture.
Qutub Minar Complex

Many other historical Monuments are located in the complex along with Kutub Minar. Alai Darwaza, Quwwat-ul-Islam Mosque, Iron pillar, Tomb of Iltutmish, Ala-ud-din Khilji's tomb, madarsa, Alai Minar, Tomb of Imam Zamin, Tomb of Alauddin Khilji, etc are present in the complex.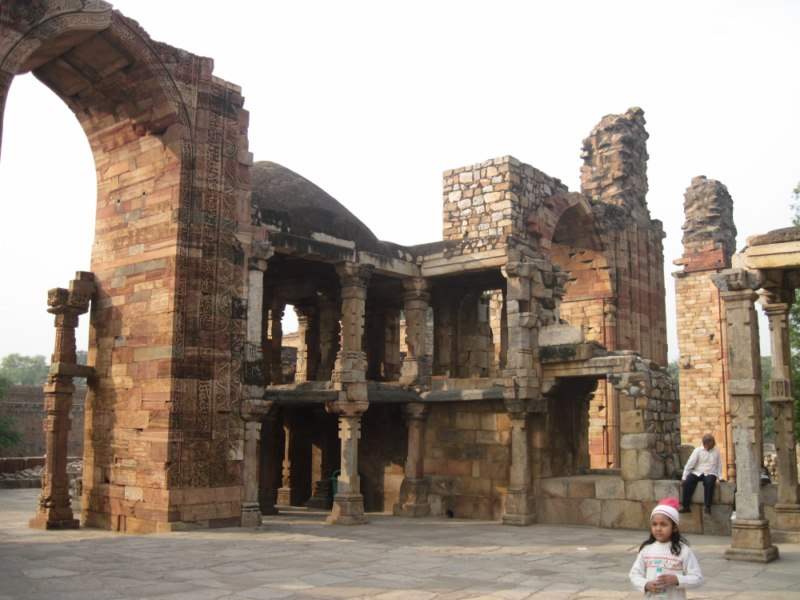 Alauddin Khilji started the construction of Alai Minar to make him two times taller than Qutub Minar, however, his dream remained incomplete due to his death. The uncompleted Alai Minar is 24.5 meters high only.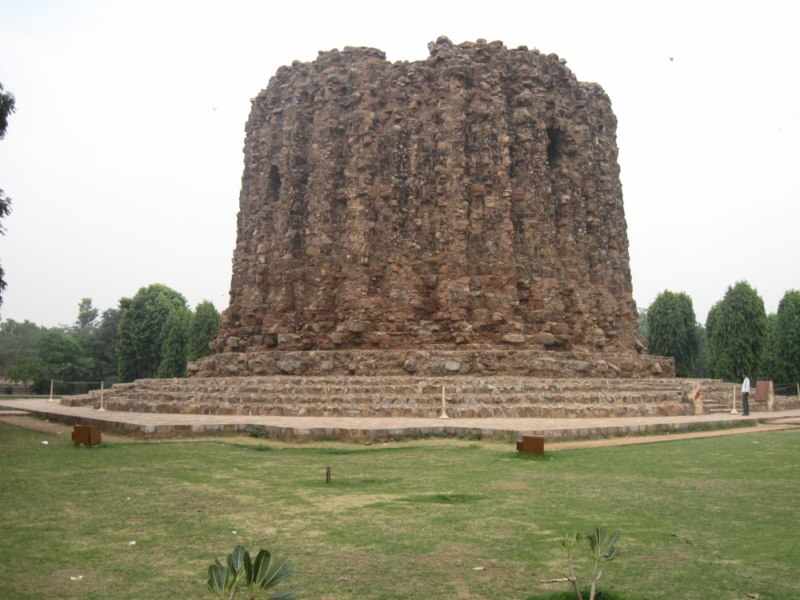 Iron Pillar
Iron Pillar is a rust free pillar in the complex and attracts many visitors and kids. It is known as the metallurgical wonder because it remains rust free even after millenniums. The height of the iron pillar is 7.21 meters and it weighs about 6,511 Kg. It was erected in 402 CE by one of the Gupta monarchs. As per Hindu mythologies it was erected by Mahabharat's Bheem by his right hand. It is also believed that if you encircle it with your hands while standing with your back your all wishes will be fulfilled.

Qutub Minar Timings
Qutub Minar opens daily from sunrise to sunset and the nearest metro station is the Qutub Minar metro station on the yellow line. The entry ticket price is Rs 40 for Indian and entry to children upto 15 years are free. The ticket price for foreigners is 600 INR. The distance of Qutab Minar from New Delhi railway station is 15 kilometer and the nearest airport is Indira Gandhi International Airport which is 13 KM away. Summers are hot and humid in Delhi, rainy and winter season is the best time to visit Qutub Minar.
Qutub Minar Tickets Price 2023
| Information | |
| --- | --- |
| Address | Mehrauli, New Delhi – 110030 |
| Days Open | All |
| Timings | Sunrise to Sunset |
| Entry Fee (Indians) | 40 for Adults |
| | Child upto 15 years are free |
| Entry Fee (Foreigners) | 500 INR |
| Still Camera Charges | Free |
| Video Camera Charges | Rs. 25 |
| Nearest Metro Station | Qutub Minar |
| Vehicle Parking | Yes |
| Time Required to visit | 2 hours |
| Official Website | delhitourism.gov.in |
| Contact No. | 011-23365358 |
Qutub Minar Google Map
The Qutub Minar is permanently closed for tourist after an unfortunate tragedy which took 45 lives. On 4 December 1981, 45 people were killed in the stampede.

The Garden of Five Senses is near to the Minar and visitors can include this place along with the visit.
Also Check: Humayun's Tomb, Safdarjung Tomb, Akshardham Delhi, Jantar Mantar Delhi, Agrasen ki Baoli, Red Fort, Purana Qila