Garden of Five Senses is a park located Saidul Ajaib village of South Delhi. It is spread on over 20 acres of the area. The lush green park is huge and based on few themes, it has various theme area like Mughal Garden, herb gardens, solar energy park, bamboo courts, plus pools of water lilies, etc. Garden of Five Senses is a leisure park where visitors can relax and enjoy the greenery of this beautiful park.
Garden of Five Senses park was opened in February 2003, it took 3 years in completion and a budget of 10.5 crore Indian Rupees was spent. Park was developed by Delhi Tourism and Transportation Development Corporation and architecture of the park is Pradeep Sachdeva. Many famous restaurants and bars are located inside the park for serving delicious food to their guests. Many famous places and tourist spots are very near to this park. Saket is just opposite to the park and World famous Qutub Minar is just 3 KM far from here.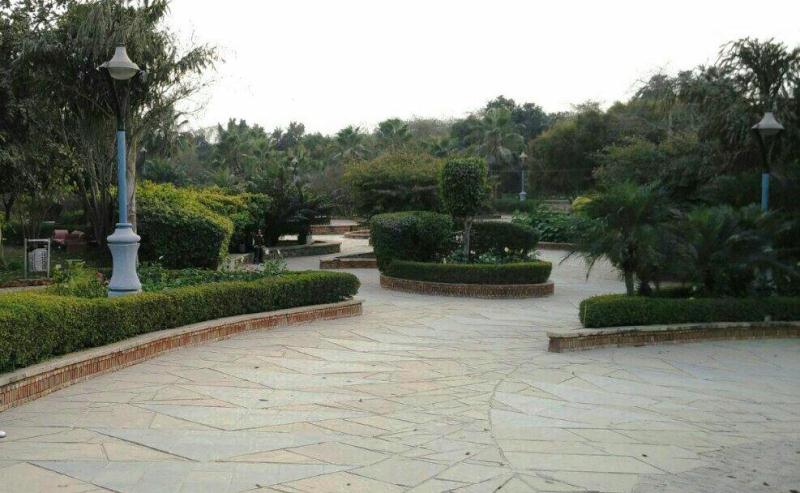 Garden of Five Senses Timings
| Particulars | Timings |
| --- | --- |
| April to September (Summer Timings) | 9 AM to 7 PM |
| October to March (Winter Timings) | 9 AM to 6 PM |
Timings of Garden of Five Senses Delhi are different from season to season. From April to September Garden of Five Senses opening time is 9 AM and closing time is 7 PM. From October to March opening time is same (9 AM), however closing time of Garden of Five Senses is 6 PM. It opens on daily and No weekly off is allocated to this beautiful park. 2 to 3 hours are sufficient to visit this park.
Garden of Five Senses Entry Fees
| Particulars | Ticket Price |
| --- | --- |
| Adults | 30 |
| Children up to 12 years | 10 |
| Senior Citizen | 10 |
| Handicapped Person | Free |
Garden of Five Senses ticket price is affordable. Visitors must have to purchase tickets to get entry into the Garden of Five Senses park. Entry fee for adults in 30 Rs, Children up to 12 years have to pay 10 Rs for entry fee. Senior citizen entry ticket price is 10 Rs also, whereas, entry for handicapped person is absolutely free.
Garden of Fives Senses Map
Garden of Fives Senses Information
| Particulars | Information |
| --- | --- |
| Name | The Garden of Five Senses |
| Address | Near Saket Metro Station, Mehrauli-Badarpur Road, Said-ul-Ajaib, New Delhi – 110030 |
| Nearest Metro Station | Saket Metro Station of Blue Line |
| Refreshment | Multiple Restaurants and Food Stalls |
| Washrooms | Yes |
| Parking Facility | Yes |
Multiple shows are also organised inside the Garden of Five Senses throughout the year.  Flower show is most famous show of the park and Momos festival also gathers good crowd.
Key Attractions
Garden has many key attractions:
Nature Walk
Khas Bagh (Spiral Walkway)
Bell tree
Stainless Steel Sculpture
Stone Crafted Elephant Troop
Neel Bagh
Amphitheater with seating area
Unique sculptures
Shopping Court
Food Stalls
Water cascades
Fountains
How to Reach Garden of Fives Senses
Garden of Five Senses nearest Metro Station is Saket of Yellow Line. It is around 1.2 KM and 15 minute walk is sufficient to reach here. Auto rickshaw fare from Saket Metro Station is 30 Rs. You can also reach here by DTC buses, Ola and Uber cabs.
Best Time to Visit
Morning and evening time is the best time to visit this park during summer, In winters afternoon and evening is pleasant to visit.
Garden of Fives Senses Restaurant



Few restaurants are present near Garden of Five Senses. List of restaurants near the park is shared below.
Fio Country Kitchen & Bar
Fio
Rose Cafe
Ssongchee Korea Bings Cafe
Blue Tokai Coffee Roasters
Chinese Chef
Garden of Fives Senses Review
It is a good and maintained garden and people who have an interest in flowers, natural beauty will like this park. It is mostly visited by couples, especially during the day time. Most of the couples visit this park in the Weekdays. Family should avoid a visit to garden, especially if you are with the kids due to openly love of couples in Garden of Five Senses. It is a must visit place for nature lovers and photo enthusiastic person.
Couples of Delhi should also visit Buddha Garden and Lodhi Garden.