Charti Lal Goel Heritage Park Timings 2023, Entry Fee
Heritage Park near Red fort is set to open on 20 March 2022 by President of India Ram Nath Kovind. The official name of the park is Charti Lal Goel Heritage Park. It is named on first speaker of Delhi Legislative Assembly. This park is situated near Red fort, Jama masjid and Chandni Chowk. This is located in one of the most busy locality of city in old Delhi area. This place is always flocked with tourists throughout the year. It is a great initiative by North Delhi Municipal Corporation to set up a park in this busy area of old Delhi. This park is very beneficial for the tourists and locals. In this post, we are sharing Heritage Park tickets price and timings along with map, how to reach and other important details.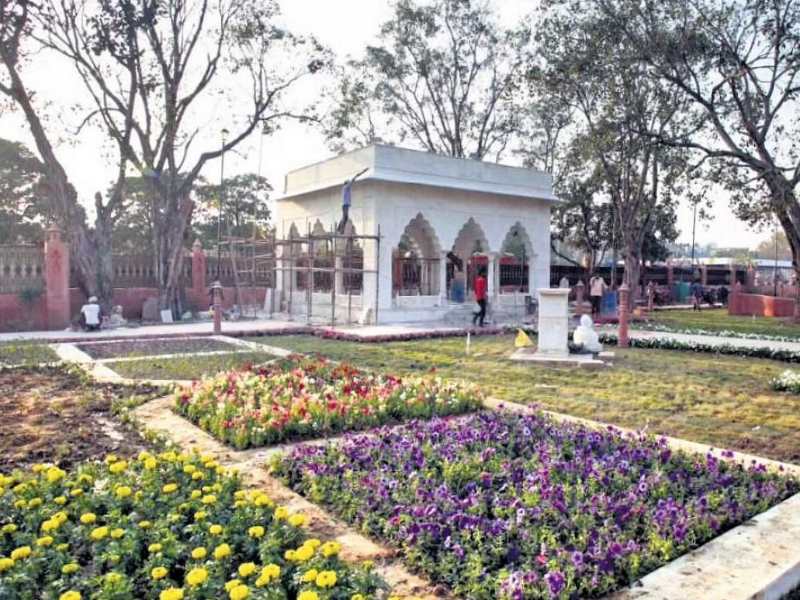 Former central minister and BJP leader Vijay Goel planned this park in 2017 inside the walled city of Delhi. He proposed the idea of park with NDMC. After getting some mandatory approval, NDMC start working on this heritage park. Now park is ready for public and after the inauguration by President of India it will be open for public. It is named on Charti Lal Goel who was a BJP leader and Deputy Mayor of Municipal Corporation of Delhi. Nowadays Delhi is getting some good parks like Waste to Wonder, Bharat Darshan Park, etc. Constructions of some parks is in progress and some are in pipeline. In next few years, Delhi will get some more quality parks.
Charti Lal Goel Heritage Park

This heritage park is located inside the walled city of Delhi and very near to historical monuments of Delhi. Lal Qila, Jama Masjid, Jain Mandir, Chandni Chowk, Lajpat Rai Market, etc. are in close proximity to the park. Heritage park spreads in an area of 8650 square meter. This beautiful park and structures built with red stone, white marble. Delhi quartzite stone, etc. This park is divided in two section, 5000+ sqm and 2000+ sqm respectively. A resolution has been passed in NDMC to named this park after Charti Lal Goel. Vijay Goel is the son of Charti Lal Goel and he worked hard for the construction of this park.
Charti Lal Goel Heritage Park Timings
Heritage park schedule to inaugurated on 20 March evening and after the inauguration it will be open for public. There is no official information regarding the opening timing of Charti Lal Goel Heritage Park Timings. After the official news, we will share the Red Fort Heritage Park Timings along with opening and closing time. Generally park in Delhi remains open from Sunrise to Sunset, so we are expecting Charti Lal Goel heritage park timing would be 7 AM to 8 PM.
Chandni Chow Heritage Park Tickets Price

There is no information regarding the Heritage park entry tickets. As per the reports, Heritage park entry price may be free for all. After the official news, we will publish the Heritage park entry ticket prices along with booking method.
Charti Lal Goel Heritage Park Facilities and Information
This park has all modern and basic amenities for the convenience of general public. Toilets, shopping counters, vehicle parking is available. 17.68 is the total cost for the completion of the park. various type of decorated lights are installed in the park which improves the overall experience in night too. Here people can spend sow quality time with friends and family.
How to Reach Heritage Park

Charti Lal Goel Heritage Park is located in main locality of town and visitors can reach here via multiple modes. Delhi Metro is the best option to reach here. Jama Masjid and Lal Qila metro station on violet line is the nearest metro station for Heritage Park. Chandni Chowk Metro station located on Yellow line is another metro station which is near to this park. Apart from Metro, many DTC and cluster buses stops here. Some of the bus numbers are 120B, 347, 429CL, 429STL2, 502, 729, 753. 114ST+, 901, 347, 402CL, 405A, 429CL, 502, etc. Old Delhi railway station is the nearest railway station and it is one of the busiest railway station of country. Cabs and auto is another public option to reach here. Visitors can reach here via car and two wheelers too.