How to Reach ION Digital Zone Noida Sector 62 Address and Nearest Metro Station
The government has set up or leased/hired some of the exam centers where most of the online exams are conducted. The top government job-related exams such as IBPS PO, SBI PO, Clerk, RRB, NTPC, Coal India Ltd, BSNL, etc. One of the busiest exam centers is located in Noida Sector 62. This exam center is managed by TCS (Tata Consultancy Services) and most of the CBT is held here. By CBT, we mean the Computer-based test. In the online world, most of the exams are conducted online. The chances of cheating and any kind of misconduct is minimal and it saves tons of paper every year. We have provided complete details about the ION Digital Zone Noida Sector 62 here.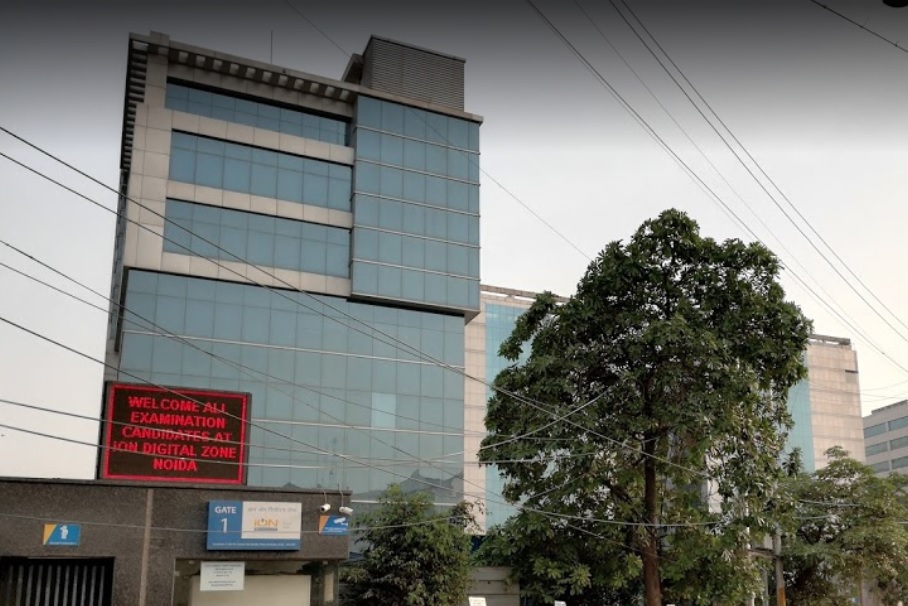 There are two exam centres in the same premises and they are ION Digital Zone IDZ 1 and ION Digital Zone IDZ 2. You may find an answer related to your queries such as ION Digital Zone IDZ 1 nearest metro station, Noida Sector 62 Metro Station to ION Digital Zone, Distance between Noida Sector 62 Metro Station to ION digital zone, ION Digital Zone IDZ 1 Sector 62 C30/7A sector 62 Noida, etc. We have also provided information about the facility provided at these exam centers.
How to Reach ION Digital Zone IDZ 1 and IDZ 2 Sector 62 Noida

The ION Digital Zone IDZ 1 is one of the two centre present in the same premises. The building is a six story structure located near Barclays corporate office and Samsung research centre. The ION Digital Zone IDZ 1 Nearest Metro station is Noida Sector 62. The Distance between Noida Sector 62 Metro Station to ION digital zone is approx. 1 Km. It is at a walkable distance and it takes around 12 minutes to reach the IDZ1 and IDZ2. You can have a look at the directions showing the path between ION Digital Zone (IDZ 1 & IDZ 2) and Sector 62 Metro station, Noida. After getting down from the metro, exit from metro station gate number 1 and walk for 800 meter and take left. After walking further for 350 meters, take a left once again. You will need to walk for another 550 meters and the exam centre should be on the left.
Another option is to take rikshaw or Auto, they will charge you 10 Rs most probably and time taken should be around 5 minutes.
Complete Address: iON Digital Zone (IDZ1 & IDZ2), 30/7A, BHA Millenium Rd, C Block, Phase 2, Industrial Area, Sector 62, Noida, Uttar Pradesh 201309
ION Digital Zone IDZ 1 and IDZ 2 Sector 62 Noida
The exam center is located at a very easily approachable location. You can use Auto, Taxi, Cab, Metro, and buses to reach ION Digital Zone. If you are coming by your own vehicle, finding a parking place could be a bit tough for you. So, you should reach there half an hour early and find some parking space. There are multiple food vendors nearby, so it should be no concern. There are thousands of computers available in the center and you will find the infrastructure well maintained. As the building is maintained by TCS, it has all the basic facilities in place. The exam centers or exam labs do not have AC or proper ventilation which becomes a concern in the summer. The washrooms are clean and the center is well managed. You will find a lot of photocopy and printing shops and stationery shops which will be helpful in utter need. The candidates have to use stairs and there is no lift, so you need to walk up even if your exam lab is on the 7th floor.

One should not bring anything extra when coming to the exam hall apart from writing on the back of the exam admit card. The security checking will make sure that nothing extra is taken inside the premises by the candidates, so travel light. You may be allowed to deposit your mobile, bag and other belongings inside the building. The shops outside may also keep your stuff after paying some amount, but it is not advisable.
We have tried to share a lot of information here which might help you in your big exam. If you have some suggestion or review, please let us know in the comment section.