Gujarat elections will be held either at the end of 2017 or in the start of 2018, for the legislative assembly of Gujarat. As per the sources, election dates for Gujarat polls might be announced in few weeks most probably after the Diwali. As per news websites, Elections might be held in multiple phases and results of Gujarat elections will be declared along with the Himachal Pradesh 2017 elections. The whole picture would get clear in couple of days. Gujarat Vidhan Sabha has 182 seats and 92 seats are required to win the elections in Gujarat. Around few months are left in the Gujarat elections and some Gujarat opinion polls are already starting to predict the winners. The various agencies have actively initiated surveys to get the idea of people's favourite in upcoming elections. Bhartiya Janta Party has been winning the elections since 1995. Earlier current PM Narendra Modi was CM of Gujarat who is very famous in Gujarat. However, after the coronation of Modi as PM, Gujarat got its new CM, Anandiben Patel. Two years after sitting in CM office, she resigned and Shri Vijaybhai was made the Chief Minister here. So Gujarat has seen three CM in the current tenure of BJP government, which doesn't seem good. BJP has to keep the trust of people of Gujarat, and convince them that they still have a good enough leader.
Gujarat Exit Polls will be released after the evening of 14 December.
The Gujarat elections are closing in, and we now officially know that results will be declared with Himachal Pradesh. People are waiting eagerly after the announcement of HP election dates, As we hoped that election dates for Gujarat will be announced with it. Now the wait has increased and politicians are trying to make every day count by increasing their support in the area. BJP has always been in a good position in the state of Gujarat and many Gujarat opinion polls have also suggested that. While opposition is blaming Bharatiya Janata Party for influencing election commission to delay dates of Gujarat elections. BJP is preparing to keep their governance here. Many trends and pre poll predictions have been shared by different media channels.
In the upcoming elections, BJP will be naming a new CM candidate other than Shri Narendra Modi. This change in CM candidate might make the coming elections tough for BJP. Congress will also be ready for competing against BJP with its full might. INC will be seeking for a tough CM candidate, which could bring them in power over such a long time. AAP is contesting first time in Gujarat assembly elections 2017. They faced defeat in general elections held in 2014. This time AAP will try to perform better and bring some seats to their party as well.
Gujarat Opinion Poll ABP News
Another pre poll survey has been announced by news agency and it is bringing good news for Bharatiya Janata Party like earlier Gujarat Election Predictions. A latest Gujarat Opinion Poll has been announced by ABP News and Lokniti CSDS and as per the poll BJP will easily get 113 to 121 seats with 47% vote share. As per Gujarat Opinion Poll ABP News Congress party will manage to win 58 to 64 seats with 41% vote share. In the last elections, the INC vote share was 41%. ABP News Gujarat Opinion Poll was conducted on a small sample of just 3757 voters of 200 polling booths under 50 Vidhan Sabha seats. ABP News has announced an Opinion poll in the month of August which is shared below in the post.
Times Now-VMR Opinion Poll Of Gujarat
| Political Party | Vote Share |
| --- | --- |
| BJP | 52% |
| Congress | 37% |
| Others | 11% |
The lastest survey for Gujarat elections is out now. It was conducted by Times Now-VMR survey agency on a sample of 6000 people. Some random questions were asked to people, about the Gujarat elections. The Times Now-VMR Gujarat survey suggests that BJP will get 52 percent vote share and Congress will get only 37 percent. Others will have to satisfy themselves with only 11 percent of vote.
| Political Party | Seat Prediction |
| --- | --- |
| BJP | 118-134 |
| Congress | 49-61 |
| Others | 0-3 |
This latest Gujarat Opinion poll predicts that BJP will win 118-134 seats whereas INC will get 49-61 seats. Others will get their hands on only 0-3 seats out of total 182 assembly seats. As per Times Now-VMR survey, BJP looks like in a very sound position. Congress party must be very uncomfortable with such surveys suggesting another term for their rivals Indian National Congress.
India Today-Axis My India Opinion Poll Latest
India Today-Axis My India has released a latest opinion poll on Gujarat elections 2017. This pre poll survey was announced on the evening of 24th October 2017. As per the survey prediction BJP will remain in the power in Gujarat. This poll is conducted on all 182 constituencies of Gujarat. This poll was run for the whole month from 15 September 2017 to 15 October 2017. The poll was conducted on 18243 people of Gujarat during a period of 1 month.
| Political Party | Seat Prediction |
| --- | --- |
| BJP | 115-125 |
| Congress | 57-65 |
As per the poll prediction BJP will win 115-125 seats out of 182 seats and INC will win 57 to 65 seats.
If we talk about the vote share, 48% voters will cast their vote in the favor of Bharatiya Janata Party and 38% voters are in the support of Indian National Congress.
| Political Party | Vote Share |
| --- | --- |
| BJP | 48% |
| Congress | 38% |
ABP News Lokniti CSDS Opinion Poll
Finally, after a wait of long time a reputed Gujarat opinion poll was announced. ABP News Lokniti CSDS survey released on Gujarat elections 2017. As per ABP News Lokniti CSDS opinion poll survey, if elections held today, the BJP with won these elections with a huge majority. Congress will remain on seconds and suffers a large number of seats as compared to the 2012 Elections. As per survey predictions, BJP will win 144 to 152 seats out of 182 seats. Indian National Congress will able to win 26 to 32 seats only. Other parties will win only 3 to 7 seats. This survey was conducted on a small sample of 4090 people who belongs to 50 different constituencies. Detailed poll results of latest Gujarat opinion poll are described below.
Region Wise Survey Results
Four regions of Gujarat were covered during the ABP news survey predictions, the regions are Kutch-Saurashtra, North Gujarat, Central Gujarat and South Gujarat. All four parts of Gujarat are with Bharatiya Janata Party with more than 50% of vote share. Detailed result shared in below table.
| Region / Party Name | Kutch-Saurashtra – 54 Seats | North Gujarat – 53 Seats | Central Gujarat – 40 Seats | South Gujarat – 35 Seats |
| --- | --- | --- | --- | --- |
| BJP Vote Share | 65 | 59 | 56 | 54 |
| Congress Vote Share | 26 | 33 | 30 | 27 |
| Others Vote Share | 9 | 8 | 14 | 19 |
| Total | 100 | 100 | 100 | 100 |
Most Favourite Chief Minister
As per the ABP News poll results, BJP Vijay Rupani is the most favourite choice for a CM candidate with 24% votes. Mr. Narendra Modi is on the second spot with 7% votes and Ex CM Anandiben Patel on third spot with 5% votes. Bharat Singh Solanki is on the last spot with just 2% votes.
People Opinions were also taken on some other important topics like government work on recent floods, Demonetization, GST, main issues of this election and overall work of current BJP government. People are happy and satisfied with current government work.
Gujarat Opinion Poll by VDP Associates
VDP Associates have conducted an opinion poll of 1100 people of 14 constituencies. The poll duration was July 28th to August 3rd 2016.
| Political Party | Vote Share |
| --- | --- |
| BJP | 47% |
| INC | 40% |
| AAP | 2% |
| Others | 4% |
| Undecided/Don't Know yet | 7% |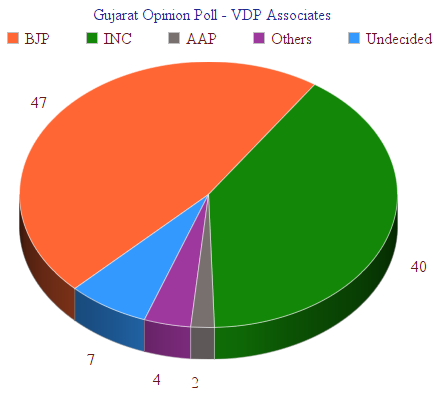 As per the VDP Associates Gujarat opinion poll 2017, BJP will get the maximum number of vote share (47%). Indian National Congress (INC) will grab the 40% vote share of respondents who took part in the survey. AAP has very low chances in the poll and just 2% people are in the favor of the Aam Aadmi Party.
Currently BJP is ruling in the Gujarat state and BJP is unbeaten in the state from last four terms. Current Chief Minister of Gujarat is Vijay Rupani.


Gujarat Opinion Poll by India Trending Now
| Political Party | Vote Share |
| --- | --- |
| BJP | 51.80% |
| INC | 26.30% |
| AAP | 9.90% |
| Others | 2% |
| Can't Say | 10% |
The Opinion poll conducted by India Trending Now suggests that BJP will again form government in the state. The Bhartiya Janata Party is expected to win 51.8% share of votes, enough to bring them in the majority. INC is in the second position with a share of 26.3%, which is not Satisfactory. With this share of votes, they can only secure a place in opposition. AAP is way behind both the parties with a vote share of 9.9%. It is not a good tally, however, it is good enough for a party contesting for the first time in assembly elections from Gujarat. 2% of vote share seems to be bagged by others and 10% of people could not decide which party is their favourite.



Gujarat Opinion Poll by RSS
As per reports published on various news channels, RSS conducted an internal survey for over two weeks on the voters of Gujarat. RSS Pracharaks conducted the ground level survey. The survey reports were out on 3rd August 2016 and as per the prediction Bhartiya Janta Party will might win 60 to 65 seats if elections held today.
Survey by the Gujarat state unit of Congress
Gujarat State unit of Congress has conducted Gujarat opinion poll in september 2016. As per their survey, Congress party may win 85 seats, staying at second place. BJP is predicted to win 97 seats, securing first place for the party. There are total of 182 seat in Gujarat assembly and 182 MLA will be selected on these Vidhan Sabha seats. As per survey, their seat tally is likely to be increased.

The Various opinion polls have already been declared. Many more surveys are yet to come. The current scenario suggests that BJP is still strong in Gujarat state. People are still voting for congress in the surveys despite the fact that BJP will bring a new CM candidate in the coming elections. It will be a good chance for Congress to take advantage of this change in BJP's fleet. The recent demonetization may have troubled the businessmen of Gujarat. We could see some impact on that as well.
The various opinion polls are surveys taken on a small sample of people, so the actual result of elections might be entirely different. The verdict of voters can only be predicted by opinion polls, surveys, latest news and live updates, etc. Voter's decision will only be seen when the election results will be declared and the fate of various political parties will be decided.
Check Rajya Sabha Election Results 2017
Check Punjab Opinion Poll for Aam Aadmi Party elections prediction. AAP is going to contest in upcoming Punjab elections against BJP, Akali Dal and Congress.
Related News
Gujarat Elections 2017 Date
Gujarat Assembly Constituencies
Gujarat Elections Opinion Poll 2017
Gujarat Gram Panchayat Election Results 2016
Gujarat MLA List
Chief Ministers of Gujarat
Congress MLA List 2012
Also Check:
UP Opinion Poll
Punjab Opinion Poll
Goa Opinion Poll
Uttarakhand Opinion Poll
Manipur Opinion Poll