Rock Garden Chandigarh Tickets Prices, Timings, Address and How to Reach
The Nek Chand Rock Garden is situated in Chandigarh city of India. It is a sculpture based garden and named for the founder of this beautiful garden. Rock Garden Chandigarh is spread in a huge area of 40 acres. Nek Chand started preparing the garden single handily for the year 1957 in free time. The sculptures in the Rock garden are made of scrap items like pipes, ceramic, rocks, bottles, pots, sinks, glasses, home waste, etc. It is one of the most visited tourist places in Chandigarh and it receives 5000 footfalls on an average day. Around 5000 sculptures are installed inside the rock garden. In this post I am covering Rock garden timings, entry tickets, location and how to reach.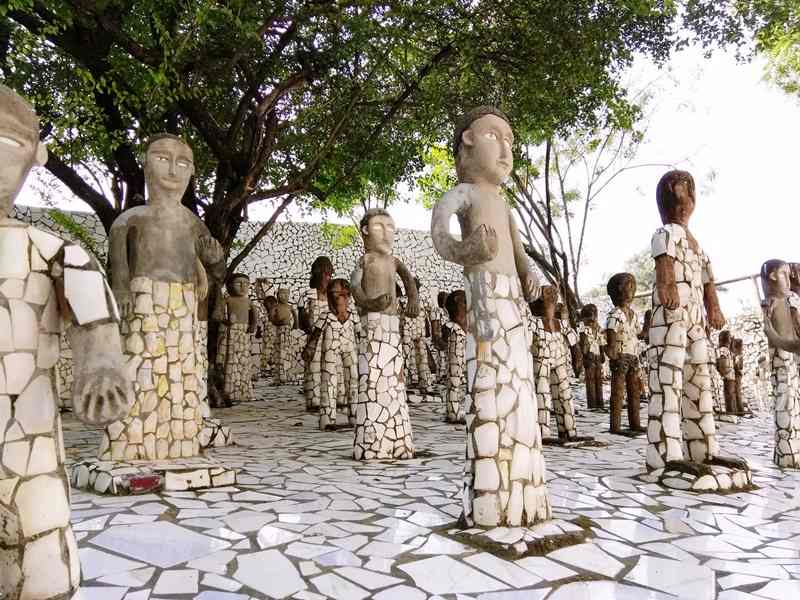 Rock Garden Chandigarh Timings, Best Time to Visit
Rock Garden timings are 9 AM to 7 PM in summers and the summer season is from 1st April to 30th September. Timings of Rock Garden of Chandigarh is 9 AM to 6 PM in winters (1st October to 31st March). Summers are very hot here and visiting this park in the afternoon is not recommended. Evening time and winter season are the best time to visit the Rock Garden.
Rock Garden Chandigarh Entry Fee
Rock Garden ticket prices are affordable to the pocket. Adult entry tickets are 30 Rs and children's entry ticket price is 10 Rs for age 2 to 10 years. There is no entry fee is for the camera. Rock Garden parking charges are 20 Rs per vehicle for per entry. Park is situated in a vast area and there is no battery operated vehicle in the park. 4 to 5 hours are required to visit the rock Garden.
How to Reach Rock Garden
Rock Garden of Chandigarh is situated near the famous Sukhna lake and distance from Sukhna lake is just 2 KM. Distance from railway station is just 7 KM and various modes of transportation are available to Rock Garden. Auto Rickshaw and cabs are the best way to reach the Nek Chand Rock Garden.




Rock Garden Ticket Price, Timings Other Charges and Information
| Rock Garden Entry Fee | Charges in Rs |
| --- | --- |
| Adults | 30 |
| Children | 10 |
| Nek Chand Rock Garden Timings | |
| Summer Timings – 1 April to 30 September | 9 AM to 7 PM |
| Winter Timings – 1 October to 31 March | 9 AM to 6 PM |
| Parking Charges | 20 |
| Camera Charges | Free |
| Address | Sector No.1, Chandigarh |
| Contact No. | 0172-2740645 |
Also visit Chatbbir Zoo near Chandigarh and check Mohali cricket stadium.