Buddha Smriti Park is situated in Patna, Bihar. This place is an urban park and is also known as Buddha Memorial Park. It was opened for general public on 27 May, 2010. The park was built to pay tribute to 2554th birth day of the Buddha. It was established by Bihar government and its inauguration was done by Dalai Lama. He is the spiritual leader and 14th Dalai Lama. This garden is located on the Frazer Road near Patna Junction railway station and Mahavir Mandir. Buddha Park is spread over a wide area of 22 Acres. It gets crowded on weekends and holidays considering the activities it offers.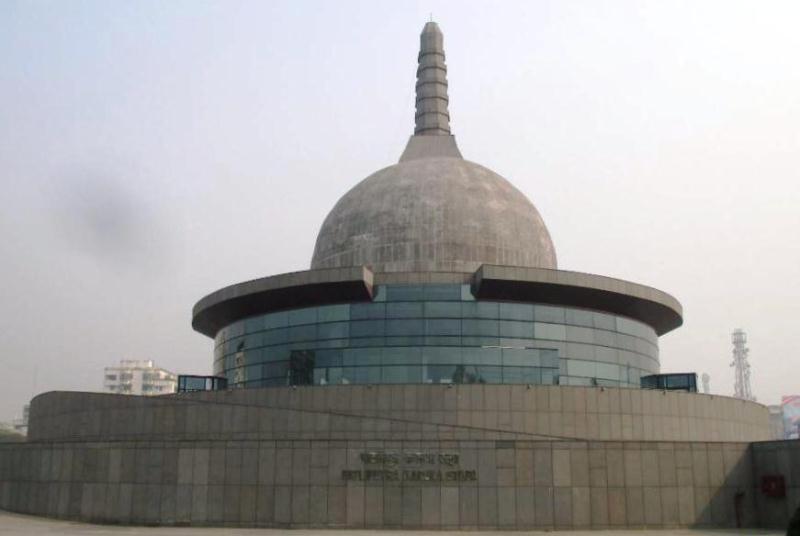 Buddha Smriti Park's main attraction is a 200 feet high statue, located in the middle of the park. This statue is also known as Patliputra Karuna Stupa. Holy ashes of lord Buddha are kept in a pot inside stoop. This is a calm and lovely park in Patna for couples, however the general decency should be maintained. The park is located in very main area of the city, as it is just across Patna Junction railway station. Many famous hotels are also nearby, if anyone wants to stay in the city.
Buddha Smriti Park Timings
Buddha Smriti Park timings are similar throughout the year. Buddha park patna entry time starts at 9 AM and it closes at 7 PM. It is kept closed on Monday every week. Best time for visiting this park for the purpose of jogging and exercise is early morning and late evening. During the winter season too, it has pleasant weather which makes it an ideal place for family picnic. The time required to visit the park is 2 to 3 hours, roaming around and capturing the picturesque view all around. If you have got enough time, it is better to witness this show of light. Buddha Smriti park laser show timing is 7 PM every night and it runs for 30 minutes. The laser show ends at 7:30 PM, and people leaves the park after finish of the show.
Buddha Smriti Park Entry Fee
| Particulars | Entry Fee |
| --- | --- |
| Buddha Smriti Park | 20 |
| Buddha Park Stupa | 50 |
| Meditation Fee | 200 |
| Buddha Smriti Museum | 40 |
| Buddha Smriti Library | 40 |
Buddha Smriti park entry fee is 20 Rs per person and the ticket is valid for two hours only. There is no parking facility as per our information, so no mention of parking fee here. The Buddha park stupa entry ticket charges are 50 Rs per head, meditation fee is Rs 200. There are separate tickets for everything in the park.

Buddha Smriti Park Patna laser show is another attraction which makes it worth visiting. A museum and Library is also situated inside the Buddha Smriti Park. Buddha Smriti Library and Buddha Smriti Museum ticket charges are 40 Rs each. There are other laser shows in Patna as well, such as Golghar.
Map and How to Reach Buddha Smriti Park Patna

Buddha Smriti Park is located in the midst of city, just across Patna Junction. The city is well connected to this part and it is easy for anyone to commute to Buddha park. It is located just 100 metre from railway station, so there is no need of any auto rickshaw or cycle rickshaw. A simple walk of few minutes will take you there. For people coming from airport, it is a 20 minute drive. The distance from Airport to Buddha Smriti park is 6.5 Km. Apart from private vehicle, one can opt for taxi, auto and city buses too.
Buddha Smriti Park is a good place to visit, if you are looking for a calm time with nature. Couples and families visits their very often and group of friends can be also seen. The entry ticket price are also nominal, considering the maintenance of the garden. However the lack of food stall is something which troubles visitors, as the eatables and drinkables are not allowed inside the park premises. It is also restricted to bring any kind of bags and polythenes at some occasions. These steps are taken to maintain the cleanliness and safety of visitors.

On the holidays, many families visit here and kids can be seen playing around. Overall it is a good urban park with greenery, between the chaos and rush of the city. Any kind of cameras are not allowed inside the garden, so it is advised to leave your camera at home of hotel. Smartphones with camera are allowed inside the Buddha Smriti garden.
Also visit Patna Zoo, Patna Taramandal, Mahavir Mandir and Eco Park of Patna City for boating and other activities. Patna Planetarium is very near (1 KM) to this garden.