India vs New Zealand 2021 Tickets Kanpur, Ind vs NZ Green Park Tickets Price
India vs New Zealand Kanpur 2021 tickets are in high demand after the announcement of New Zealand tour of India. First test match of two match series will be scheduled to play here. The test match will be played here from 25 November 2021 to 29 November 2021. The Ind vs NZ test match tickets demand is very high and we are sharing all the details regrading Green park stadium tickets booking. The Green Park stadium is a multipurpose stadium and a cricket ground located in Kanpur city of Uttar Pradesh. Green park cricket stadium is equipped with floodlight to host day night cricket matches. It is the only international stadium in Uttar Pradesh, which can host test matches and one day matches. It also hosted two IPL matches till now. Operator of the Green Park stadium is Uttar Pradesh Cricket Association and it is owned by the Uttar Pradesh Government. World's biggest working manual score board is installed in this stadium. During the international and IPL matches, you can book Kanpur Green Park stadium tickets online.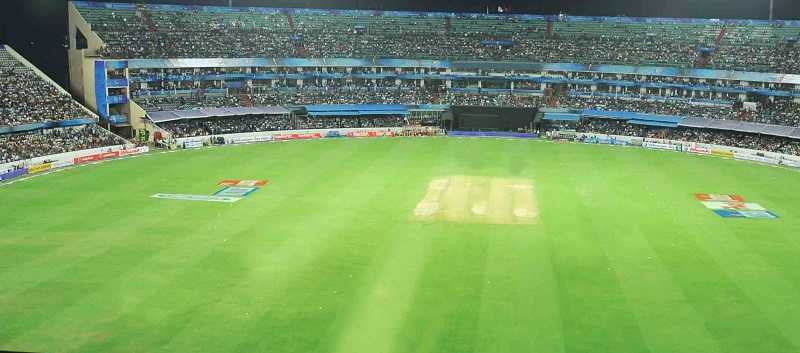 Green Park Stadium Profile
The stadium was established before the independence of India and named on the Madam Green who came here for horse riding practice. Green park stadium Kanpur hosted plenty of Test and ODI matches and India won first test here in 1959 by defeating Australia. This stadium also hosts IPL matches. IPL 10 matches are scheduled to be hosted in Green Park Stadium.
Upcoming Ind vs NZ Test Match Schedule at Green Park Stadium
The first test match of India vs New Zealand will be played here during day time. The match will start from 9.30 AM and match dates are 25 November 2021 to 25 November 2021. We are expecting that viewers might allowed inside the stadium to watch India vs New Zealand match live.
Ind VS NZ Tickets Price in Green Park Kanpur

Kanpur people are expecting to get the entry inside the Green Park stadium. As per our guess and previous year trends, ticket prices might starts from 100 Rs for 1 days and season pass might cost 500 Rs. Tickets are expected to sold early due to limited seats. We will update the ticket rates of Kanpur stadium matches of Ind vs NZ match along with the schedule and booking mode.

Green Park Stadium Seating Arrangement
Green park stadium seating capacity of 33,000 and can accommodate up to 60,000 by making arrangements. Stadium is big in size and seating arrangement is good. Seating layout clearly depicts the various pavilions and stands of the stadium which, helps you to find the seats easily.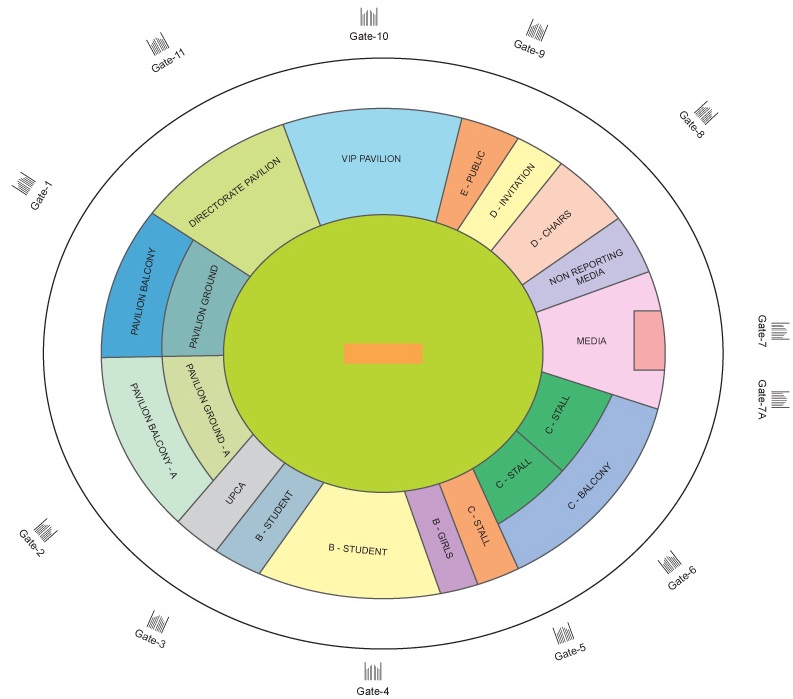 Seating map also showing the all entry gates of the stadium along with balcony, media house, VIP pavilion, student gallery, Girls stall etc. Cricket pitch, UPCA stand and Directorate pavilion also mentioned on the green park cricket stadium map.
India vs New Zealand Match Schedule Green Park Stadium
| Team 1 | Team 2 | Date | Time (IST) | Day |
| --- | --- | --- | --- | --- |
| Ind | NZ | 25 Nov 2021 – 29 Nov 2021 | 9.30 AM | Thursday |
Ind vs NZ Ticket Booking Procedure

Kanpur cricket stadium ticket booking generally opens few days before the match and ticket can be booked online or offline. You can book online tickets via bookmyshow website and other leading cricket ticket booking sites. Also, you can go to offline mode. Physical tickets can be bought from stadium counter and from bank branches. Offline tickets selling schedule is totally depends on the match. Online mode of booking is more convenient than offline mode and its save effort, time and money. We will keep you posted regarding upcoming cricket matches of Green Park stadium. The online tickets are not valid for the entry in the stadium, original gate pass should be redeemed from the pick up point or could be delivered to your mailing address depends on the schedule of the match.
Green Park Stadium Map
Stadium Facilities and Guidelines


The Green park cricket stadium Kanpur has all basic amenities which are required for the non stop fun. The stadium has plenty of washrooms and cafeterias. If you are visiting the first time in the stadium to watch a cricket match then it will be beneficial to you read the general instruction. Do not carry extra items other than mobile and wallet. Generally headphones, data cables, water bottles, coins, tobacco, cigarettes, poly bags, are restricted inside the stadium, however, baby food and diapers are permissible. The stadium is just 5 km away from the Kanpur central railway station and it is advisable to go there via public transport. It will save cricket fanatics from the chores.
| Information | |
| --- | --- |
| Address | Permat, Kanpur, Uttar Pradesh 208001 |
| Seating Capacity | 33,000 |
| Official Website | www.upca.co.in |
| Contact No. | 0512-2371480 |
I hope this guide helps you to enjoy the match.