Purana Qila (Old Fort) Ticket Price 2023, Timings and Boating
Purana Qila is located on Mathura road, New Delhi. It is one of the oldest forts of Delhi city and considered as the capital of Pandavas of the epic Mahabharata. So it is also known as Indraprastha Purana Qila. The entry gate of Old fort is located near to the entry gate of Delhi Zoo. It is one of the most visited historical monuments of Delhi. It is spread in a wide area and outside the Purana Qila, visitors can enjoy the boating. The fort is spread in the rectangular shape of around two kilometer circuit.

Purana Qila History
The current form of Purana Qila is believed to be built by Sher Shah Suri and it remained incomplete after the death of Afgan King Sher Shah Suri in 1545. The big gate and walls of the fort was built by Humayun. It is also known as the capital of Pandavas, a village Indrapat was located inside the fort walls until 1913. Humayun Tomb and Old fort were the refugee camp site at the time of partition in 1947. At the time of excavations conducted by Archaeological Survey of India found various potteries and object, which are on display at the Archaeological Museum, Purana Qila.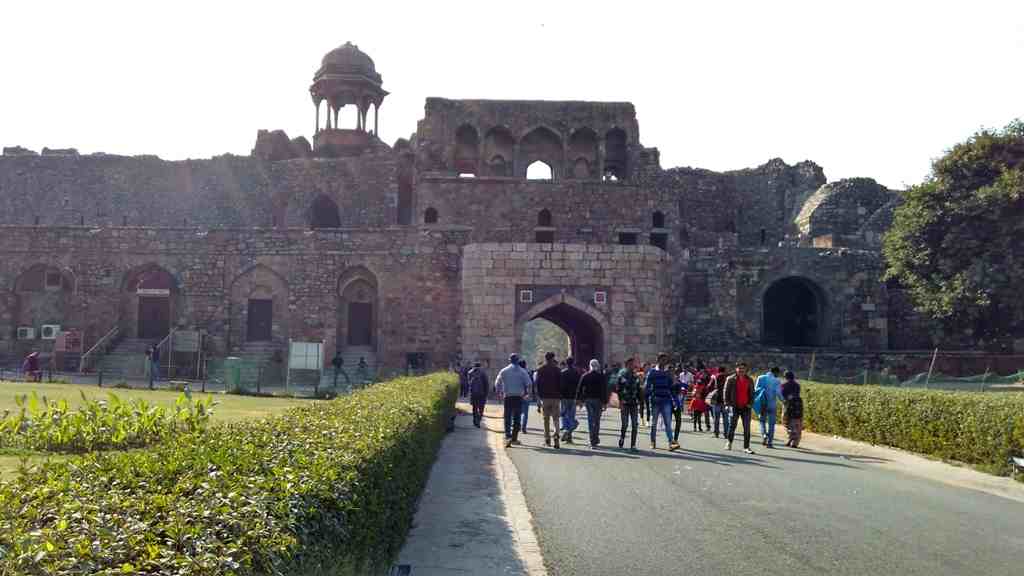 Purana Qila Boating

A big lake and a park are located outside the old fort and entry to the lake is from the Mathura road side and from near the old fort ticket counter. The entry into the park is free and for boating visitors need to purchase the ticket. Boating charges are Rs 100 for a 20 minute ride. On Saturday, Sundays and holiday you might wait more than one to two hours for your turn for boating. The lake is deep and big enough for paddle boating.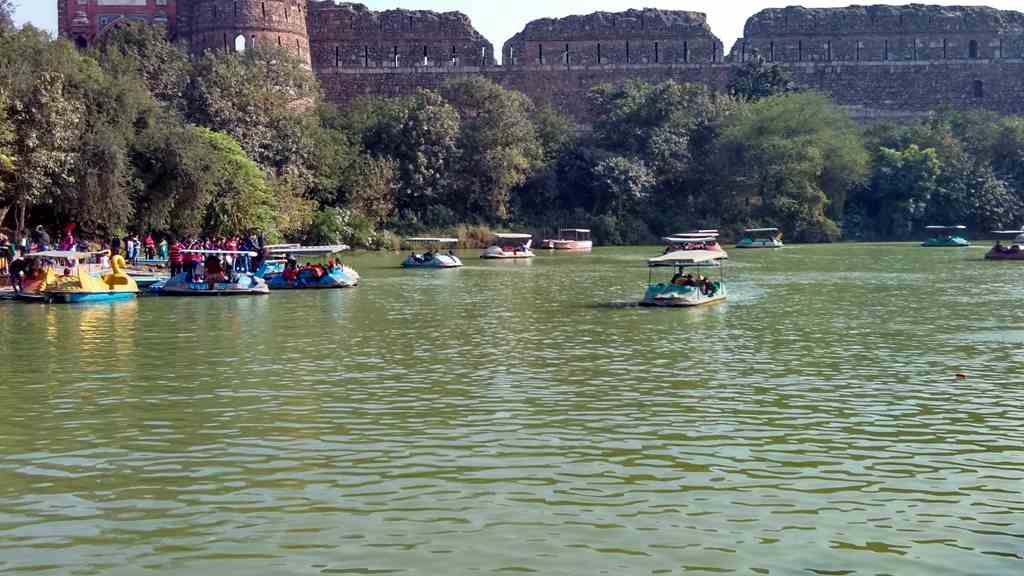 Old Fort Ticket Price 2023 and Timings
Purana Qila Timings are Sunrise to sunset and it opens on all day. Opening times are at the time of sunrise and it closes at sunset. The entry ticket for Purana Qila is 30 Rs and 5 rs entry fee for Archaeological museum for Indian nationals. Foreigners need to pay 300 for the combined tickets. No charge for using still camera inside the fort and for video camera visitors need to pay 25 Rs at the ticket counter. SAARC and BIMSTEC countries citizen need to pay amount similar to Indian Nationals.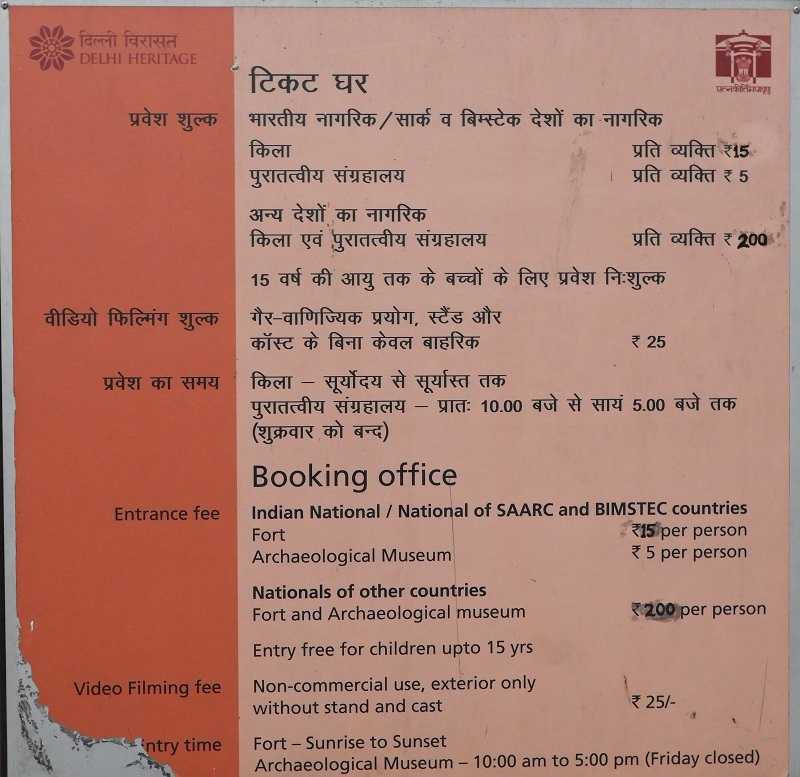 Purana Qila Light and Sound Show
Sound and light show is also organized in the premises of Old fort after the sunset on everyday except Friday. Show name is ishq e dilli, Ishq E Dilli is a one hour long show which shows the love of various rulers including Mughals and British Raj. Two shows are organized of this amazing show in Hindi and English. Ticket prices of this show is 100 Rs for Adults. Child 3 to 12 years, senior citizens, students and physically challenged need to pay 50 rs for this amazing show.
| Months | Hindi Show | English Show |
| --- | --- | --- |
| February to April | 7 PM to 8 PM | 8.30 PM to 9.30 PM |
| May to August | 7.30 to 8.30 PM | 9 PM to 10 PM |
| September to October | 7 PM to 8 PM | 8.30 PM to 9.30 PM |
| November to January | 6 PM to 7 PM | 7.30 PM to 8.30 PM |
Below are the images of Sound and Light show which were clicked by our team during our visit of January 2018. Mobile and cameras are allowed in the show, however, clicking pictures with flash on is prohibited.


Purana Qila Information
Visitors can park the vehicles at Delhi Zoo parking which is located just in front of Old Fort. Nearest metro station is Supreme Court Metro Station (Pragati Maidan) of blue line. If you are planning to visit the fort in summer season, please note that the weather of Delhi is very hot and humid in summers.
Best time to visit the fort is rainy or winter season or chose the evening time when the weather is pleasant. At least two to three hours are required to explore the fort and its areas. Inside the fort Archaeological Museum and garden are also located. Light and Sound show is also organised in Purana Qila on every evening in Hindi and English. Delhi Zoo is s must visit place which is located just in front of the fort gate. Other nearby tourist places are National Science Center and India Gate. It is a very good place for photographs as most of the fort and gardens are well maintained. It is a hot spot place for pre wedding photo shoot in Delhi.

| | |
| --- | --- |
| Address | Mathura Road, Near Zoo |
| Entry Tickets | 30 Rs for Indians with Museum |
| | 300 Rs for Foreigners with Museum |
| Stiil Camera Charges | Free |
| Video Camera Charges | 25 Rs |
| Parking | Yes |
| Boating Charges | 100 Rs |
| Time to visit | 2-3 hours |
| Nearest Metro Station | Pragati Maidan |
| Light and Sound Show | Click here for Bookings |

Check: Places to Visit in Delhi