Vandalur Zoo Timings, Ticket Price 2023 – Arignar Anna Zoological Park Chennai
Vandalur Zoo is located in the Vandalur region of suburban part of Chennai. Vandalur zoo is also known as Arignar Anna Zoological Park and Chennai Zoo. It is India's largest zoo, being spread over vast area of 1300 acres. Chennai Zoo was open for public in 1855 AD. It was then inaugurated with the name of Madras Zoo. It is the largest zoo as well as the first public zoo of India. The animal collection of the zoological park is very wide, it is the home of more than 1500 species. Flora and Fauna are rich in diversity as it has over 2553 species. Zoo authority provides most of the facilities of a modern zoo. Chennai zoo animals list includes many exotic species, and wild animals. Arignar Anna Zoological Park lion safari is fun filled and very informative. Check the Vandalur Zoo timings along with the entry fee 2021 in this article, along with other important details.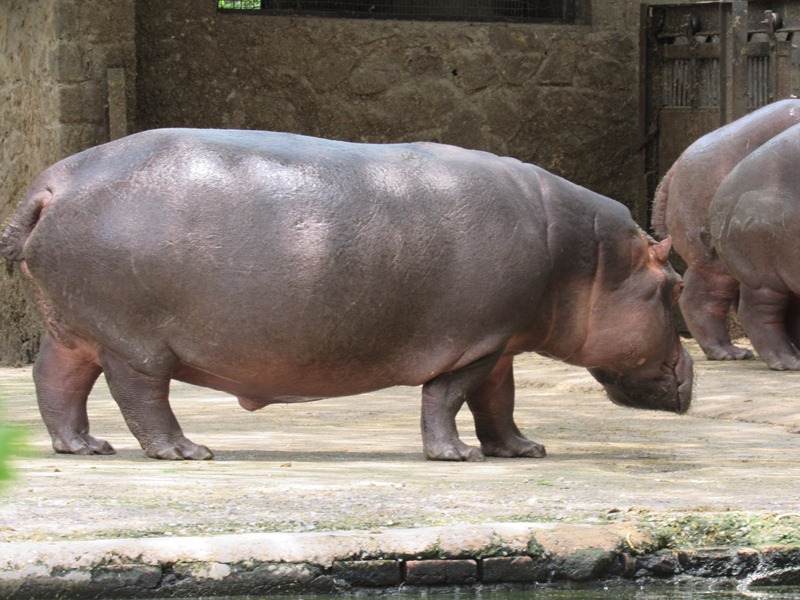 Vandalur Zoo Timings
| Particulars | Timings |
| --- | --- |
| Wednesday to Monday | 9 AM to 6 PM |
| Weekly Off | Tuesday |
| Elephant Ride Timing | 10 AM to 11.30 AM and 3 PM to 4 PM |
| Time required to visit | 3 to 4 Hours |
| Best Time to Visit | Morning, Evening Time or Winter Season |
Vandalur zoo opens for six days a week, you can visit here from Wednesday to Monday. Zoo remains closed on every Tuesday. The timings of Vandalur Zoo are 9 AM to 6 PM. The best time to visit Vandalur Zoo is during early morning or evening, between 9-11 AM and 3-6 PM; as the weather is quite pleasant during these hours of the day. Hot days are uncomfortable for visitors as well as Animals, hence animals and birds spend most of their time resting in their cages. Winters are the preferable time to visit the Vandalur zoo. The time required to visit the zoo is 3-4 hours. Elephant ride timings are from 10 AM to 11:30 AM and 3 PM to 4 PM. Vandalur zoo lion Safari takes half an hour of time. You can choose Vandalur Zoo Safari and it takes around 1 hour. Battery cars inside the zoo are available throughout the day.
Vandalur Zoo Entry Fee 2023
Vandalur Zoo entry fee was revised recently. Zoo administration increased the Vandalur zoo ticket prices. Now the Chennai Zoo ticket price for adult is 90 Rs, for children (age 5-12) it is 50 Rs. The zoo battery car price for adults is Rs 100 and it is 50 Rs for children. Lion safari and deer safari ticket prices for adults and children are 100 and 60 Rs respectively.  Camera fee is 25 Rs and the handycam fee is 150 Rs. Video Camera charges are 50 Rs. Ticket charges for foreigners are also mentioned below table along with Indian citizen tickets. As per our knowledge, Vandalur Zoo online tickets are available through the official website and one can book entry tickets at the ticket counter also.
Vandalur Zoo Ticket Price List 2023
| Category | Indians(Rs) | Foreigners(Rs) |
| --- | --- | --- |
| Adult | 90 | 500.00(inclusive of Still/Mobile/i-pad/Tab Camera Charges) |
| Children above 5 years and below 12 years | 50 | 250 |
| School Children (5-12 years) from Government Schools and Aided schools | 10 | Not Applicable |
| Children below 5 years and special needs /differently-abled person | Free | Free |
| Battery-operated and other Zoo round vehicles for adult | 100 | 100 |
| Battery-operated and other Zoo round vehicles for Children | 50 | 50 |
| Lion and Deer Safari for adult | 100 | 100 |
| Lion and Deer Safari for children | 60 | 60 |
| Camera | 25 | No Fee(Included in the Entry Ticket) |
| Handy Cam | 250 | 500 |
| Video Cam | 500 | 1000 |
Vandalur Zoo Map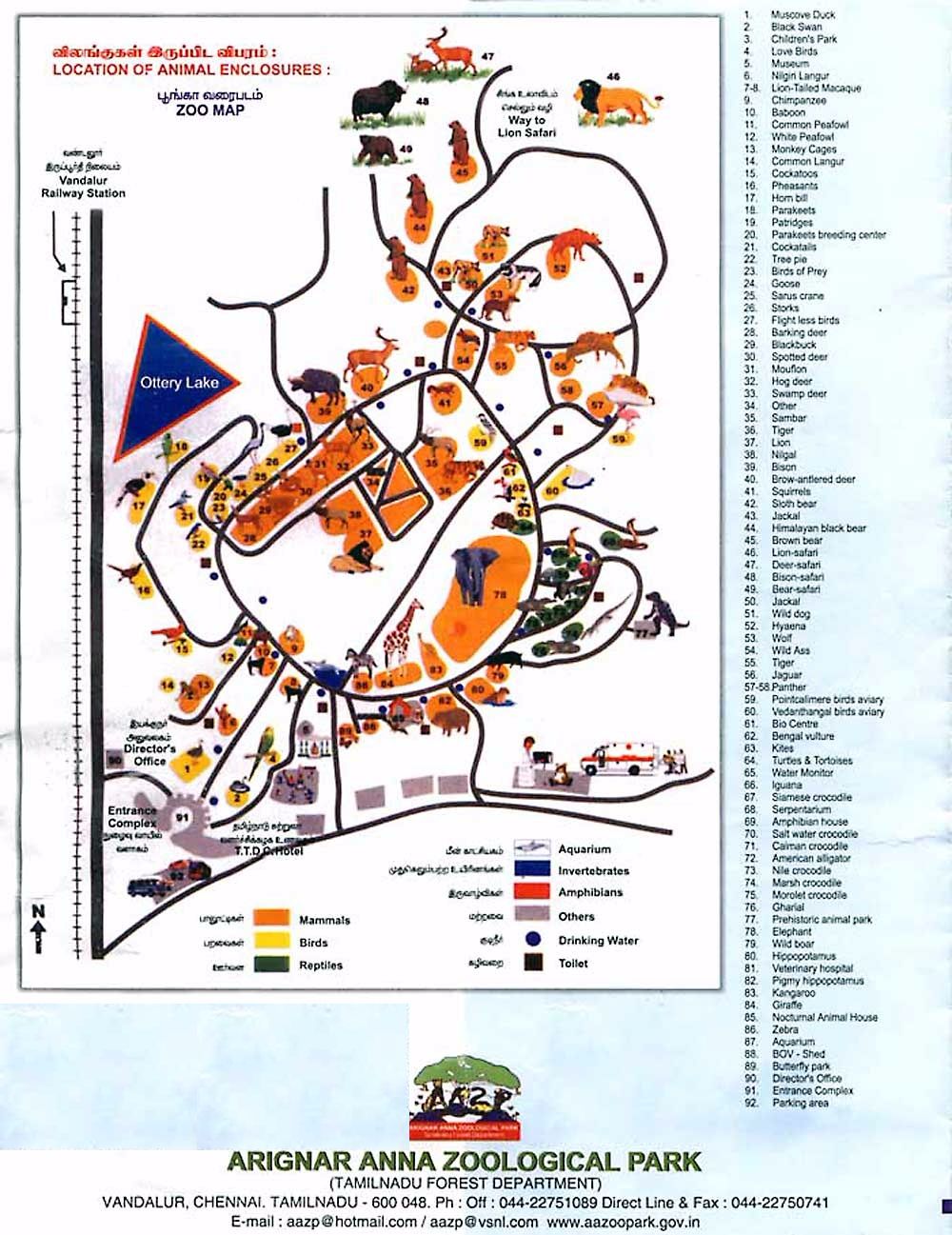 The zoo map is very detailed and it shows various enclosures. All the main enclosures and animal cages are also shown with their respective icons. Zoo aquarium, amphibians, invertebrates, birds, mammals, and reptiles are shown with legends of different colors. Drinking water and toilets are constructed at frequent intervals inside the campus, they are also shown in the Vandalur zoo map images. The map is very informative and it is designed to help visitors. You may follow the trail suggested by Zoo authority inside the zoo campus. This trail will certainly help you to cover all the parts of  the zoo in efficient way.
Vandalur Zoo How to Reach and Location

The Chennai zoo is located at a distance of around 40 Km from Chennai central railway station. The zoo can be reached from Airport by traveling around 15 Km. EMU train can also be boarded at Chennai Park station and travel till Chromepet EMU station, located in front of zoo. Cars and other public transport can also be used, however, the traffic is sometimes too thick and takes a lot of time. Parking facility is available at the zoo and the charges are not too much. If someone is traveling by bus, nearest bus stand is the Vandalur Zoo bus stand. It is advisable to reach the zoo at the early hours as it is quite pleasant there during the morning. The Arinagar Anna Zoo is quite crowded during public holidays and weekends.
Arignar Anna Zoological Park General Information

Visitors are not allowed to bring outside food and drinks. However, there is no need to worry as they have numerous eateries inside the premises. Drinking water is also found in abundance, as they have installed water coolers and outlets. The overall zoo is clean and plastic items are also not allowed and hence checked while frisking at entry gates. This initiative is taken to ensure the safety of the animals and maintaining zoo cleanliness. In terms of cleanliness, Vandalur zoo snake enclosure glasses lags somewhere, as they are not cleaned regularly. People can capture Vandalur zoo images, and various animal images can also be clicked. Zoo official website is aazp.in. The Zoological parks are like a forest area with controlled access to the public. It is the duty of visitors to maintain the beauty of such a place. It is everyone's responsibility to avoid littering or polluting such places. One should not disturb the animals and birds and enjoy their visit while following government rules.
Discussing about review of the Vandalur zoo, it is good enough for the visitors and it has all the basic facilities in place. It is an ideal place for family and friends, considering weather is not too hot. Visitor's Zoo experience is way better in the pleasant times but not so good during summers. Vandalur zoo contact number is 044-22751089. Email address are aazp@hotmail.com and aazp@vsnl.com. Arignar Anna Zoological Park address is GST Road, Vandalur, Chennai, Tamil Nadu 600048. You may also drop your review of the zoo in the comments below. Drop your query here as well and we will try to answer your questions.
Also visit Crocodile Park of Chennai and MA Chidambaram Stadium.