India vs Australia Mohali Stadium Tickets Price, Punjab Cricket Association Stadium Tickets
Mohali stadium tickets price 2023 are being searched by thousands of cricket fans as India vs Australia ODI match will be played here on 22nd September 2023. Therefore cricket fans are looking for India vs Australia Mohali stadium tickets online and from stadium ticket counters. Punjab cricket association stadium tickets Mohali 2023 searches are very high as one day international match will be hosted in this stadium after a long gap. Mohali stadium tickets will be out through the BookMyShow/PayTM insider website and mobile app. The last international match was played here between India and Australia as a T20 match on 20 September 2022. Mohali Cricket Stadium is also known as IS Bindra Stadium and is located in Mohali, near Chandigarh. The stadium is the home ground of the Punjab cricket team and Punjab Kings (IPL Team). This stadium is also one of its kind in the usage of floodlights, which are rather unconventional. It has 16 flood lights which are low in height so as to ensure smooth flight operation, as Chandigarh Airport is quite near to the cricket ground. Mohali stadium tickets price 2023 will be announced soon. News about the Mohali match tickets booking will also be shared along with the ticket cost. The stadium has the capacity to accommodate 26,950 spectators. After the successful hosting of IPL matches and international matches, Mohali Stadium is ready to host Ind vs Aus ODI match just before the 2023 ICC World Cup in India. Punjab Kings IPL Mohali tickets are also in high demand during the IPL season and hence the fans are always eager to know IPL Mohali tickets Price list 2023.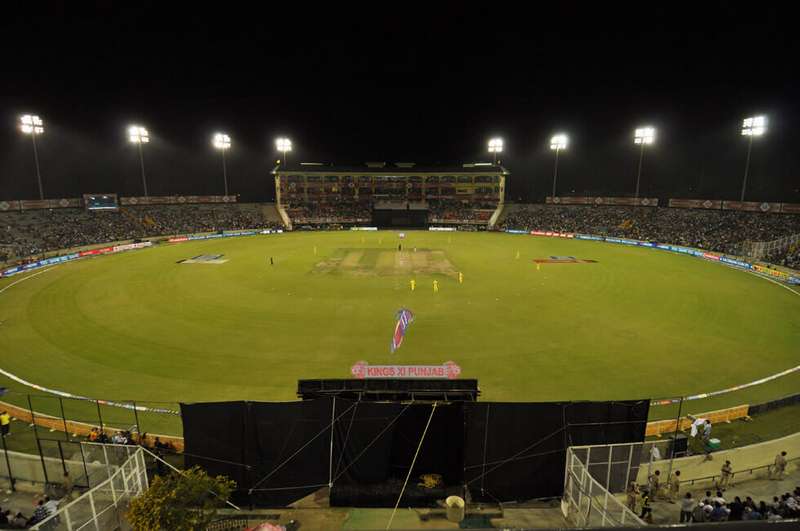 The stadium is owned by Punjab Cricket Association, hence it is also known as PCA Mohali Stadium. The stadium was built and inaugurated in 1993. A match between SA and India was played on its inauguration day (22 Nov 1993). The outfield and pitch of the stadium are green and it supports pace bowlers as it keeps the ball new and shiny for a long time. It hosts most of the Indian Premier League matches of the Punjab Kings IPL Team.
India vs Australia Mohali Tickets 2023
After the announcement made by BCCI, Mohali PCA ticket demand among cricket fans is rising day by day. ODI world is scheduled to start in India in October 2023 and it is a very popular cricket format. The demand for cricket tickets in India is very high and ODI match tickets at Mohali Stadium are always in high demand. Both teams are very good teams and it is very tough to book Punjab cricket association stadium tickets 2023 in online sales. Tickets generally sold out in a few hours as soon as tickets are out. We are sharing some simple steps for Mohali cricket match tickets booking and Mohali match tickets.

The ticket booking procedure is very simple and PCA tickets can be booked online. Users have to visit the official/partner website where they can book cricket match tickets. They can choose their favorite stand from the various available stands. VIP passes are not available for sale. The entry pass can be collected from the box office, once the tickets are booked successfully. Tickets will be delivered to the registered address or they can pick up from the box office also. Pick-up details will be shared with the users through E-mail and other modes after the booking.
Mohali 2023 PCA tickets are generally put on sale via the PayTM insider website and App. Mohali ticket booking process is very simple and tickets can be booked easily. We suggest booking Mohali tickets 2023 only through official websites.
Log on to the ticket booking website or create an account with them.
Now look for Ind vs Aus Mohali tickets and click on them.
Now look for the Mohali match ticket booking for the Australia tour of India 2023.
Choose seats from available seats, check Mohali stadium tickets price, and go for prepayment.
Payment is required to confirm bookings and check your mail after making the payment.
All the details related to ticket delivery or pick up from stadium ticket counters or box office will be mentioned in the mail.

Mohali Cricket Stadium Ticket Price List 2023 Expected
| PCA Mohali Stadium Stands | IPL Tickets Rate in Mohali |
| --- | --- |
| Dream11 Chair East Block (Sector B) | 1000 |
| Hindware West Block 2 (Sector A) | 1250 |
| Hindware West Block 2 (Sector B) | 1250 |
| BKT Tires East Block 2 (Sector B) | 1300 |
| Ebixcash East Block 1 (Sector B) | 1450 |
| Lotus Herbals West Block 1 (Sector B) | 1450 |
| Level 2 – Corp. Box 5 | 9000 |

Mohali cricket stadium ticket price is likely to start from 950 Rs. Ticket rates mostly depend on match type, opponent team, view from the seat, and timings. The highest ticket cost is 9000 as per the official booking website during IPL. Mohali stadium ticket prices will be announced soon. Mohali stadium tickets price 2023 is expected to start from 950. Student tickets might be available for cricket matches through PCA Mohali stadium ticket counters. PCA stadium ticket counter timings will be announced in advance via the official channels. From the ticket rate table, visitors can check Mohali Stadium IPL tickets price 2023.
IPL Match Schedule at Mohali Stadium 2023
The Mohali stadium schedule for the ODI match 2023 has been announced. The complete Mohali stadium 2023 schedule is updated below:
| Team | Day and Date | Time |
| --- | --- | --- |
| India vs Australia | Friday 22 September 2023 | 1.30 PM |
2 other matches of India vs Australia ODI series are scheduled to play at Holkar Cricket Stadium Indore and Saurashtra Cricket Association Stadium Rajkot.
General Guidelines
After collecting Entry passes from the box office, check the gate number and stand number printed on it. Do not carry any items other than the Mobile phone and wallet. Items restricted in PCA Mohali stadium are Coins, Plastic carry bags, Helmets, inflammable items, earphones, power banks, cords, Data cables, cameras, binoculars, etc. The restriction doesn't imply to baby food items and diapers.

Avoid taking your personal vehicles to stadium as it can be a tough task to find a suitable parking place near the Mohali stadium. Parking is available but it can be really tedious in the busy match day to fight the traffic which will might keep you stuck in the jam. Public transport is recommended.
Mohali Cricket Stadium Map
Mohali Stadium Facilities



The facility has all the basic amenities and those are well maintained. It has plenty of washrooms which are in fine condition. The food served in the restaurant is of good quality. Apart from the normal stands, the stadium also posses Owner's pavilion terrace, VIP block, AC lounge, Corporate Box. In these pavilions, luxury facilities are available like Buffet setup with beer and soft drink. Parking facility is available in the stadium.
Also Read about Eden Gardens Cricket Stadium and Chinnaswamy Stadium
Mohali Stadium Seating Plan
The stadium sitting map is shown below. It can help you while booking the tickets and finding the seats easily. It also shows various gates with gate numbers. This stadium layout also depicts the nearby roads. The seating arrangement is clearly illustrated on the stadium map.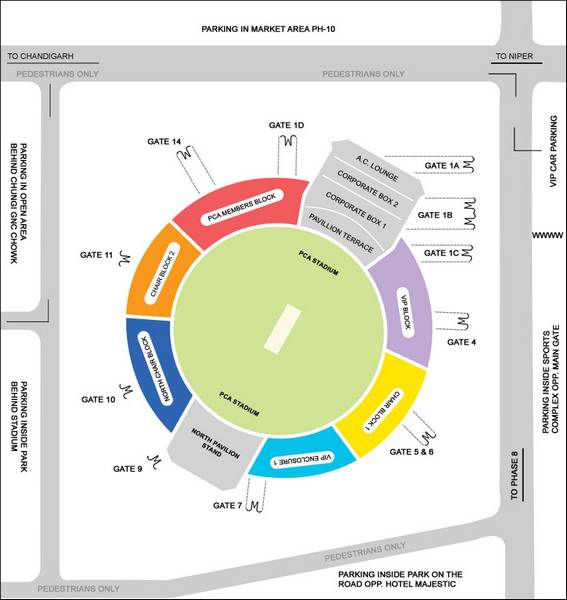 Mohali Cricket Stadium Review
This stadium has all the basic facilities. It is a good stadium as it is well maintained and you won't have any complaints regarding basic amenities. The seating capacity is relatively low so you can have a closer view of the match. The parking facility is also good but it is always recommended to use public transport as the roads around it faces heavy traffic jams at during the matches. The stadium is one of its kind and provides a magnificent environment. The crown is very electrifying and the real heat of matches can be experienced here. Please share your experience and drop your comments in the box below, it will help our users.
The official website of PCA Mohali is cricketpunjab.in.