ISKCON Ahmedabad Aarti Timings 2023, Timings, Location, Parking – Sri Sri Radha Govind Dham Temple
Ahmedabad city of Gujarat is very famous among tourists for its various tourist places such as Sabarmati Ashram, Akshardham Temple, Hutheesing Jain Temple, Jami Masjid, Shree Swaminarayan Mandir, etc. The aarti timing ISKCON temple Ahmedabad is given here for devotees' and visitors' help.
This beautiful temple is located in Ahmedabad city of Gujarat. As many visitors come from around the world to visit India. Gujarat is the one of states of India that is famous for tourist places with different cultures.




The International Society for Krishna Consciousness (ISKCON) is a Gaudiya Vaishnava Hindu religious organization. This organization was established on 13th July 1966 and was founded by A.C. Bhaktivedanta Swami Prabhupada in New York City. Over the period ISKON has been established around the world with more than 800 temples. The biggest ISKCON temple is Sri Maya Chandrodya  Mandir in West Bengal.
ISKCON Ahmedabad was built in 1997 by Bhaktivedanta Swami  Prabhupada and it is spread over 12000 Sq.ft. area.  In this temple, Govinda restaurant is also available which food very famous among the visitors. Food served in ISKCON temple is pure vegetarian.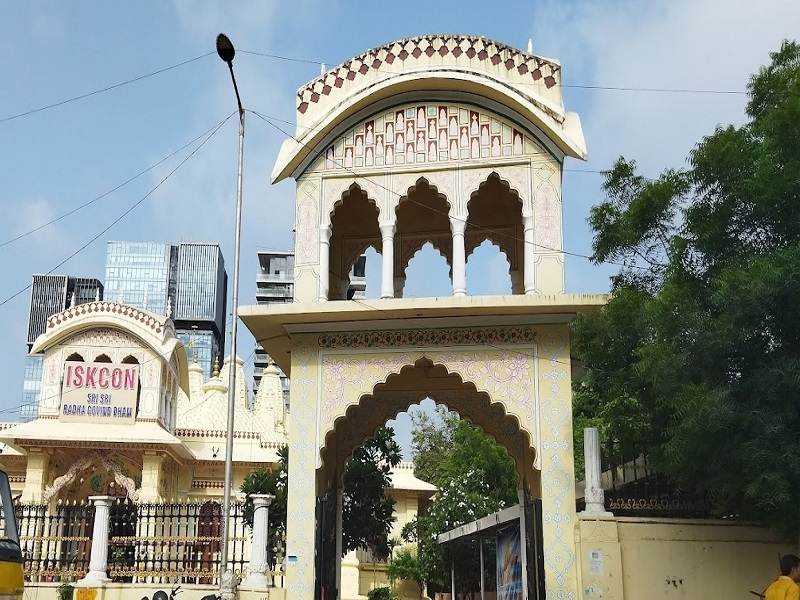 Sri Sri Radha Govind Dham just near the ISKCON Crossroad, many devotees came here to feel the presence of Lord Krishna. Mainly Lord Krishna and Mata Radha worshipped in the ISKCON temple. Devotees went to this temple to get the peace and to feel the spirituality while bhajans and arti of ISKCON temple Ahmedabad.




In the evening Khichdi Prasad is also distributed by ISKCON, which is free of cost. The taste of khichdi is very amazing. Free shoe stands are also available in the temple with a token system.
ISKCON Temple Ahmedabad Timings 2023
ISKCON Ahmedabad opening and closing timing is 04:00 AM to 1:00 PM and 04:00 PM to 09:00 PM. Devotees always want to enjoy the ISKCON atmosphere and many devotees want to stay longer. The temple time limit is sufficient for a longer stay.
| ISKCON Ahmedabad | Timings |
| --- | --- |
| 1st Half | 04:00 AM to 01:00 PM |
| 2nd Half | 04:00 PM to 09:00 PM |
ISKCON Ahmedabad Aarti Timings 2023




In ISKCON temple many visitors come to attend only Arti, during the various aarti devotees feel the peace, positivity, purity, and the power of holy place. While performing the arti at ISKCON member and other also devotees chants the bhajans and dance on Krishna Bhajan  Kirtan. Hare Krishna Hare Krishna, Krishna Krishna Hare Hare, Hare Ram Hare Ram, Ram Ram Hare Hare resonates in the temple.ISKCON Ahmedabad aarti timings are given here:
| Arti Type | Arti Timings |
| --- | --- |
| Mangala Aarti | 4:30 AM |
| Tulsi Aarti | 5:00 AM |
| Shringar Darshan & Guru Pooja | 7:15 AM |
| Srimad Bhagavatam Class | 8:00 AM |
| Dhoop Aarti | 8:30 AM |
| Raj Bhoga Aarti | 12:30 PM |
| Pushpa Aarti | 4:00 PM to 4:30 PM |
| Sandhya Aarti | 6:30 PM to 7: 00 PM |
| Bhagavad Gita Class | 7:30 PM |
Location of ISKCON Ahmedabad Temple
The temple has beautiful locations with the great view and is located at Sarkhej Gandhinagar Hwy, near BRTS bus stop, Satellite, Ahmedabad, Gujarat – 380054
How to Reach ISKCON Ahmedabad
As Ahmedabad is one of the main city of Gujarat and it is easy to reach ISCKON temple Ahmedabad without any tension.




The nearest railway station is Kalupur Railway station which is approx. 7 km far away from the temple and Sardar Vallabhai Airport distance from the ISKCON temple is 19 km.
Bus: In Ahmedabad private and government buses run. Within the city, these buses can be taken to reach ISCKON Ahmedabad.
Car/Taxi: Car on rental basis is also available in Ahmedabad. It usually takes from the railway station to the temple 35 minutes.
Auto: Auto directly or on rental is available for the visitors.
Metro: Currently 6 metro stations are active in Ahmedabad. On a big level GMRC Ltd. metro work is in progress, soon the nearest metro station will be started for the visitors.
Parking at ISKCON temple Ahmedabad.
Sri Sri Radha Govind Dham ISKON Ahmedabad has a well-managed parking space within its premises. Parking is also available on the service road and the back side of the temple.