Emirates Stadium Seating Plan 2023, Arsenal Stadium Seating Chart
Emirates Stadium is a football game stadium in England. This stadium also knows as Arsenal Stadium. Emirates Stadium is situated at Highbury House, 75 Drayton Park, London, England. This stadium is the home of the Arsenal Football Club. During the mates here visitors always want to know the Emirates Stadium seating plan and rows. As well as in this article ticket price of Arsenal Stadium matches ticket is also important for the spectators.


Football is a very passionate game for many games and spectators. Around the world football, cricket and rugby are special and passionate games, but football has a different place in fans' hearts.
The Emirates stadium opened its gate and welcomed the public on 22nd July 2006. This stadium has owned and operated by Kroenke Sports & Entertainment. The overall construction cost was £390 million in 2006. The stadium is a 21st-century stadium equipped with the latest facilities.
Arsenal stadium also hosted music concerts, conferences, events, etc here. The structure of this stadium is very attractive with glass and steel construction, Arsenal stadium shines when the moon and sunlight come and the stadium glows. This stadium also won the design and architectural design awards. The Wembley stadium is also the nearest stadium to Emirates Stadium.
Emirates Stadium Seating Plan Row Numbers
Arsenal stadium seating chart helps visitors and spectators to know the seat allocation from the pitch. Every spectator wants to enjoy the match and wants to cheer their supporting teams. The seating capacity of Arsenal stadium is 60704 people and attendance recorded in 2007 is 60161 people. Therefore, the Emirates Stadium seating plan is helpful to the spectators.
The Arsenal Stadium is divided into the following stand


East Stand
North Bank
West End
Clock End
The seating Layout of Arsenal stadium is given below
Lower Tier: Lower Tier of this stadium is the nearest tier of the pitch which contain block: 1, 2, 3, 4, 5, 6, 7, 8, 9, 10, 11, 12, 13, 14, 15, 16, 17, 18, 19, 20, 21, 22, 23, 24, 25, 26, 27, 28, 29, 30, 31 & 32.
Club Level Tier: In the club level tier club seats are located, and platinum members hold club season tickets for games. At this level, they enjoy the best seat of the stadium with many additional facilities. Under the stadium package hospitality guests can also enjoy club seats as an additional benefit.
In Club Ties houses contains: B41, B42, B43, B44, B45, B46, B47, B48, B49, B50, B51, B52, B53, B54, B55, B56, B57, B58, B59, B60, B61, B62, B63, B64, B65, B66, B67, B68, B69, B70, B71, B72, B73, B74, B75, B76, B77, B78, B79, B80, B81, B82, B83 & B84 along with Director's Box
Executive Box Level: In this Level spectators can avail of the VIP privilege. The Executive Boxes are defined for the Men's first team home fixture, including premier league, Emirates FA cup and league cup matches. Visitors can enjoy the under the executive box facilities such as private balcony seating view outside the private box, dining option served within the box, flexible seating arrangements, bar, LCD, private parking space for home matches, tickets priority for semi-final & final matches, dedicated account manager, meeting allowed in the box.
In Executive Box: Executive box number contains boxes from box 1 to box 150 along with the diamond club.
Upper Tier: Upper tier level is the highest level of the stadium where spectators can see the full pitch and enjoy the match easily of both side teams. This is a modern stadium and this gives the benefit for upper tier visitors a special view.
The upper Tier level contains the block 91, 92, 93, 94, 95, 96, 97, 98, 99, 100, 101, 102, 103, 104, 105, 106, 107, 108, 109, 110, 111, 112, 113, 114, 115, 116, 117, 118, 119, 120, 121, 122, 123, 124, 125, 126, 127, 128, 129, 130, 131, 132, 133 & 134.
Arsenal Stadium Tickets Price


Arsenal Stadium Ticket Prices are very in high demand from visitors. Tickets online and offline are both available. As football is a high-demand game and is popular more than cricket. Matches tickets price depend on the matches, and how famous is a match between the fans. The huge demand for tickets and the support of fans make the match successful. The ticket price of Emirates Stadium varies as per match demand.
Emirates Stadium has different ticket prices for the Emirates stadium membership holder in every level Upper Tier, Lower Tier, Family Enclosure – Lower Tier, and Family Enclosure – Upper Tier, they have divided tickets price as per age group in Category A, Category B, Category C, and EL4. In this, they also separate ticket prices into the upper tier and lower tier for RED DA members.
Arsenal Emirates Stadium Parking Map
This stadium is located in a residential area and a very limited parking area is available near the stadium. Therefore, guests are advised to use public transport to visit this football stadium. Roadside parking is allocated to local residents and illegal parking in the area will be towed away. Sharing Arsenal stadium parking and stadium map below which is showing nearby tube stations, pedestrian routes, nearby streets, and roads. All pedestrian routes and post-event crowd management, queue management, etc are depicted on the map.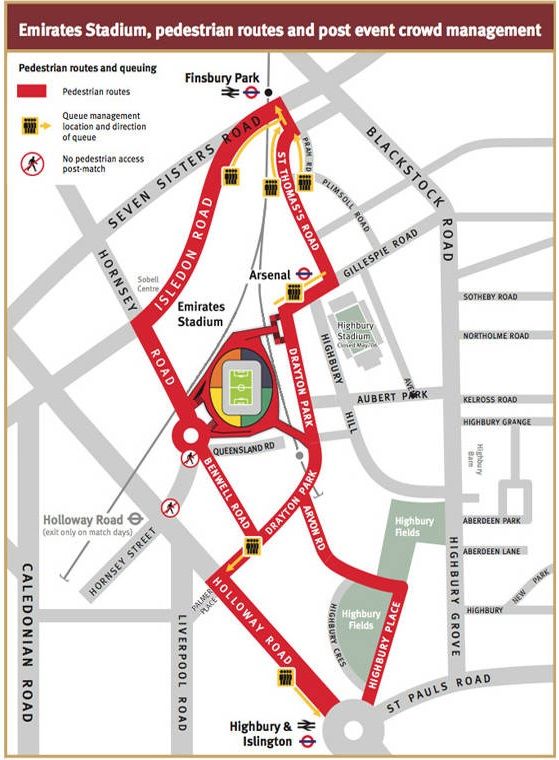 Arsenal stadium parking is available on pre-booking basis. The deadline has been given in Emirates for booking the parking space. They have decided deadline for parking space for security reasons. 24 hours before any event, the final parking list is given to the security and steward companies. Therefore, the stadium decided 48 hours' advance booking for parking space. The deadline has been given below;
| Fixture Date | Deadline |
| --- | --- |
| Weekend Fixture | 9 AM Thursday prior to the game |
| Monday Night Fixture | 9 AM Thursday prior to the game |
| Tuesday Night Fixture | 9 AM Friday prior to the game |
| Wednesday Night Fixture | 9 AM Monday prior to the game |
| Thursday Night Fixture | 9 AM Tuesday prior to the game |