Patna Zoo Timings, Entry Fee 2020 and Address
Patna Zoo or Sanjay Gandhi Biological Park is a zoological park in Patna, Bihar. It is one of the most visited place of Patna city. It is very popular among kids as well as adults. People often came here to spend some time in the greenery of Zoo in a peaceful area. Sanjay Gandhi Jaivik Udyan first established as a botanical garden and later it was converted in a Zoo. Patna Zoo was opened for public officially in 1973.
In the initial times, the area of the zoo was 34 acres and in 1972 public work department of Bihar allocated 58.2 acres of the area to this park. Later 60 acres of land area were merged into the zoo. The current are of Patna Zoo is 153 acres. The zoo is spread in a large area and provides a peaceful and green surrounding to the visitors of the park.
Patna Zoo Animals and Birds
Around 800 animals of 70 species are present in the Patna Zoological Park. 35 species of fish and 5 species of snake are also kept in the zoo. The Patna Biological park has thousands of trees and plants of more than 300 species. The list of animals includes leopard, tiger, hippo, crocodile, black buck, deers, giraffe, rhinoceros, zebra, beer, etc. List of birds include emu, peafowl, ostrich, white peacock, parrots, etc.
Patna Zoo Timings 2020
| Particulars | Timings |
| --- | --- |
| March to October | 5 AM to 6 PM |
| November to February | 6 AM to 5 PM |
| Weekly Off | Monday |
| Time required to visit | 2 to 3 Hours |
| Best Time to Visit | Morning, Evening Time or Winter Season |
Patna Zoo timings are 8 AM to 5.30 PM. Zoo opening timing is early in the morning and it provides free entry for people who are interested in the morning walk inside the zoo till 8 in the morning. The zoo closing time is 5.30 PM in the evening. The zoo is quite big in area and at least 2+ hours are required to visit the whole zoo on foot.
Patna Zoo Entry Fee 2020


Patna Zoo ticket prices are affordable and pocket friendly. Sanjay Gandhi Jaivik Udyan entry fee is 30 Rs for adult and children entrance fee is just 10 Rs. Entry is free for kids under 5 years of age. School student of minimum 25 students have to purchase the ticket of 5 Rs per student. Sanjay Gandhi Jaivik Udyan also offers monthly, quarterly, Half yearly and yearly passes for the convenience of the visitors. Those who are interested in regular visit of the zoo and want to avoid the ticketing queue can opt for these passes. A concession of 50% is provided to the senior citizens after providing a valid age proof. These long term passes can be bought in online mode and one time fee of 100 Rs is applicable for QR enabled smart card.
Patna Zoo Ticket Price and Other Charges
| Entry Fee | Charges In Indian Currency |
| --- | --- |
| Adults | 30 |
| Children | 10 |
| Kids Under 5 Years of Age | Free |
| Students (Minimum 25 Students) | 5 |
| Monthly Entry Pass | 250 |
| Quarterly Entry Pass | 700 |
| Half Yearly Entry Pass | 1200 |
| Half Yearly Entry Pass | 2000 |
| Battery Car Ride Fee | 30 |
| Toy Train Fee | |
| Adults | 15 |
| Children | 10 |
| Boating Charges | |
| Four Seater | 100 |
| Two Seater | 80 |
50% discount is granted to senior citizen on purchasing Patna Zoo entry pass.
Major Attractions of Patna Zoo
Camera is allowed in the Patna zoological park after paying a nominal amount. Apart from a large species of animals, a toy train named Sarus, lake, tree house, children's park, rose garden, etc. is also located inside the Patna Chidiyaghar.
| Camera Charges | Cost for a Day |
| --- | --- |
| Individual Camera | 100 |
| Professional  Camera Shoot | 3000 |
| Short Film and Movie Shooting | 20000 |
Patna Zoo Boating
A small lake is located inside the Patna zoo where visitors can enjoy the boating in calm weather of the zoo. Boats can be booked on an hourly basis and boating are charges are affordable. Two seater and four seater paddle boats can be hired for an hour. As per a news source charges for a 2 seater paddle boat is 80 Rs for an hour and 4 seater paddle boat charges are 100 Rs. There is not latest information regarding the updated charges of boating. Boating inside the zoo is quite popular and during the weekends, visitors need to wait a lot for their turn. Visitors are advised to take proper precautions while doing boating in the pond. Boating timings are same as zoo timings.
Patna Zoo Toy Train



Toy train is one of the major attractions of Sanjay Gandhi Biological Park and it is very popular among the tourist of the zoo. It runs at 4368 meters of track and covers all the major parts of the zoo, including a botanical garden, two lakes, animal enclosures, etc. Currently toy train is out of service due to maintenance issues and frequent derailment. As per zoo sources, the zoo is planning to run two battery operated trains on newly laid track in near future. Patna Zoo Toy train charges are 15 Rs per adult and 10 Rs per children.
Battery Operated Vehicles at Patna Zoo
Battery operated vehicles are available inside the zoo for the convenience of the visitors. Those visitors who cannot walk long or don't want to be tired can get the services of these Eco friendly vehicles. Plenty of battery operated golf cart is available inside the zoo and charges are affordable. Charges for battery vehicles are 30 Rs per seat and they can accommodate 10+ visitors.
Elephant Ride, Snake Park and Aquarium
The elephant is also very popular among the visitors of Patna Zoo, this is a very good facility started by Patna Zoo administration. Elephant ride can be booked from inside the zoo after paying a small fee and elephants covered a predefined route defined by authorities. This unique ride is very popular among the visitors. This ride is subject to availability of this beautiful animal. Apart for this ride visitors can also see the snake park and fish aquarium inside the zoo.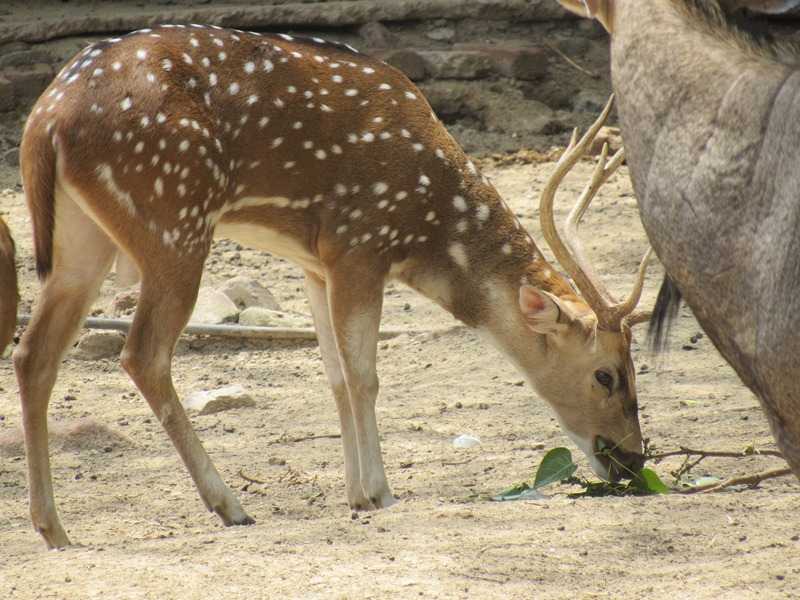 Amenities at Patna Zoo



Patna zoo is well maintained zoo and only zoo of Patna city. Parking facility is provided at the zoo for the visitors. Vehicle parking is available at the both the gates (Gate No. 1 and Gate No. 2). Gate no.1 parking is more congested as compared to other gate parking. Drinking water facility and washrooms are available inside the Sanjay Gandhi Biological Park. A food court is present inside the zoo which serves snacks and cold drinks. Seating arrangement is available inside the restaurant.
Patna Zoo Address
The Sanjay Gandhi Zoological Park is located on Bailey Road near to Patna Airport. Patna Zoo bus stop is located outside the zoo. Visitors can reach via public transport and from private vehicles also. Distance from Patna Junction Railway station is around 6 KM. Contact number of Patna Zoo is 0612-2217445.
Also visit the Patna Eco Park, Mahavir Temple, Buddha Smriti Park and Indira Gandhi Planetarium of Patna.