Alipore Zoo Ticket Price 2023, Alipore Zoo Timings and Address
There are many Zoos in India and most of them see a decent footfall across the year. Kolkata Zoo is one of the biggest Zoo in the Western India. The Zoo is also known as Alipur or Alipore Zoo. This is India's oldest zoo as it was opened in 18th century. It was stated as Zoological park during the british rule in India. Kolkata Alipore Zoo was formally opened for public on 1 January, 1876 by Edward VII. The total area of Alipur zoo is 18.81 ha (46.5 acres). This is one of the most famous tourist destination in Kolkata, it was known for being host of one of the oldest guest, 250 years old Aldabra giant tortoise Adwaita. Sadly, the tortoise expired in 2006. There are many things worth watching inside the zoo. This is the reason, people across the country visit Kolkata Zoo and enjoy their time here. The guests are generally eager about some of the main information such as Alipore zoo ticket price 2023, Alipore zoo entry timing, Alipore Zoo Kolkata time table etc. We have kept all these important details in this article below.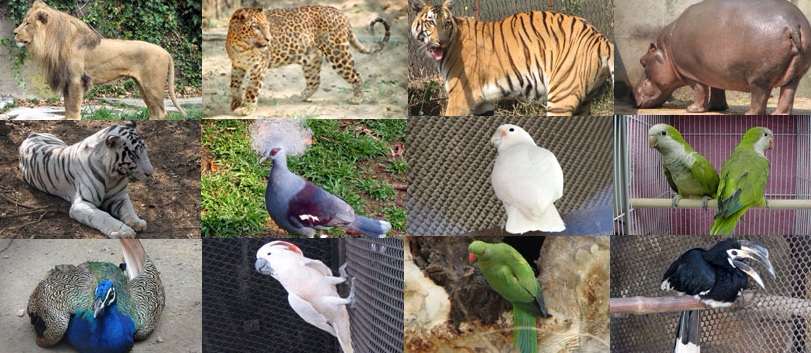 Winter season is the best season to visit Kolkata Zoo, as the weather allows you to spend your time well. During the hot days summer, the weather is not so favorable and you may be in a hurry. Winter season attract the maximum number of visitors to this park. Alipore Zoo Kolkata tiger attacks were also some of the infamous memories, two deaths were reported, one in 1996 and one in 2000. Regarding Alipore Zoo Animals, it is home to various animals of different species and they are living quite peacefully and comfortably here. Many events are also conducted in the Zoo and may also experience them here.
The zoo also has Reptile House, an Elephant House, Panther House and Primate House. Alipore Zoo aquarium is also present just across the street, which is also under the control of zoo authorities. The kids who visit here might be having their first encounter with wild animals and it would be a truly memorable experience for them. In the hustle bustle of the city lives, kids hardly see wild animals outside the TV and computer. It can never be matched with the experience of watching them up close. This makes their visit unique, full of learning and exciting. The Alipore zoo ticket price 2023 is quite less and it would not be heavy on your pocket as well.

Alipore Zoo Timings
Alipore Zoological park visit timing is same throughout the year, Kolkata Zoo opens at 09 AM and it closes at 05 PM. The ticket booking counter opens at 09 AM and it remains open till 04:30 PM. The zoo remains non operational every Thursday. However, if Thursday falls on any public holiday then Zoo stays open that day. In such scenarios, zoo is kept closed on the next working day. During the period of 15 December to 31st January, zoo stays open for 7 days a week. The Alipur Zoo Aquarium also follows the same holidays and week offs. This pretty much sums up the Alipur zoo holiday list. On the contrary, the aquarium timing differs as it opens at 10:30 AM and it closes at 05:00 PM. This is one of the main attraction of the Zoo.
| Particulars | Timing |
| --- | --- |
| Zoo Timings | 09 AM to 05 PM |
| Weekly Off | Thursday |
| Aquarium Timings | 10:30 AM to 5 PM |
| Weekly Off | Thursday |
| Ticket Counter Timing | 09 AM to 04:30 PM |
Alipore Zoo Entry Fee 2023
Alipore Zoo entry fee is very nominal and you need to take separate tickets for aquarium and Zoological park. The ticket price is 25 Rs for visitors above the age of 5, and ticket is 10 rs for kids of less than 5 years of age (Regular Days). On Saturday, Sundays and Government holidays; the ticket price is Rs 30 instead of 25 Rs. The Alipore Zoo aquarium ticket is 5 Rs and 250 Rs is charged for video photography. However, taking your camera inside the Zoo is allowed, with no extra fee. There are many animals and birds at Kolkata zoo and very good pictures can be captured using personal cameras. The Alipore Zoo Kolkata ticket price 2023 are explained in detail below:
| Particulars | Ticket Rates |
| --- | --- |
| Visitors above 5 years of age | 50 Rs |
| Child below 5 years | 20 Rs |
| Videography Charges | 250 Rs |
| Aquarium Charges | 5 Rs |
| Camera Charges | Nil |
| Professional Camera Charges (Videography) | 250 Rs per Hour |
Alipore Zoo Map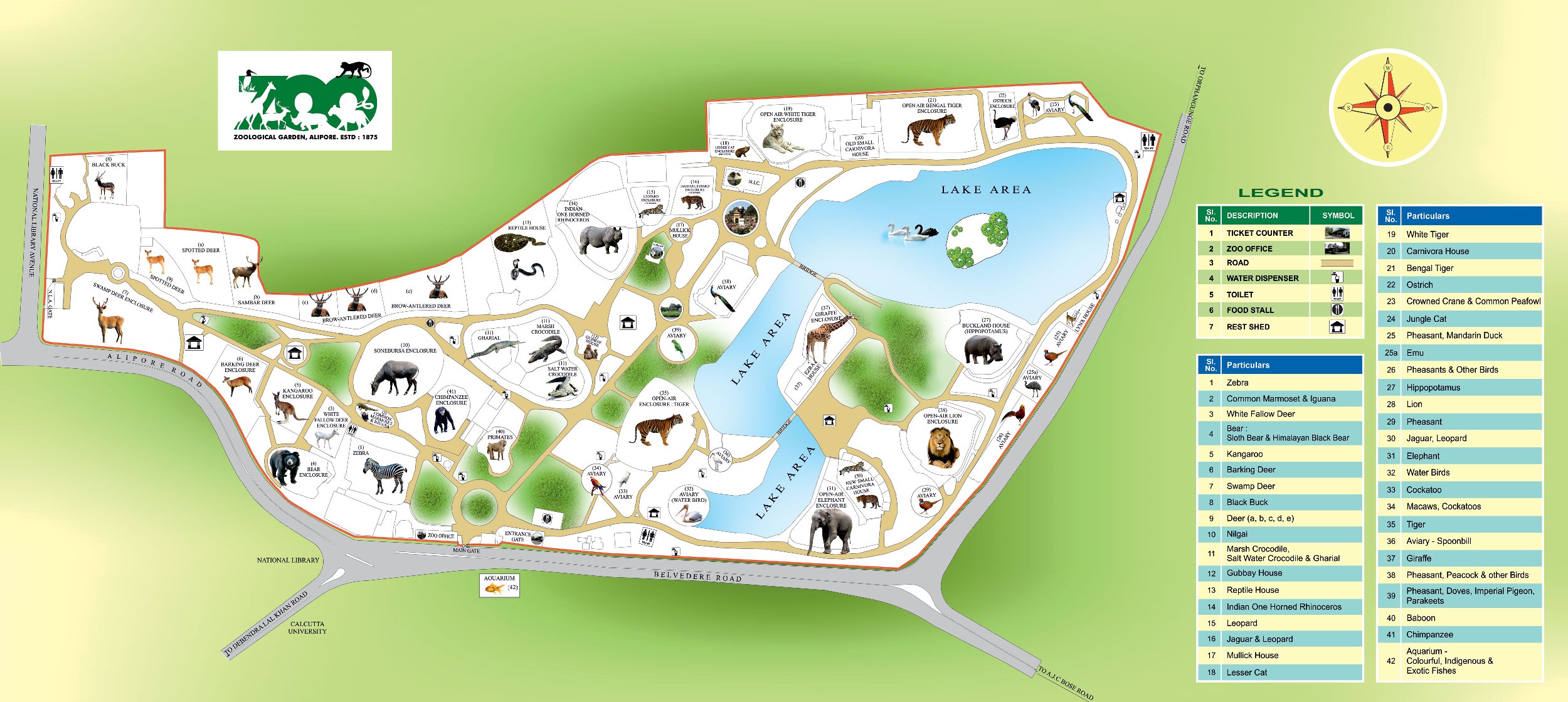 Alipur zoo is very well developed zoo, it has all the basic amenities including drinking water and toilets. Many animals and birds are living comfortably inside the zoo. Their enclosures and sections are depicted with the map using respective legends. It has Alipore Zoo ticket counter, water dispenser, Zoo office, road, toilet, stalls and entry and exits marked within the map with legends. The Alipore zoo timings and entry fee can also be confirmed in this article.
Alipore Zoo Kolkata How to Reach, Location – General Information

Calcutta Zoo is located in Alipore, and it is situated at a distance of 11 km from the Kolkata Railway station. The Zoo authorities are trying to keep zoo safe and environment friendly. Visitors also needs to ensure that nobody disturbs the animals. They should keep a safe distance from the enclosures. Keep an eyes on the kids and follow the rules iterated by the Alipore Zoo authorities. Some restrictions are also applied by zoo authorities, to ensure the safety of visitors and animals. No musical instrument or games should be played inside the Zoo premises, one shouldn't litter the park. Animals shouldn't be fed or teased by visitors and bringing of food and firearms is also prohibited. Polybags and plastic bottles are also not allowed inside the park. There are various facilities such as washroom and drinking water. Food canteen is also present inside the premises campus. Zoo does not have any cloak room, so this should be also kept in the notice by visitors. To visit the zoo, 2 to 3 hours of time is required.
Readers can use canvas photo prints to print their favorite pictures.
Information
Details
Address
Zoological Garden, Alipore, Kolkata
Phone:
033-2479 1150
033-24399391
Fax:
+91-33-24791585
email:
Director: director@kolkatazoo.in, Deputy Director: dydir@kolkatazoo.in
Washroom
Yes
Water Cooler
Yes
Canteen
Yes
Kolkata zoo is a lovely place to visit as it makes you feel very close to nature. It is a peaceful yet interesting place for a family outing. Also, visit Eco Park Kolkata and Alipore Zoo.