Hawa Mahal Entry Fee, Timings and Location
Hawa Mahal is a five storey pink coloured building located in Jaipur Rajasthan, India. It is also known as palace of wind. It is one of the unique kind of building which have 953 windows or Jharokha. This structure allows to breeze the cool air throughout the building. Hawa Mahal was built by Maharaja Sawai Pratap Singh in 1799 and it was architected by Lal Chand Ustad. It is a fine example of Rajput Architecture. It was built by red and pink sand stone to match with the theme of Pink City Jaipur. This monument is currently maintained by Archaeological Department of the Government of Rajasthan.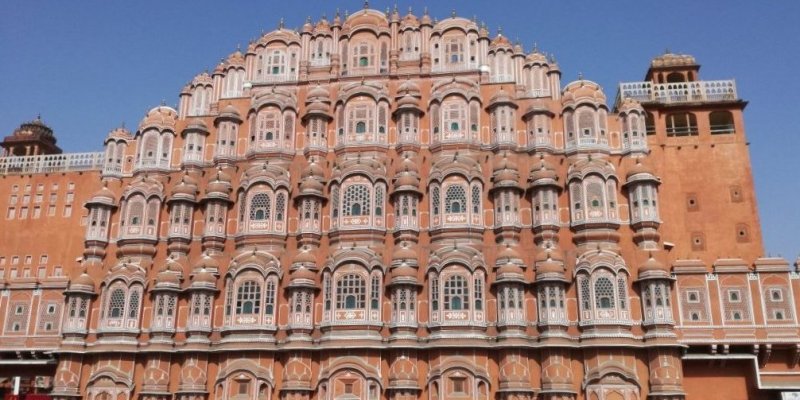 Hawa Mahal Timing
| Particulars | Timings |
| --- | --- |
| Monday to Sunday | 9 AM to 5.30 PM |
| Weekly Off | None |
Hawa Mahal timings are 9 AM to 5.30 PM. The Hawa Mahal Opening time is 9 AM and closing time is 5.30 PM. It opens throughout the year and there is no weekly off. Visitors can view the monument from the outside road 24 hours.
Hawa Mahal Entry Fee
| Particulars | Timings |
| --- | --- |
| Indian | 50 Rs |
| Foreigners | 200 Rs |
| Students (Valid ID Card) | 5 Rs |
Hawa Mahal ticket price is affordable and pocket friendly. Indian need to pay 50 Rs to get an entry in this monument. Foreigners need to purchase a ticket of 200 Rs to get entered in the Hawa Mahal. Student entry ticket price is just 5 Rs after showing the valid student's Identity Card. Visitors can also buy composite tickets which are valid for entry in multiple monuments of Pick city Jaipur. composite tickets are cheaper and convenient.
Hawa Mahal Location, How to Reach




Hawa Mahal is located on a busy street in Jaipur in the southern part of the city. Complete address is a Hawa Mahal Road, Badi Choupad, J.D.A. Market, Jaipur. Jaipur city is well connected from the rest of the country through Air, Rail and road, Jaipur Junction railway station distance is 5 KM and Airport distance is 13 KM. The rest of the distance can be covered via taxi, city bus, etc. Hawa Mahal Nearest Metro station is Chandpole metro station. Distance from Chandpole metro station is 2 KM.
Hawa Mahal Information
Hawa Mahal is located in Jaipur, Rajasthan. The weather of Jaipur is very hot during the summer season. In summers temperature can go up to 50 C. Morning and evening time is preferred during the summers. Winter season is the best time to visit the Hawa Mahal. Visitors are advised to carry lots of water during the visit of the Palace of Breeze. Photography is allowed after paying a nominal camera charge. Nearby places to visit in Jaipur are Amber fort, Jaipur Zoo, Jantar Mantar, etc.