Sri Lanka vs Australia Galle Test Ticket Prices, Galle international Stadium Tickets
Sri Lanka vs Australia Galle test tickets are in high demand as both the teams will play two test matches at this stadium. Galle International Stadium is an international cricket ground in Sri Lanka. It is also known as Galle stadium an it is very popular stadium worldwide. In past it is known as The Esplanade and it is considered as a very lucky cricket stadium for Sri Lanka cricket team. This cricket ground has hosted many important matches in the past. In this post, we are sharing details about Galle international stadium tickets booking along with price and stadium layout.

Galle International Stadium is an old cricket ground and it was built in 1876. Stadium seating capacity is 35000. Galle Cricket Club is the owner of this stadium, tenants of the stadium are Sri Lanka Cricket team and Galle Cricket Club. First test of the stadium was played here in 1998 between Sri Lanka and New Zealand. Sri Lanka vs India ODI in 1998 was the first ODI of this stadium. This ground was built a racecourse in 1876 and later it was developed as a cricket ground. In 2004, ground was destroyed was by the Tsunami. The ground has seen many renovations till now as per the current requirements. Sri Lanka cricket legend Muttiah Muralitharan took his 800the test wicket in this stadium in his last test match of the career.
As per records, spinners love this ground and many spinners have good record on this stadium. The ground spreads in an area of 4.216 hectares and boundary length is 75 yards. 3 indoor practice nets and 4 outdoor practice nets are situated inside the stadium. This beautiful cricket stadium is surrounded by sea from two sides. Galle cricket stadium has all the amenities which are required for a successful cricket match. During international matches and events, Galle stadium tickets are always in high demand.
Galle International Stadium Tickets

Like other stadiums of country, Galle stadium tickets are also available for sell online. SL vs Aus test tickets are also available for sell through bookmyshow website. We are sharing the whole process to book Galle international stadium tickets online. Due to high demand of tickets, it is advisable to book Galle tickets in advance.
Log on to official website or partner website (like bookmyshow) to book match tickets.
Click on sports category to look for Galle stadium match tickets.
On next page, all matches of Galle stadiums are listed on webpage.
Click on your desired match and start looking for available tickets.
All the tickets along with ticket price are listed on Galle stadium layout.
Choose seats as per your wish and budget.
Click on book now after choosing the seats and complete the payment through available payment mode.
After payment confirmation, check your Email for the further instructions and E tickets.
Some of the tickets might be reserved for offline sale and they will be available through Galle stadium ticket counters.
Galle International Stadium Ticket Price

It is a very popular cricket stadium and during cricket matches Galle match tickets are hard to book. Cricket fans should keep an eye on Galle international match tickets before the booking. Cricket board and organizers always try to set the ticket price lower so that maximum number of fans can buy Galle tickets. Fans of both the teams try to visit the stadium and cheer their teams. Galle international stadium ticket price depends on seat type, stand, view from the seat, match format, day and some other important factors. Best view seats are always in demand and have higher ticket rates. We are sharing the Sri Lanka vs Australia Galle test ticket prices below.
| Stand Name | Price in LKR | Total Seats |
| --- | --- | --- |
| Standing Public | 300 | 3500 |
| Muncipality Ground Floor | 500 | 200 |
| Muncipality 1st Floor | 1000 | 300 |
| Indoor Enclosure Covered | 5000 | 200 |
Galle Stadium Match Schedule
As of now, Australia cricket team will play two test matches at this stadium. Below is the schedule of Australia tour of Sri Lanka test match fixture.
| Match | Date | Local Time |
| --- | --- | --- |
| Sri Lanka vs Australia 1st Test | 29 June 2022 – 03 July 2022 | 10:00 AM |
| Sri Lanka vs Australia 2nd Test | 08 July 2022 – 12 July 2022 | 10:00 AM |
Galle International Stadium Seat Map Layout
Galle stadium seating capacity is 35000 and during the high voltage matches it is tough to find seats as per searing arrangement. All the entry gates along with stands are clearly depicted on the below image of the stadium.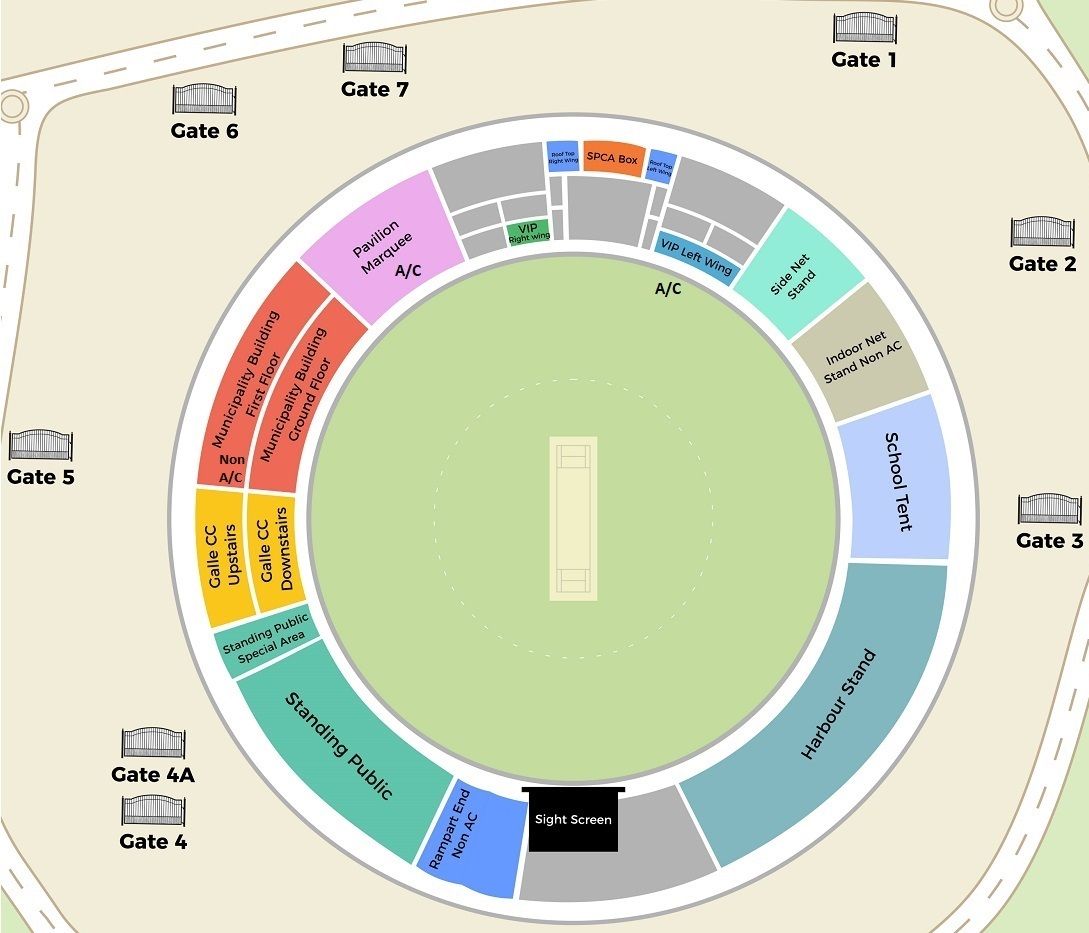 Galle stadium map have all the entry gates which are useful during the entry/exit from the stadium. All the stands are depicted on the map which can give an idea of Galle stadium seating arrangement. Location of pitch is drawn clearly on the map which helps to choose best view seats in advance.
Always book Galle international stadium tickets only from official sources.