ACA VDCA Cricket Stadium Information and Ticket Booking Procedure
ACA-VDCA Cricket Stadium
ACA-VDCA Cricket Stadium of Visakhapatnam is also known as Dr. Y.S. Rajasekhara Reddy ACA-VDCA Cricket Stadium. It is also known as Vizag cricket stadium. It was known as Andhra Cricket Association-Visakhapatnam District Cricket Association Cricket Stadium in the past. It is the multipurpose stadium located in Visakhapatnam city of Andhra Pradesh State. This cricket stadium located on the outskirts of Visakhapatnam with the view of picturesque scenic hills. Visakhapatnam cricket stadium has two tier architecture with great seating arrangement for the clear view. The seating capacity of ACA VDCA Cricket Stadium is 38,000 and it was built in 2003. Sports Authority of Andhra Pradesh is the owner of this cricket ground. Second test match of England tour of India will be played in the Vizag cricket stadium during 17-21 November 2016.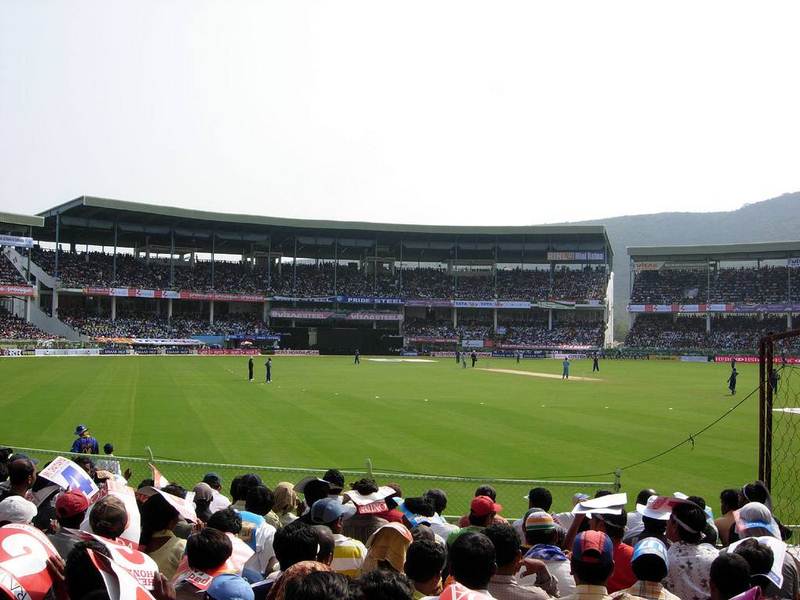 This stadium has many tenants like Andhra cricket team, Indian Cricket Team, Deccan Chargers (2012), Sunrisers Hyderabad, Mumbai Indians and Rising Pune Supergiants. This stadium has hosted 5 One-Day International and one T 20 international match till now. It has got the status of test venue in November 2015. The Test match between India and England is scheduled in this stadium. It is considered as best maintained cricket stadium of India with one of the best water drainage facilities. ACA-VDCA stadium has flood light facilities and it can host day-night matches.
Upcoming International Match Schedule at Vizag Stadium
| Match Name | Series Name | Date |
| --- | --- | --- |
| India vs Sri Lanka 3rd ODI | Match of India Sri Lanka 3 Match ODI Series | 17 December 2017, Sunday |
Final match of India Sri Lanka ODI series will be played at Vizag stadium, Visakhapatnam. First two matches of this ODI series will be played at Dharamshala cricket stadium and Mohali cricket stadium.
Check full schedule of Sri Lanka tour of India.
India Sri Lanka ODI Match Ticket Booking Process and Ticket Price
Tickets for India Sri Lanka match might be expected to start few days before the schedule of the match. Most tickets might be sold in online mode and few ticket might available through Vizag stadium ticket counters. Ticket price for India Sri Lanka match is expected to starts from 800 Rs including GST. All the information of Visakhapatnam stadium tickets and ticket prices will be posted on this page after the official announcement.
Ticket Booking Procedure
For IPL Matches
ACA-VDCA cricket stadium Tickets can be booked by BMS (Bookmyshow) website or app by following some simple procedure. This procedure mostly works with IPL matches.
Login to the bookmyshow website and choose the match from the list
Now select your desired seats from the layout. Multiple stands are depicted on the stadium layout.
On next page kindly check the amount and box office pick up location for collecting the entry tickets of the match.
On checkout page, you have to pay the amount for booking of tickets, you can pay the amount by multiple online modes listed on the payment page. Cash on Delivery (COD) option is not available for cricket match tickets.
Check your E-mail or Mobile for the confirmation message after successful payment.
Now you can pick up entry passes from the box office. The box office details will be emailed on your registered mail id and on checkout success page.
Booking Procedure for India England 2nd Test Match
Sale of tickets generally opens few days before the Cricket Match. Sale for 1st India England test match has been started via online mode on Bookmyshow.com. Ticket sale of Vizag test has been started in online mode. Ticket rates are starting from 100 for 1 Day and maximum ticket price is listed on the site is 500 Rs. Viewers can also buy season tickets for the India England 2nd Test match. A season ticket is valid for all 5 days. I hope below mentioned link would useful to purchase India, England Test match ticket which is scheduled to play in ACA VDCA Stadium Visakhapatnam.
Ticket Booking Link: www.eventsnow.com/visakhapatnam




India England 2nd Test Match Seating Plan and Layout
Visakhapatnam stadium seating layout is showing the seating plan for India England test match which will be played here from 17 to 21 November 2016.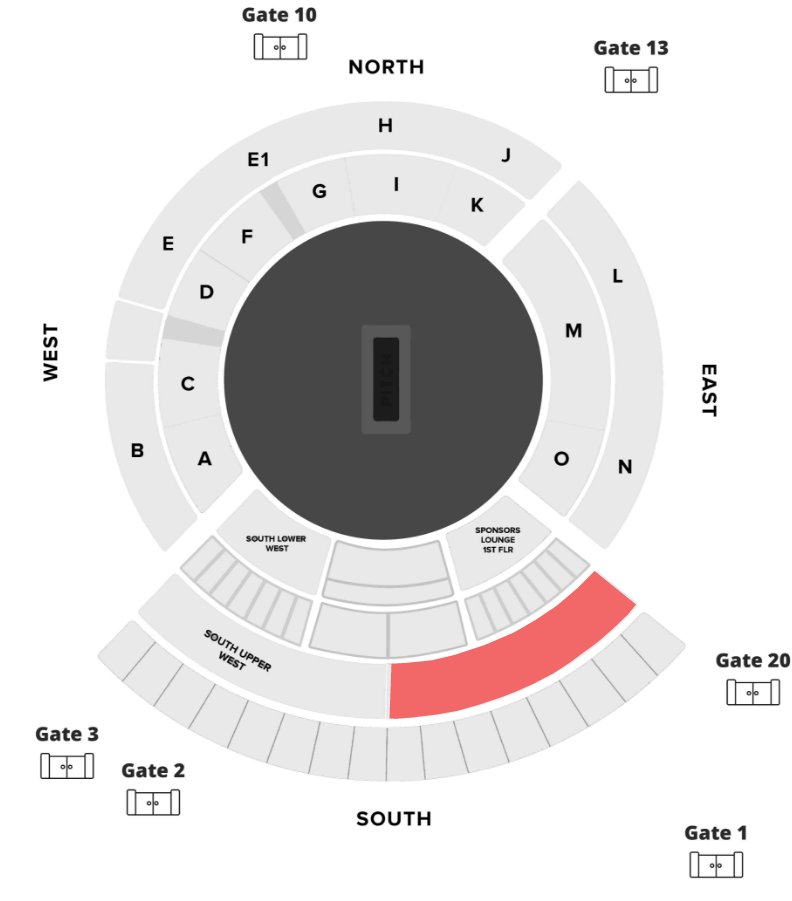 The layout is showing all the directions of the stadium with entry gate numbers. All stands, pitch, sponsors lounge is clearly depicted on the stadium layout. A layout is also included at the bottom of the post for a better idea.
Note: Mobile SMS and E-Mail printout are not valid for entry into the stadium. You must have a valid ticket to enter the stadium.
Also, read about Feroz Shah Kotla Stadium, Delhi
General Guidelines
To avoid the last minute rush, book and collect your tickets in advance. The Dr. Y.S. Rajasekhara Reddy cricket stadium gates generally open three hours before to the match. Mobile phones, wallets, ladies purse, baby food, and diapers are allowed in the stadium. You are not allowed to take any other item in the stadium like bags, helmets, power banks, headphones, earphones, cables, coins, metallic objects, tobaccos, flammable items, water bottles, outside food, etc. There are no lockers are in the stadium to deposit the restricted items, so it is advised you to do not bring these items in the ACA-VDCA stadium.
ACA-VDCA Cricket Stadium Location Map
ACA VDCA Cricket Stadium Seating Arrangement
The seating arrangement of Visakhapatnam cricket stadium is quite wonderful and managed. As is the one of most well-managed cricket stadium of India, the seating layout is very good and you can view the match without any obstacle from every seat in the stadium.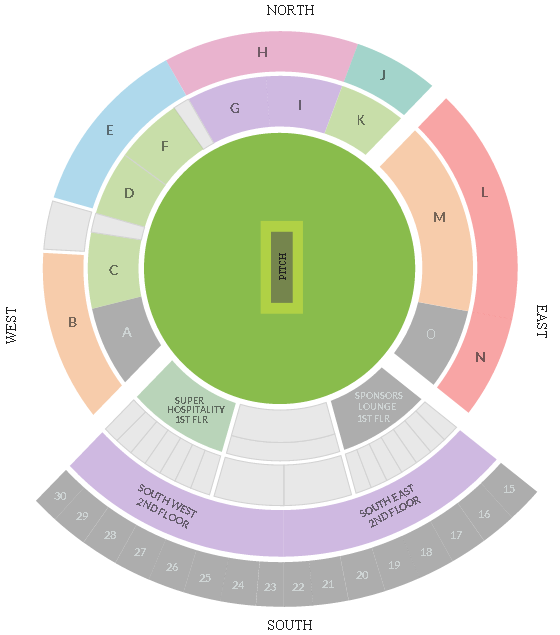 Stands, pavilions, depicted on the seating layout along with the pitch.
Stadium Facilities
Stadium is good maintained and there are plenty of washrooms, cafeteria, and good parking space. As food and water bottles are not allowed in the stadium, the cafeteria of the stadium will here to serve you. ACA VDCA cricket stadium has a good rating on Google (4.5/5).




IPL9 Match Schedule at ACA VDCA Cricket Stadium
Mumbai Indian (MI) and Rising Pune Supergiants (RPS) will play their remaining matches IPL matches at Vizag stadium. MI and RPS IPL matches which were scheduled to play in Maharashtra, now will be played in this stadium after 01 May 2016.
| Date and Day | Team | Team | Time |
| --- | --- | --- | --- |
| 08 May 2016 | Sunrisers Hyderabad (SH) | Mumbai Indians (MI) | 4:00pm IST (10:30am GMT) |
| 10 May 2016 | Sunrisers Hyderabad (SH) | Rising Pune Supergiants (RSP) | 8:00pm IST (2:30pm GMT) |
| 13 May 2016 | Mumbai Indians (MI) | Kings XI Punjab (KIXP) | 8:00pm IST (2:30pm GMT) |
| 15 May 2016 | Mumbai Indians (MI) | Delhi Daredevils (DD) | 2:30pm IST (10:30am GMT) |
| 17 May 2016 | Rising Pune Supergiants (RSP) | Delhi Daredevils (DD) | 8:00pm IST (2:30pm GMT) |
| 21 May 2016 | Rising Pune Supergiants (RSP) | Kings XI Punjab (KIXP) | 4:00pm IST (10:30am GMT) |