IPL Ticket Price In Delhi, Feroz Shah Kotla Tickets IPL 2022
Feroz Shah Kotla Stadium (also spelled as Firoz Shah Kotla Stadium) is a feast for the eyes for every cricket fan in Delhi. The stadium is present at Bahadur Shah Zafar Marg, Delhi near the Firoz Shah Kotla Fort. The stadium was built in 1883, and it is the second oldest cricket ground in India after Eden Gardens Cricket stadium, Kolkata. IPL Ticket price in Delhi is one of the most important topic among the fans. The IPL Ticket Delhi are in high demand after the announcement made by BCCI. Delhi Capitals plays their half of the league stage matches at Delhi Feroz Shah Kotla stadium. It was continuously renovated which has kept the stadium up to the standards and its sitting area has also increased in the process to accommodate the huge amount of spectators and it has seating capacity for around 45,000 fans. The stadium has seen the growth and it hosts a large number of matches every year with so many cricket matches being played every year. With the introduction of IPL and World T20 in recent years, it has seen a sudden increase in the matches played. Apart from information related to Feroz Shah Kotla Tickets counter, we will also share news about IPL match Ticket price in Delhi.

It is the only international cricket stadium in New Delhi which hosts the matches of all the cricket formats, such as Test, One Day International, Twenty- 20, IPL (Indian Premier League), domestic and Ranji matches. This stadium has seen few of the greatest moments in cricket history, as it witnessed Indian Spinner Anil Kumble's 10 wickets haul against Pakistan. The match between India and Pakistan was held in Ferozshah Kotla Cricket Ground in February 1999 when Kumble delivered his magic spells and took all the ten wickets of opposition in the fourth inning of the match, and he also became the second man to achieve the feat after Jim Laker. It also saw Sachin Tendulkar's 35th century by which he surpassed Sunil Gavaskar's record of highest centuries. I got to visit this stadium in India vs Australia 5th and final ODI of 5 matches series. It was played on 13 March 2019 and India lost the match. The IPL ticket price in Delhi has been announced after the IPL schedule and you may not get tickets on Feroz Shah Kotla Tickets counter.
This year IPL was  hosted outside the India due to rising cases of Covid 19. UAE hosted the Dream 11 IPL in their three stadiums as per IPL 2020 new schedule.
General Ticket Booking Procedure and Parking Facility
This part of the chase was rather easy; you can book the tickets online by visiting the official ticket booking site and select the desired match and venue. The tickets are available by online modes only and there are no counters in the stadium premises, maybe to avoid the extra rush which may be hard to manage for the stadium management. You have to carry the printout of the online tickets and get the entry pass at the insider IPL Box office. The box office pickup address for IPL tickets is Raja Ram Mohan Roy Memorial Hall, Vishnu Digambar Marg (Opposite Hindi Bhawan), Bal Bhawan ITO, New Delhi – 110002. Nearest Metro station is ITO and Delhi Gate of Delhi metro violet line.
How to Book Feroz Shah Kotla IPL Ticket Delhi
You can book Feroz Shah Kotla stadium Tickets for 2022 IPL in few clicks. Booking Online tickets are very simple, safe and hassle-free. India vs Bangladesh 1st T20 ticket rate match start from 750 rs to 13500 Rs. or Higher (Depends on the match).
Go to the insider website or Mobile APP.
Select the date, choose the price and tickets from the virtual layout of the stadium.
Now pick the favorite seats from the seating arrangement by looking at IPL match Ticket price in Delhi.
After picking the seats, go to the checkout page and complete the online payment by debit card/credit card, net banking, cash card or any other modes specified on the site.
After successful payment you will get a confirmation message and mail, the tickets will be delivered to the mailing address. Alternatively, you can collect the ticket from the box office also.

Booking of tickets started through insider. You can check IPL ticket price in Delhi.
Feroz Shah Kotla Stadium IPL Tickets Offline
Tickets sale of IPL tickets of Delhi Capitals match was also running through offline ticket counters and retail outlets in the city. List of these outlets and Metro stations are published below for 2020 IPL.
IPL Offline Tickets from Delhi Metro Stations
Pragati Maidan Metro Station Gate No. 2
Kirti Nagar Metro Station Gate No. 2
Kashmiri Gate Metro Station Gate No. 5/6
Okhla Metro Station Gate no. 3
Saket Metro Station Gate No. 3
Jasola Metro Station Gate No. 1/2
Daikin Shop
Shop No. 77-78, G296 Jail Road Hari Nagar
171 A, LIG Flat, Rajouri Garden
24 Seven Stores
In Dwarka: SN G 26-27, Vardama Jaypee, Plaza Commer Center, Sec 4, Dwarka, Near Aashirwad Chowk
In Model Town: F14/13, Model Town 2
In Kamla Nagar, 23, UGF, Jawahar Nagar
In Shalimar Bagh, SN AB 13, Gr Floor Azadpur Metro Station, Shalimar Bagh Opp. AD Market
In Connaught Place, Shop No. 15, Ground Floor, Regal Building, CP
In Karol Bagh Metro Station Gate No. 5, Pillar No. 101
In Nirman Vihar, E 371, Ground Floor, Near Nirman Vihar Metro Station
In East of Kailash, F5, Ground Floor Main Market
In Greater Kailash – II, Shop M63, Main Market, Greater Kailash Phase 2
IPL Ticket price in Delhi 2020 – DC Tickets Price
After the completion of India vs South Africa series 2020, teams have the future matches of IPL which are scheduled to start from last week of March 2020. Feroz Shah Kotla stadium is the home ground of Delhi Capitals and Delhi cricket fans are crazy about IPL matches. IPL Ticket Delhi of cricket matches sold out very quickly despite the ticket prices. Ticket rates are declared and we are expecting the announcement high demand. As Delhi IPL ticket price list 2020 cost of IPL 13 start from 850 Rs and the highest ticket price is 22000 for three hours of action. Updated rates list is published by us after the official announcement.
IPL Ticket Price List 2020
IPL tickets Delhi 2020 are expected to be out soon. Cricket fans are waiting for IPL matches from long time and matches of IPL happened last along with General elections 2019. IPL tickets price in Delhi 2020 should start from 850 and tickets are available in many categories. Lower tickets are booked early as compared to higher priced tickets. It is advisable by us to book Delhi ipl tickets 2020 soon.
Feroz Shah Kotla Cricket Stadium Map
Feroz Shah Kotla Stadium Check-in Procedure and Guidelines


Let's focus on few guidelines which will help you if you are planning to visit the stadium for any upcoming match. After collecting the entry pass, check the gate number which is printed on the tickets and head towards the gate number to enter the stadium. Please avoid carrying any items other than the wallet and mobile phone. Most items are not allowed inside the stadium, and the same would be asked to deposit at the security checking counters with no guaranty of return which was informed at the entry gates. Some of the restricted items are Coins, headphones, power bank, data cables, water bottles and any type of eatable or drinkable, digital cameras, binoculars, plastic carry bags etc. Baby food, diapers, and flags are allowed, though. I lost the headphones in the process and I was lucky that I didn't bring any valueable which could have stopped me from entering the stadium. Also on the official website of DDCA, there is no information available regarding the general guidelines to be followed while visiting the stadium.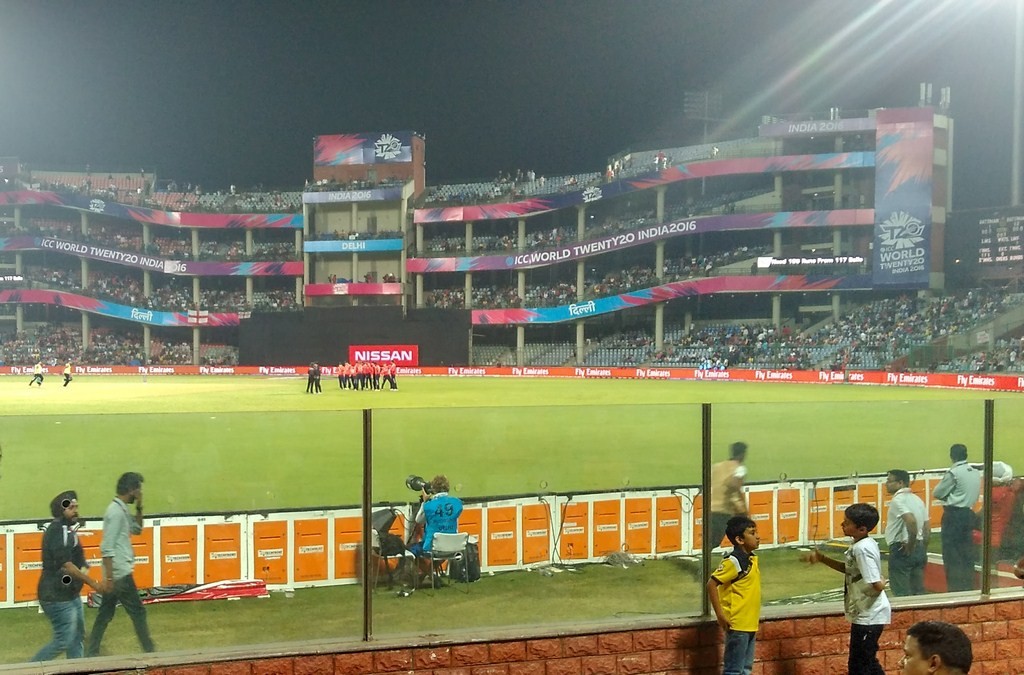 Stadium Facilities
Once you enter the stadium, you will be dependent on various facilities provided by the stadium management. It somewhere lags in the Basic facilities, as the toilets were really in bad condition during the WT20 match between Sri Lanka and England. We were sitting in the Hill A South East Stand, and the view was hindered by the glass which is fitted as a security measure, between the spectators and the ground. So for a clear view, please avoid this stand as it could reduce the excitement of the match. The food provided there was on a bit expensive side, as everything is sold at a price higher than the MRP. Water costs 10rs per 300 ml glass, and soft drink will cost you 50 RS for 450 ml glass. Pan Pizza could also be bought at a price of 150 and 200 rs. Kulcha is priced at 80 rs. Overall the food is little expensive but not too heavy on your pockets.
Feroz Shah Kotla Stadium Seating Layout
Feroz Shah Kotla Stadium Layout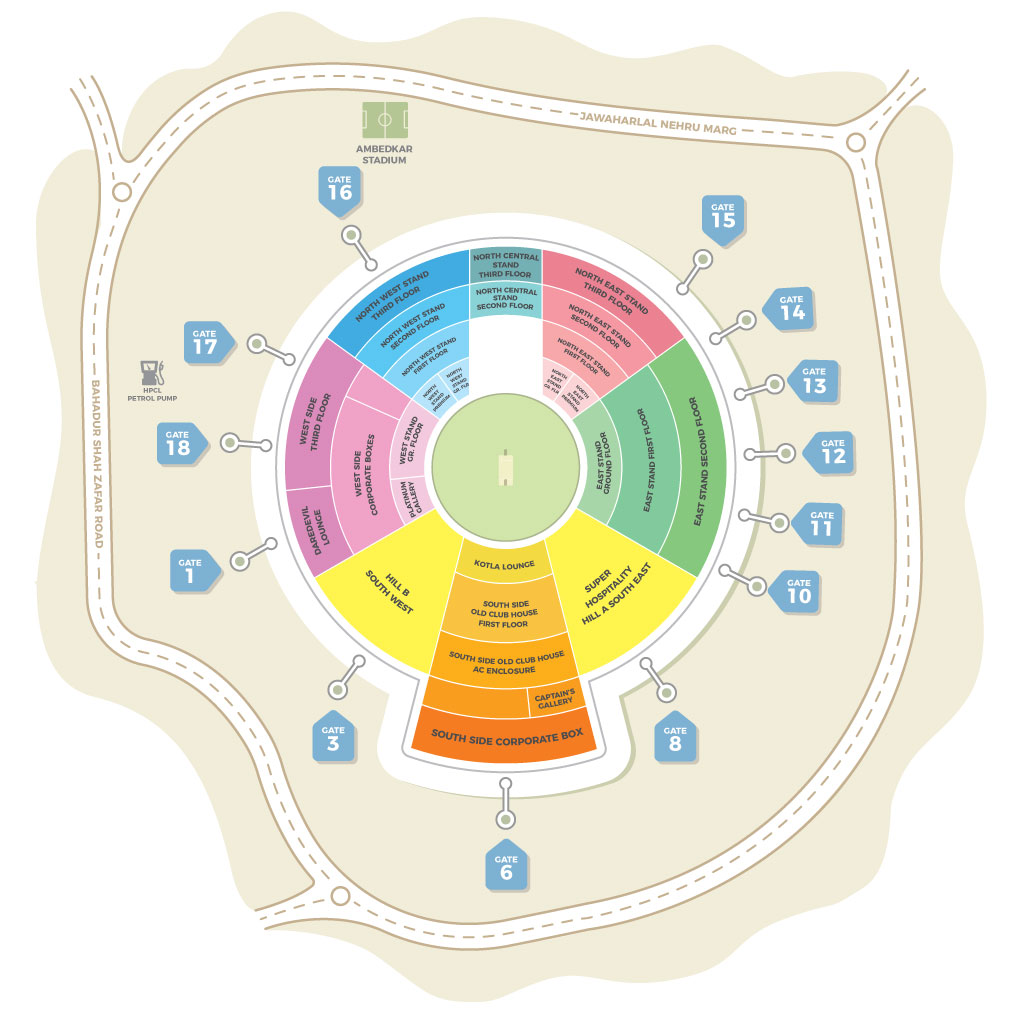 Above seat layout is showing the all stands and pavilions of Kotla cricket stadium like Hiil A, Hill B, Corpororate boxes, old club house, DDCA lounge, East side stand, west stand, North west stand, North Central stand, etc.
Feroz Shah Kotla Stadium Delhi IPL 2020 Match Schedule
Below is the last year schedule.
| Match No. | Time Slot | Date, Day | Teams | Venue |
| --- | --- | --- | --- | --- |
| 1 | 8 PM IST | Monday, 30 March 2020 | DC vs KXIP | Delhi |
| 2 | 8 PM IST | Friday, 10 April 2020 | DC vs RCB | Delhi |
| 3 | 8 PM IST | Monday, 13 April 2020 | DC vs CSK | Delhi |
| 4 | 4 PM IST | Sunday, 19 April 2020 | DC vs KKR | Delhi |
| 5 | 8 PM IST | Sunday, 3 May 2020 | DC vs SRH | Delhi |
| 6 | 8 PM IST | Wednesday, 6 May 2020 | DC vs MI | Delhi |
| 7 | 8 PM IST | Wednesday, 13 May 2020 | DC vs RR | Delhi |
IPL 2022 Stadiums – Hosting IPL 15 Matches
Feroz Shah Kotla Stadium Review
Feroz Shah Kotla Stadium is a true savior for the cricket fans in Delhi. One can experience the true enthusiasm of the high voltage matches by being in the stadium. The crowd here is electrifying, and you can find the real fun of a cricket match in a country where Cricket is a religion. Cricket fever is on its high as the world cup is in progress followed by IPL matches. The cricket fans have seen some of the top notch matches here which have been a delight and a lifetime experience. This is the time when you can see men taking custody of the TV remotes which is very uncommon. So to avoid the daily struggle of trying to watch the match on the stupid box, you can feel the real thrill of a match by being in the stadium.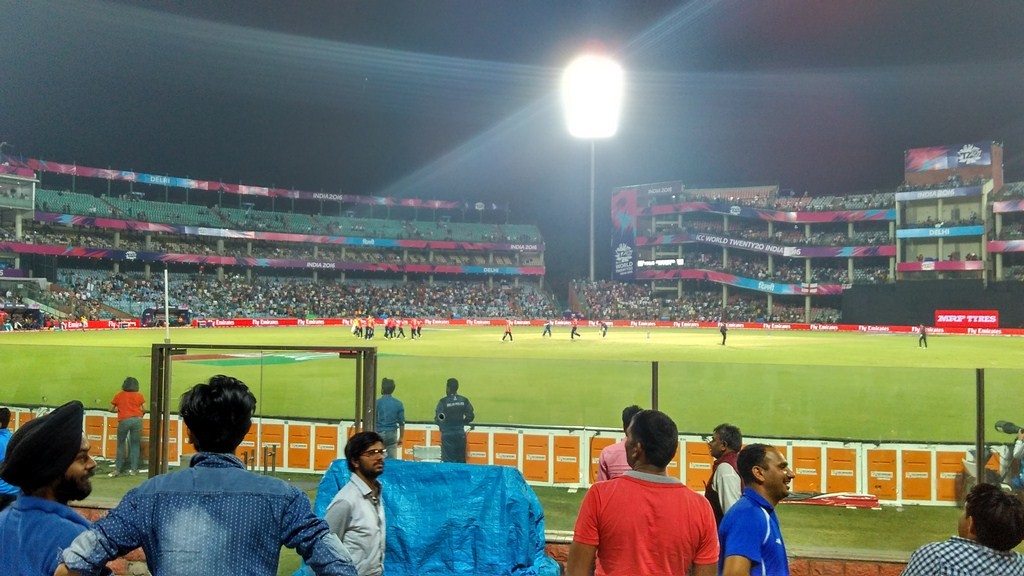 Although the whole process of booking the tickets to entering the stadium is little painful, but once you enter the stadium and the match starts; you will forget all the hassles, and you will be happy that you have come all the way. If it is your first match in the stadium, you will be surprised, thrilled, excited and overwhelmed by the experience. I have been in the stadium couple of times, and I always comes out of the stadium with a smile on my face, the feel of watching a cricket match live in front of the eyes is something which is a unique way to get yourself involved in the match, with 45 k fellow fans and no advertisement to disturb you in between the overs.
Feroz Shah Kotla Stadium Information
| | |
| --- | --- |
| Address | Bahadur Shah Zafar Marg, Delhi |
| Nearest Metro Station | ITO, Pragati Maidan and Mandi House |
| Seating Capacity | 45,000 |
| Restricted Items | Coins, headphones, power bank, data cables, water bottles and any type of eatable or drinkable, digital cameras, binoculars, plastic carry bags etc |
| Items allowed | Wallet, mobile phone, Baby food, diapers |
| Parking | Yes |
If you have any query please post a comment or mail me at indiaongo@gmail.com. I will try my best to help you guys 🙂
Read About Wankhede Cricket Stadium