Sri Kilkari Baba Bhairon Nath Mandir timings, Arti Timing, Location, Parking
The great city of Delhi has various old and famous temples within it. This Bhairav Nath is one of the oldest temples of Delhi, which is dedicated to the Hindu God Bhairon Baba. This temple is also known as Kilkari Baba temple and Pandav Kalin Bhairon Temple. Visitors and devotees are very dedicated to Bhairo baba. Bhairon baba temple timing is given here for visitors' and devotees' help.




This temple is located outside the Purana Quila, which is just opposite the Pragati Maidan. In Pragati Maidan every year Indian International Trade Fair is organized. During the fair, this temple also gets the visitor's rush.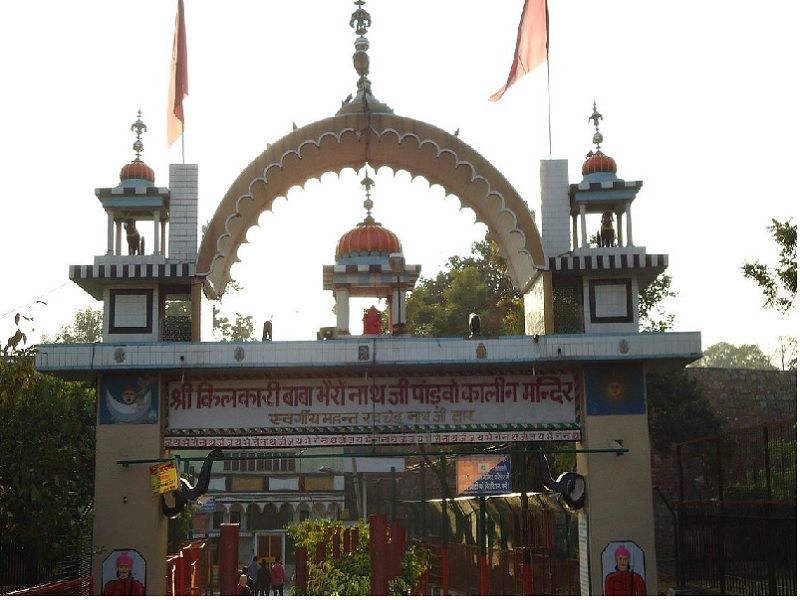 As per the Delhi tourist itinerary, this temple is also one of the best tourist places to visit in Delhi. This temple existence claimed since the Mahabharat era. and as per the locals, this temple was built by Pandavas and Bheem. In temple premises, photography was strictly prohibited, and some devotees offered liquor to the God Bhairon as a Prasad. Visitors can buy prasad from the shop on the temple premises but alcohol is not allowed to sell there, devotees bring their alcohol from their places to offer Bhairon Baba.
If visitors and tourists want to visit this temple, they can also enjoy Delhi's two other tourist places i.e. Purana Quila and Delhi Zoo. Therefore, especially on Sunday, this temple is mostly crowded because visitors can visit these three places in one day.




As per Indian mythology, Bhairav Nathi ji was killed by Mata Durga, before dying he requested Mata for the forgiveness of his sins. Durga Maa forgave him and gave him the boon to be worshiped as a God. Since then Bhairav Nathji or Bhairon worshipped as a God.
Sri Kilkari Baba Bhairav Nath Mandir timing
Bhairav baba mandir Pragati Maidan opening and closing timing from Monday to Saturday in the morning is 05:00 to 12:00 and 03:00 to 09:00 in the evening. Especially on Sunday this temple opens at 05:00 in the morning and closes at 10:00 at the night.
Days
1st Half
2nd Half
Monday to Saturday
05:00 AM to 12: 00 PM
03:00 PM to 10:00 PM
Sunday
05:00 AM to 10:00 PM

Bhairon Nath Mandir Pragati Maidan Aarti Timings




This beautiful temple opens every day, and during the visit, devotees feel spirituality, positivity, and peace. In every temple, most devotees go to participate in aarti to feel the god and peace. Therefore, devotees want to know the arti timing of Bhairav Nath mandir. Before going to the temple devotees should check the Kilkari Baba Bhairon Nath aarti timings.
Location of Bhairon Baba (Kilkari Baba) Pragati Maidan
This beautiful temple is located in central Delhi at Pragati Maidan, New Delhi – 110001 the nearest landmark of this temple is Purana Quila (Old Fort).
How to Reach Sri Bhairon Nath Temple Pragati Maidan
This temple is situated at Pragati Maidan in Central Delhi just outside the Purana Quila. There are many public transportation options to reach this temple except the rickshaw facility.
Metro: Metro is now Delhi's safest and easiest transportation, DMRC ltd. spread metro lines all over Delhi. The nearest metro station is the Supreme Court Metro Station of the Blue line, previously this station was known as Pragati Maidan Metro station. The distance from the metro to the temple is approx. 2.2 km.
Bus: In Delhi, the bus service also runs on a big level, Delhi Government runs many buses from various places, and visitors can take the right bus to reach here.
Auto: In Delhi, transportation options are available on a wide level, auto is also a good option to reach here, visitors can ask the driver to get reach here.
Car/Taxi: Self-vehicle and taxi service is also a good option to reach here.
Parking at Bhairon Baba Mandir Pragati Maidan




The parking facility at Kilkari Babba Bhairon Mandir Pragati Maidan is available within walking distance. The parking space for the cars and other vehicles is Pragati Maidan gate no.1. They charged high parking charges as compared to others. Parking charges are 60 Rs for two-wheelers and 120 Rs for the car.