Kalkaji Mandir Timings, Nearest Metro Station and Aarti Timings
Shri Kalkaji Mandir is a Hindu temple situated in Kalkaji, Delhi and it is dedicated to goddess Kali. It is also known as Manokamna Siddha Peetha and Jayanti Peetha. It is known as among the most revered and oldest temple of Maa Kali in India. As per the devotes' beliefs, all the prayers and wishes of devotees got fulfilled here.
Devotees believe that the structure of Maa Kalika is self-manifested. Millions of devotees and visitors came to the Kalkaji Temple every year and during Navratri season long queue of devotes can be seen here. Devotes from all the part of Delhi and India gather here during the Navratri period to worship the goddess Kali. Navrati is a 9 day festival period falls two times in a year in the month of March and October. In 9 days devotes worship the different form of goddess Durga.
How to Reach and Nearest Metro Station
Kalka Ji Temple is situated in the Kalkaji area near to Nehru Place on Ma Anandmayee Marg. The nearest metro station is Kalkaji Mandir Metro Station. A 5 minute walk is enough to reach Kalkaji Temple. Delhi metro is the best way to reach here and it is also located very close to the Nehru Place Bus Terminal. Visitors can also reach here via city bus service, auto rickshaw or taxi. IGI airport is 20 KM and New Delhi Railway Station is 15 KM away from the Mandir.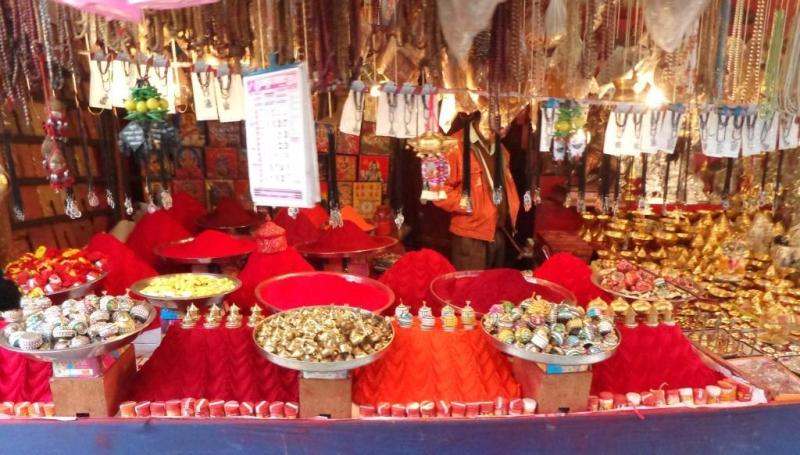 Lotus Temple and Iskcon Temple are two other famous temples situated very near. The vehicle can be parked near the temple, however, on festival time devotees can stuck in a massive traffic jam.
Kalkaji Mandir Timings and Aarti Timings
| Timings and Information | |
| --- | --- |
| Temple Opening Time | 4.00 AM |
| Temple Closing Time | 11.30 PM |
| Aarti Time (Summer) | |
| Morning Time | 5 AM to 6.30 AM |
| Evening Time | 7 PM to 8.30 PM |
| Aarti Time (Winter) | |
| Morning Time | 6 AM to 7.30 AM |
| Evening Time | 6.30 PM to 8 PM |
| Temple Closing Day | None |
| Temple Closing Time | 11.30 AM to 12 PM for Prasad |
| | 3.00 PM to 4.00 PM for cleaning |
| Photography Allowed | Take prior permission to click goddess pictures |
| Shoe Stall | Yes |
| Drinking Water | Yes |
Some small shops are present in the Kalkaji Mandir complex, which are selling religious books, incense sticks, Prasad and other religious items. Mandir complex has Peepal tree, Banyan tree along with Kaal Bhairav (Bhairon Baba) temple.

Visitors can also visit Chhatarpur Temple, Prachin Hanuman Temple of CP, Lotus Temple and Iskcon Temple, Lotus Temple is less than 1 KM and Iskcon is just 2 KM away from here.