Sri Sri Radha Govind Mandir – Iskcon Temple Kolkata
ISKCON foundation has many temples all over the world and they chose Kolkata for their first temple in India. As of now Iskcon have around 40 temples in India and Kolkata Iskcon temple is the first temple of India. This temple is located near the Birla house in Minto Park area. Thousands of devotees visit this divine place regularly. It is among one of the most visited temple of India. Before visiting here, checking temple timings, address and daily schedule will help you to plan accordingly. Janmashtami is the main festival celebrated here.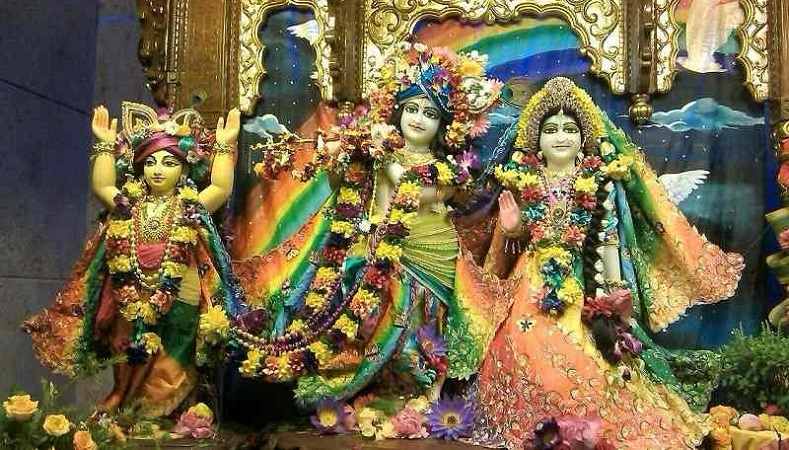 About Sri Sri Radha Govind Iskcon Temple
This is the first Iskcon temple of India and official name is Sri Sri Radha Govinda Mandir. Iskcon was founded by Srila A.C. Bhaktivedanta Swami Prabhupada. He established many temples worldwide and after returning to India, he chose Kolkata for first Iskcon Mandir. He was born in Kolkata. Temple was built in 1971 with worship of God and in 1972 ISKCON's Rath Yatra was organized. Millions of devotees attend the rath yatra.
Iskcon Temple Kolkata Timing, Entry Fee
Temple is not open for whole day and knowing temple schedule in advance is beneficial. Iskcon Temple opening time is 4:30 in the morning and Sri Sri Radha Govinda Mandir closing time is 8.30 in the night. Temple also remains closed in the day time also from 1 PM to 4 PM. Darshan Timings and Aarti Timings can be checked from below table. Entry is completely free.
ISKCON Temple Kolkata Aarti Timings, Daily Schedule and Darshan Timings
Various prayers are performed in the Sri Sri Radha Govinda temple throughout the day and it has various darshan timings.
Daily Temple Program and Aarti Timing
| Schedule and Aarti | Time |
| --- | --- |
| Mangala Aarti | 04:30 AM |
| Tulasi Aarti | 05:00 AM |
| Chanting session | 5:30 am to 7:30 am |
| Darshna Aarti & Guru Puja | 07:30 AM |
| Srimad Bhagavatam Class | 08:30 AM |
| Rajbhoga Aarti | 12:00 PM |
| Temple closed | 1:00 to 4:00 pm |
| Dhup Aarti | 04:00 PM |
| Sandhya Tulasi Aarti | 06:00 PM |
| Gaura Arti | 06:15 PM |
| Shayan Aarti | 08:15 PM |
| Temple closed | 08:30 PM |
Kolkata Iskcon Temple Darshan Timings
Darshan Timings
4:30 AM till 5:00 AM
7:30 AM till 8:00 AM
8:15 AM till 11.45 AM
12:00 PM till 1:00 PM
4:00 PM till 6:00 PM
6:15 PM till 8:00 PM
8:15 PM till 8:30 PM
Facilities and Information
Shoe deposit counter is located in temple along with water facility. Car parking is available in front of the temple, however, it is limited. A guest house is also located and rooms can be booked in the guest house by contacting the temple officials. Govinda restaurant and bakery is present in the complex. Timings of restaurants and bakery are shared below.
Govinda Restaurant Timings and Bakery Time
Iskcon temple is known for serving tasty vegetarian food.
| Menu | Timings |
| --- | --- |
| Breakfast | 9 AM to 12 PM |
| Lunch | 12 PM to 4 PM |
| Snacks and South Indian Food | 4 PM to 7 PM |
| Dinner | 7 PM to 10 PM |
| Bakery Timings | 8.30 AM to 10 PM |
Iskcon Temple Location, Address and How to Reach
Temple is located in Minto Park area near Birla School. This place is well connected with all the city. Metro, bus, cab, auto are the convenient mode of transport to reach here. Complete temple address is 3C Albert Road, Near Birla High School, Minto Park, Kolkata. Contact number is 033-40403300. Minto Park is the nearest bus stand and 2 min walk is sufficient to reach here. Rabindra Sadan Metro Station is the nearest metro station to ISKCON Kolkata. It is around 1 KM from here's.

It is good place to visit in Kolkata and 1 hour is sufficient to visit this temple.