Iskcon Temple Bangalore Aarti Timings 2023, Timings, How to Reach
Bangalore Iskcon temple is a famous Hindu Temple located in Bangalore. Check Iskcon temple Bangalore aarti timings before visiting this Mandir. It is visited by thousands of devotees every day from all parts of Bangalore and Karnataka. Janmashtami, Radha Ashtami, and Gaura Purnima are one of the main festivals celebrated in this Temple. The construction of the temple was completed in 1997 and open for visitors in the same year. It is a Hindu temple dedicated to Radha Krishnachandra. It is located in Rajajinagara of Bangalore.

During the festival time, lakhs of devotees visit this temple to get the blessing of their deity. It is a big temple and very popular among the people of Bangalore. Tourists from other states and across the glow also visit this Temple when they came to Bangalore. This ISKCON Mandir has very good Google ratings and the architecture of the temple is very beautiful. Temple is generally crowded on Sundays and holidays so it is advisable to visit this beautiful temple on weekdays. The temple is spread over a large area so elder peoples might face difficulty while visiting the temple. Sri Sri Radha Krishnachandra, Sri Srinivasa Govinda, Sri Prahlada Narasimha, Sri Hanuman & Sri Garuda, Sri Nitai Gauranga and Sri Sri Krishna Balarama are the main deities of temple.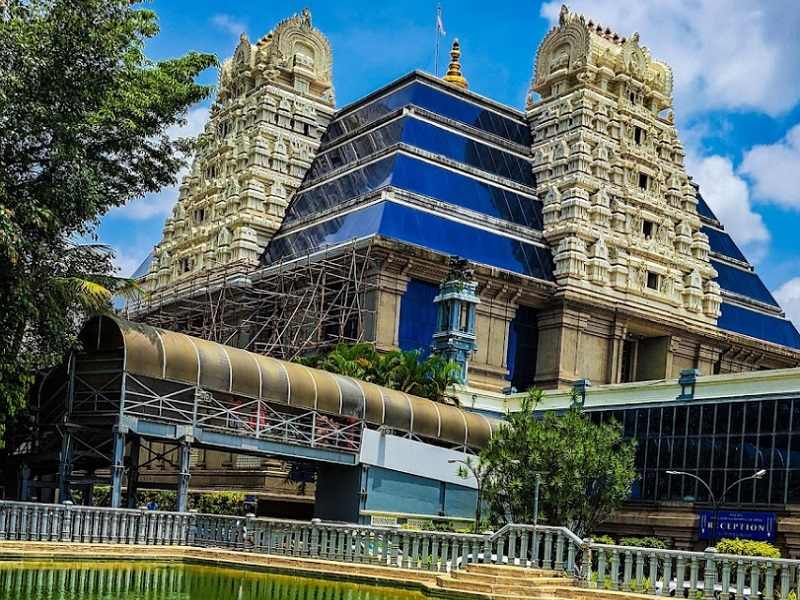 Iskcon Temple Bangalore Darshan Timings 2023
| Timings | Duration |
| --- | --- |
| Morning | 4.15 AM to 5.15 AM |
| Morning | 7.15 AM to 1.15 PM |
| Evening | 4.15 PM to 8 PM |
| Weekends and public holidays | No Afternoon Break |
Temple opening time is 4.15 AM and closing time is 8 PM. Multiple breaks in this time as per the above table. No breaks in the afternoon during weekends and public holidays.
Bangalore Iskcon Temple Aarti Timings 2023
| Aarti and Programs | Timings |
| --- | --- |
| Mangala Aarti | 4.30 AM |
| Sri Tulasi Puja | 4.45 AM |
| Sri Narasimha Arati | 05:00 AM |
| Suprabhata seva for Sri Srinivasa Govinda | 5.10 AM |
| Nitya Shodasha Upachara Puja & Japa Meditation | 5.30 AM |
| Shringara Darshana Arati and Guru Puja | 7.15 AM |
| Lecture on the Srimad-Bhagavatam | 8.30 AM |
| Rajbhog Arati | 12.30 PM |
| Dhupa Arati | 4.15 PM |
| Sri Tulasi Puja | 6.45 PM |
| Sandhya Arati | 07:00 PM |
| Shayana Aarti | 8.15 PM |
Multiple aarti and programs are held at Iskcon temple in Bangalore on daily basis. The first arati time is 4.15 AM and the last aarti named Shayana Aarti performed at 8.15 PM before the closing of the temple. Aarti timings and program schedule is mentioned in the above table.
ISKCON Bangalore Temple Facilities
Many facilities are available in ISKCON Temple for the convenience of visitors. Wheelchair and elevator facility is available for physically challenged people and elders. Parking is available for four-wheelers and two-wheelers by paying a nominal Charles. 2 toilets are available inside the temple premises and purifier drinking water is also available for the devotees. A footwear stand is also available inside the temple premises for safe keeping of footwear. Two restaurants are available inside the temple premises providing vegetarian food with good hygiene. Buffer space is available inside the temple to control the crowd during weekends, holidays, and festivals.
Accommodation option is also available for the visitors of the temple. Iskcon temple Yatri Nivas has 70 rooms in the form of Doubles, Triples, Family Suites, a Semi-Dormitory, and Dormitories. Wi-Fi access and campus parking are provided to the guests. Temple has 24/7 security with the help of CCTV and security guards.
How to Reach

Iskcon temple is located in Rajajinagar at North Bangalore. Kempegowda International Airport is around 33 km away from the temple and around 1 hour of travel required to reach this temple. Bangalore City railway station is around 7 km from here and Yeshwantpur railway station is 2 km from the temple. Two metro stations are located around a walking distance of 10 minutes from the temple. Sandal soap factory and Mahalaxmi are the nearest metro station to reach Bangalore Iskcon Temple. Many city buses are also ply on the route of ISKCON Temple.

City Buses:
From Kempegowda Bus Station (Majestic) – 80, 80A, 80B, 80E, 80F, 80G, 252F
From City Market – 77, 77E
From Shivajinagar – 79E