Shimla Bike Tour-A Memorable Journey on Bikes
It was the month of March when I and my three friends decided to plan a trip of Gwalior-Delhi-Shimla-Manali-Solang-Rohtang by bikes. So now I am sharing my experience of Shimla Bike Tour in this part, I will add another part of Shimla-Manali-Rohtang bike tour in another blog post. We started planning about the trip in the starting of March. We had to plan trip at least 20 days in advance because there were so many hurdle in that trip. First hurdle was to get family's permission because they were against our bike trip of mountains. We had to try hard to get the approval of bike trip. It took at least two weeks. After that we had to arrange the money because we were all un-employed at that time. After crossing all small and big hurdles, we got ready to our maiden Shimla bike tour.

At that time I was in Gwalior and all of my friend were in Delhi. We had just two bikes over four people. My bike was in Gwalior with me, so one of my friends, Naveen came to Gwalior to accompany me till New Delhi. He arrived at Gwalior station early in the morning and I picked him up from Gwalior railway station and we started our journey towards Delhi. The road condition of Gwalior to Delhi is good; we took NH-3 from Gwalior to Agra. As Yamuna expressway was under construction at that time, so we had to take National Highway 2 from Agra to Delhi. It took us around eight hours to complete the journey. Now we reached friend's house in Dwarka. We took rest for two hours and got ready to complete our journey towards Shimla.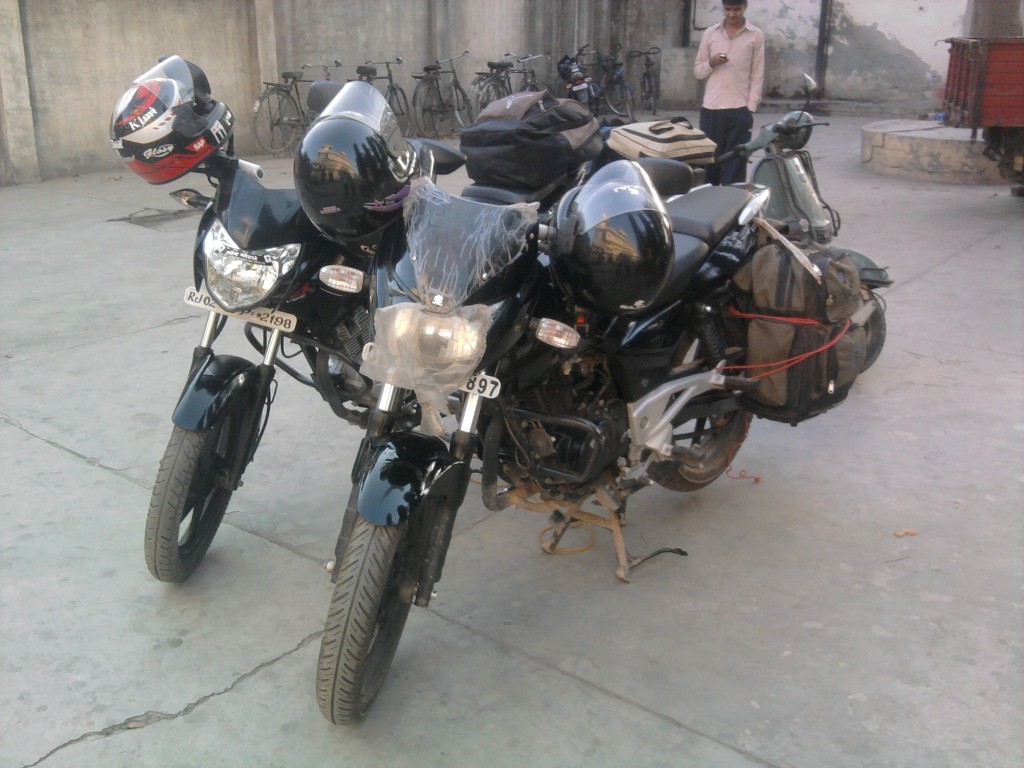 We left Delhi around 4 PM and Took GT road. We reached Karnal around 6.30 PM and decided to take a cheap hotel for overnight stay as we were on budget trip. One of our friends gave us idea to stay in dharamshala (cheap hotel with basic facilities) as it would be very pocket friendly. So we decided to stay in a dharamshala near bus stand, it cost us around 150 INR for four peoples. We took dinner in a dhaba(budget restaurant) and after that we roamed around the market of Karnal city and after that we came back to our hotel and went for sleep. It was a very wonderful experience as we slept in the open sky inside the hotel.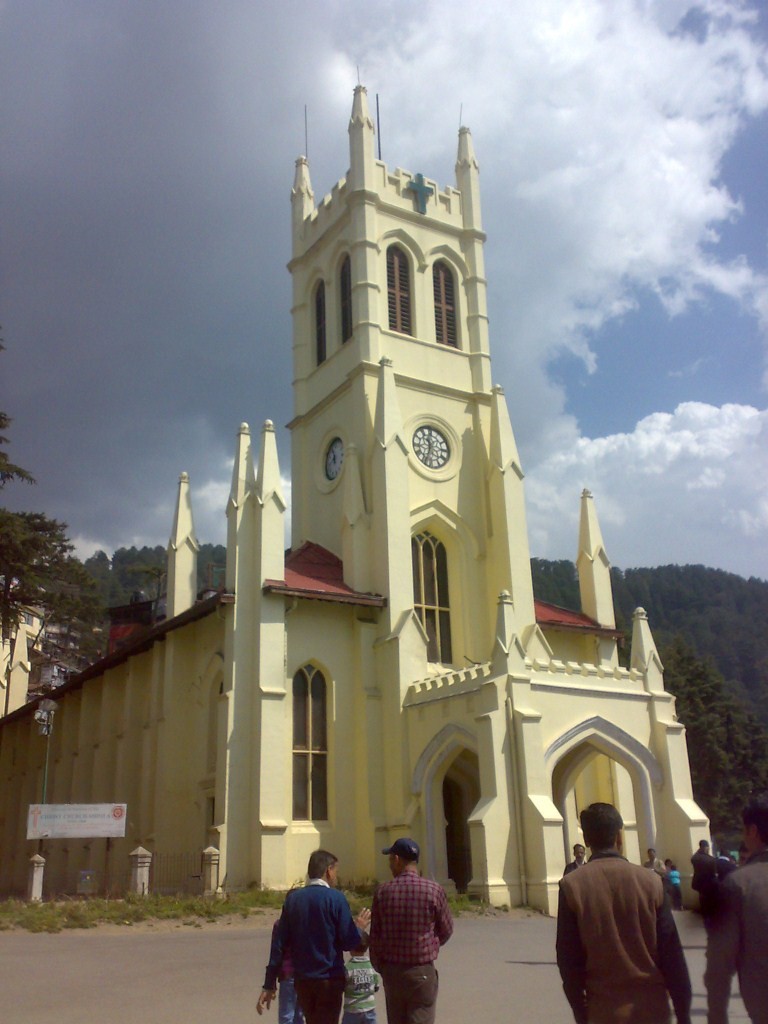 Christ Church Shimla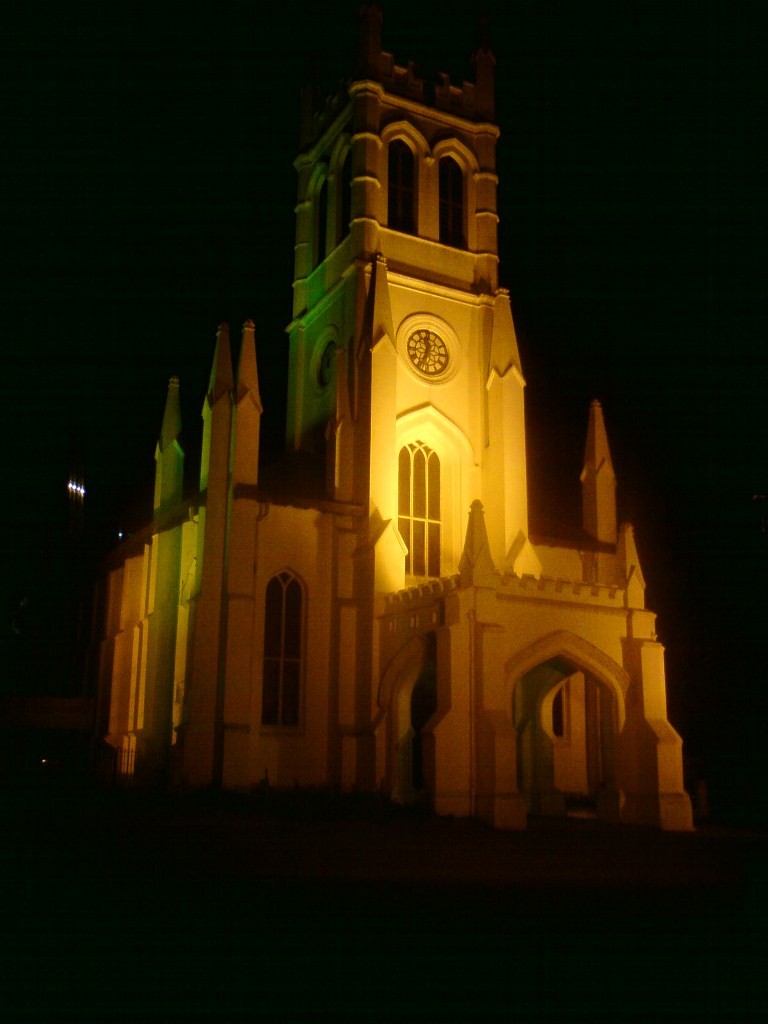 Around 7, o clock in the morning we left the Karnal city and headed towards our first destination – Shimla. At Ambala toll we enquired about the Shimla route, the guy at the toll gate was excited to see us that we are going to Shimla on the bikes, he gave us some safety instructions and suggested us a short route. The toll guy was very friendly so we trusted him and followed the route suggested by him. We reached Shimla city, the capital of hills around 3 in the noon. I covered around 800 KM on the bike from Gwalior to Shimla in two days and Delhi to Shimla Distance shown on my bike's odometer was around 400 Kilometers.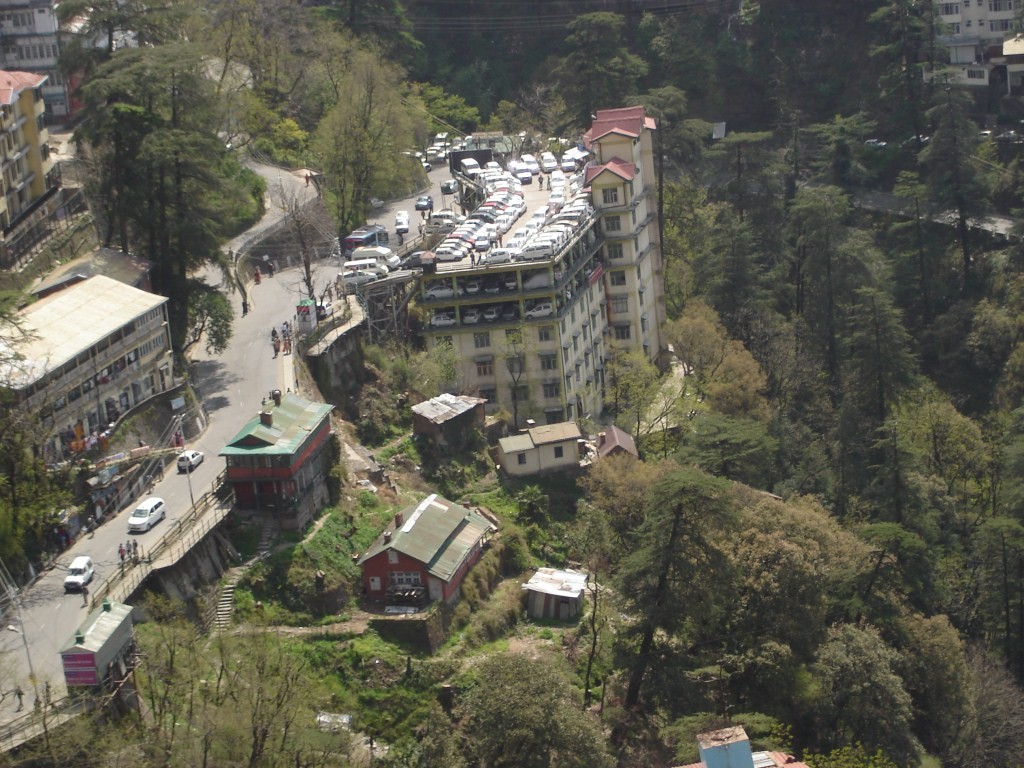 Shimla Parking View from Top
At a main traffic signal, the agents of various hotels encircled our bikes and started pitching their best plans. So I put down my helmet and started talking to them, suddenly the traffic signal got green and I decided to halt my bike after the traffic crossing. As I started the bike, suddenly two traffic cops came and issued a challan for not wearing helmet. We tried to convince him that we are not driving without helmet but they didn't listen so I have to pay the fine, this whole challan excercise took more than one hour as I had to go to traffic police headquarter near bus stand to fill my fine and got back to the cop to collect my bike RC from him. After that we went to parking directly without any discussion with any agent and decided to search the hotels by own. The parking charge for two day for a bike was 150 INR.
Celebration After India Wins World Cup 2011

After all hustle bustles finally we booked a hotel, Sita palace near Kalibari in just 1100 bucks for two days for four peoples. We saw many hotels before selecting this hotel as other hotels are costlier than this and our pockets are not allowing us to choose a costly one. After taking one hour rest; we went to the famous Mall Road of Shimla, we roamed there for two hours and tasted some local food of Shimla. In the night we took our dinner in the hotel room and slept because we were very tired.
Mall Road of Shimla
Next day we woke up around at 6.30 AM in the morning and went for a morning walk. We walked around seven to eight kilometers in the morning. We took our breakfast in a tea stall near mall road. We saw one of the most wonderful sunrises in the morning which was very joyful and unique experience for us. We also clicked lot of pictures of valleys, architectures, etc. We reached our hotel room again at 10 AM; we got ready and went for a walk again on Ridge Road. We roamed at ridge road and mall road for around two hours and clicked so many pictures. We also wanted to go to the beautiful Christ church of Shimla but the church was closed, So we captured the beauty of areas around mall road and ridge road of Shimla. We took our lunch in a restaurant at mall road. The view of valleys from the ridge road is breathtaking and pictorious. You can stare the valleys all days without getting bored. So we also wanted to spend more than one hour just sitting on the bench and having such lovely view of the valley.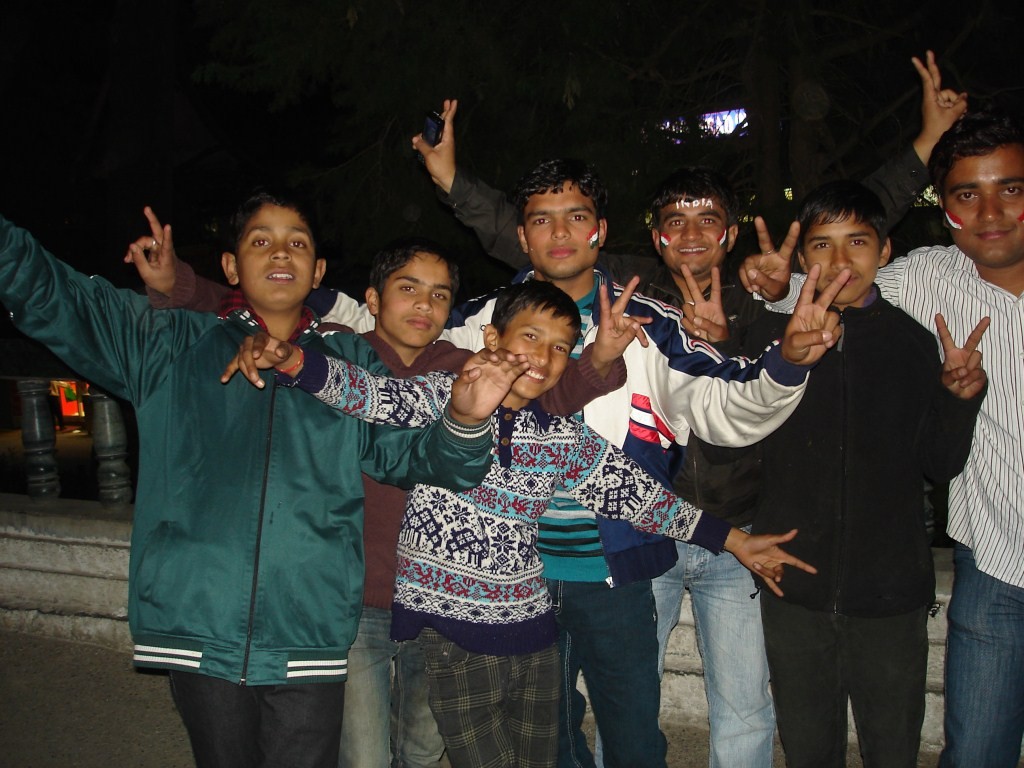 World Cup celebration with Locals
At ridge road we came to know that a bar is telecasting the live cricket match of World cup final. So we reserved our seats there and painted our face in tricolor and celebrated the match till the evening when Dhoni hit the winning Six. After watching the match we enjoyed our remaining celebration on the mall road with local residents and in the hotel room.

We liked Shimla, it is good place to spend the weekend but we didn't find any snow in the city or not in Kufri. If you want to see some snowfall in Shimla, visit hill station in the month of December-January or in the festive time of Christmas. I was told by local and hotel owners, Christmas is one of the best times to visit the city.
In Shimla always follow traffic rules, we parked our bikes in the parking for two days and covered the whole city on the foot, which is the best way to explore the beautiful Shimla city.
Next day we woke up at 8 in the morning, packed our bags and braced ourselves for our next hill station Manali.