Orchha Fort Timings, Entrance Fee, How to Reach
Orchha fort is located in Orchha town of Madhya Pradesh near Jhansi city. It is one of the most popular tourist destination of Madhya Pradesh and many Indian and foreigners visited this heritage city throughout the year. This town is situated on the banks of Betwa river. It is located opposite to Shri Raja Ram Temple of Orchha. The beautiful Betwa river can be seen from the top of the fort. It was built by Bundela Rajputs and King Rudra Pratap Singh. Orchha fort complex consist a fort, temple, palace and other monuments.
This fort complex was built in time period of Bundela's in time span of 16-17th century. It is a big complex in main Orchha. Orchha is a town located in Tikamgarh District of MP. Apart from the main fort, many temples are also built inside the complex by many kings of the state. Raja Mahal, Sawan Bhado Mahal, Jahangir Mahal are also present in the complex. Fort looks very beautiful in day and night. A untkhana is also built outside the fort where camels are kept in old era.
Orchha Fort Timings
Orchha Fort timings are from 8 AM to the Sunset. Fort opens in the morning and closes after the sunset. Closing time is depends on Sunset. In winters, it closes early as compared to summers. Make your plan accordingly as you need at least 2 hours to visit the fort.
Orchha Fort Entry Fee
Orchha Fort complex entrance fee is affordable to Indians and foreigners have to pay 25 times than the Indians. Entry fee for Indians is 10 Rs and foreigners ticket price is 250 Rs. Child under 15 years of age are eligible for free entry. Camera charges are 25 Rs for a camera and Video camera charges are 200 Rs. Tickets are valid for one day only. Car Parking charges is 30 Rs for whole day valid till 9 in the night. Detailed entry fee is shared below.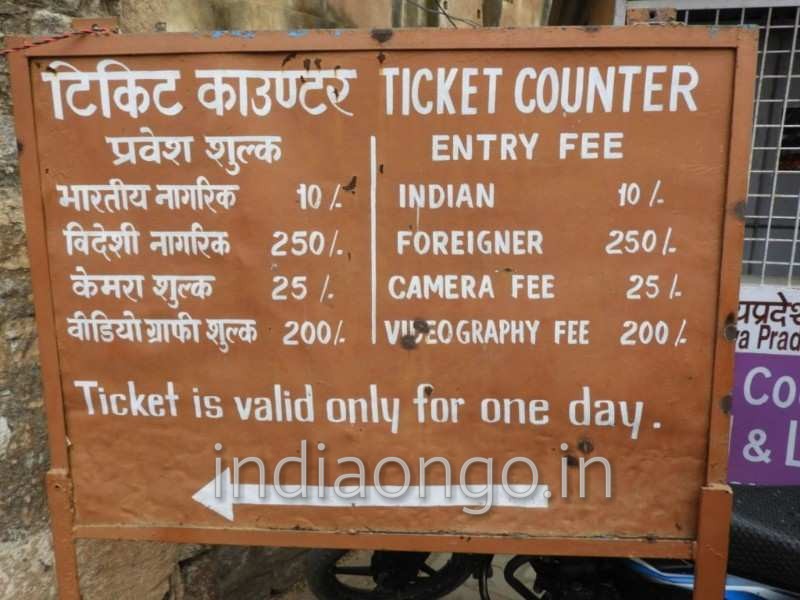 How to Reach
It is located near to Jhansi city. Jhansi is a famous city located very close to Orchha town. Distance between Orchha and Jhansi is around 15 KM by road. Nearest Railway station is Orchha, however, train connectivity is limited. This railway station is around 6 KM away from Orchha fort complex. Best way to reach here via road from Jhansi side. People can choose sharing auto from Jhansi to reach Orchha in just 30 Rs per person or they can book a cab.
Apart from visiting the fort complex, people must visit the Ram Raja Temple to seek the blessing of God. Do not forget to visit the banks of Betwa river and experience and watching the vehicles crossing narrow river bridge.