Nehru Zoological Park Timings, Entry Fee and Address
Nehru Zoological Park is located near Mir Amir Tank in Hyderabad, Telangana, India. It is also known as Zoo Park or Hyderabad Zoo. This is one of the first zoo to bring the concept of displaying animals in open enclosures with no barrier between animals and visitors. Nehru Zoological Park is named after the first Prime minister of India, Jawaharlal Nehru.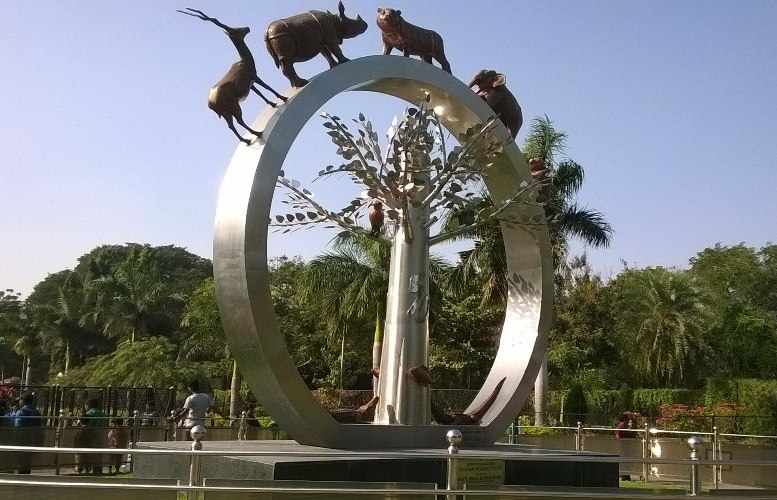 It is one of most visited tourist destination in Hyderabad. Zoo Park was opened in October, 1963. It is managed by Government of Telangana and Forest department. The Zoo is spread over the vast area of 380 acres and it is among the biggest zoo in the country with such a large campus. Zoo has also introduced adoption scheme to get some financial assistance from the animal lovers as maintaining animals is very costly.
Nehru Zoological Park Animals
There are a large variety of animals living inside the Zoo premises. There are more than 150 species of animals. Hyderabad Zoological garden houses more than 1450 animals. These animals belong to various continents around the globe. The main birds include Macaws, Eagles, Ducks, Owls, Love Birds, Pelicans, etc. The list of mammals includes Royal Bengal Tiger, White Tiger, Asiatic Lion, Leopard, Jaguar, Cheetah, Lion tail macaque, Hippopotamus, Giraffe, etc. There are various reptiles such as King Cobra, Python, Crocodile, Monitor Lizard, Turtle, Rat snake, etc. Hyderabad Zoo Park has a large variety of animals imported from various countries.
Nehru Zoological Park Timings
| Zoo Hours | Timings |
| --- | --- |
| April to June | 8 AM to 5.30 PM |
| July to March | 8.30 AM to 5.00 PM |
| Booking Counter Closing Time | 4.30 PM |
| Weekly Off | Monday |
Nehru Zoological Park timing is different in winter season and summer season. During April to June, Hyderabad Zoo Park opens at 8:00 AM and closes at 05:30 PM. In the months of July to March, the Hyderabad Zoo timings are 8:30 AM to 05:30 PM.  The Zoo counters closes at 4:30 PM in the evening, so it is advised to reach by 04:15 PM at least to get entry. It remains closed every Monday and open six day a week through the year.
Nehru Zoological Park Tickets – Entry Fee
| Items / Particulars | Price in Rs |
| --- | --- |
| Zoo Entry Fee | |
| Child(Below 12 Years) | 15 |
| Adult | 30 |
| Still Cameras | |
| Amateur | 20 |
| Professional | 500 |
| Video Cameras | |
| Amateur | 100 |
| Professional | 500 |
| Film Shooting Charges | |
| Per Day | 8500 |
| Generator Fee | 1500 |
| Train Ride Fee | |
| Child(Below 12 Years) | 5 |
| Adult | 15 |
| Safari Ride | |
| Child(Below 12 Years) | 20 |
| Adult | 40 |
| Nocturnal Animal House Entry Fee | |
| Child(Below 12 Years) | 5 |
| Adult | 10 |
| Battery Operated Vehicle Ticket | |
| Child(Below 12 Years) | 30 |
| Adult | 50 |
| Zoo Guest House Rent 9 AM to 5 PM | 500 for family of 10 Members |




Ticket price  is 15 Rs for child below 12 years of age and 30 Rs for adults. Zoo also has facility of train rides for visitors inside the zoo park. Ticket cost of Train ride is 5 Rs for child and 15 Rs for adult. Safari ride will cost 20 Rs for child and 40 Rs for adult. Entry fee for Nocturnal animal house are 5 Rs for child and 10 Rs for adults. Battery operated vehicles can also be booked for completing the zoo trail. For Battery operated vehicles, visitors has to pay 30 Rs for child and 50 Rs for adult.
There are different charges for still camera and digital camera. Amateurs has to pay 20 Rs for camera. Camera for professional purpose is charged at 500 Rs. Film shooting is also permitted inside the park, charged at 8500 Rs for shooting and 1500 Rs for Generator(per day). All the charges specified here are fetched from Official website.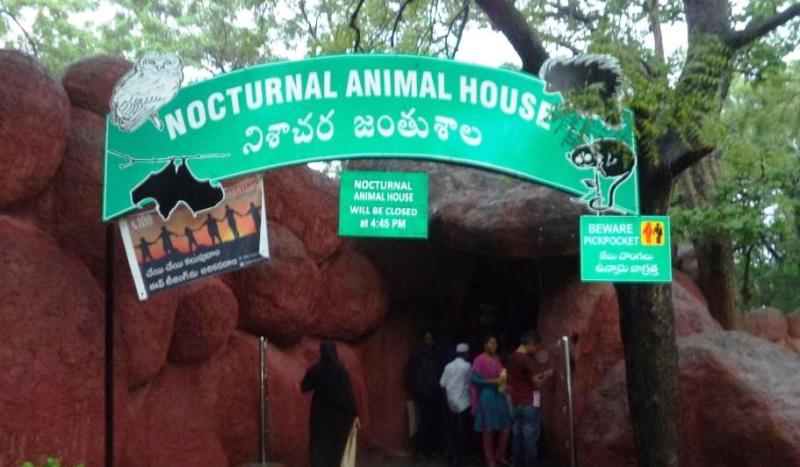 Best Time to visit Hyderabad Zoo Park
The best time to visit the Nehru Zoological Park is winter season as the weather is pleasant for the animals. The summer is very hot in Hyderabad and hence not a very good time to visit the Zoo Park Hyderabad. Weather after monsoon is also lovely and you will find greenery at its peak. Talking about the best hours to visit Hyderabad zoo, morning and evening is the suggested time. The animals take rest or sleep during the afternoon hours between 11:00 AM to 3:00 PM. So, visitors reaches Hyderabad zoo in the early hours of the day to see most of the birds. In the evening time, most of the mammals come out in the open area. During winter and summer break, the zoo is most crowded. Visiting Zoo Park during winter season is best during weekdays as zoo is less crowded.
How to Reach Hyderabad Zoo
Nehru Zoological Park is located at a distance of 7 KM from the Nampally railway station. Zoo park Hyderabad can be reached by TSRTC bus (State Bus Transport) from various location of the city. The cab, auto and private cars can also be used to reach zoological park.
Nehru Zoological Park Map
Nehru Zoological Park Information and Review
The Zoo is spread across a vast area of 380 acres. It takes around 3-4 hours to cover the main attraction by walking. Battery operated vehicles can also be used to travel inside the zoo, it will take 40-50 minutes to complete the zoo trail. It is full of greenery which gives a good experience for all the nature lovers. There is a wide variety of animals present inside the zoo. Many rare species of animals are also living in zoo. It has all the basic facilities, water coolers and washrooms are available at a regular distance throughout the zoo trail.




Zoo has canteen, it offers various refreshment options for the visitors. The parking facility is also available outside the zoo premises. It is a good place for children, providing good variety of options to explore. It has Children's Park, Jurassic park, Butterfly Park, aquarium and museum which are designed especially for kids. Hyderabad zoo has safari ride, toy train, bicycles, boating, etc. The train ride is scheduled after every 30 minutes during the day. Nehru zoological park is very well maintained and a very good picnic spot for animal lovers of every age.
Restrictions in Hyderabad Zoo
It is compulsory for every visitor to abide by some general rules of the zoo authority. Visitors are not allowed to feed or tease animals. Bringing food, alcohol, cigarette, lighter, tobacco, fire items, weapons, polythene items, etc are is not allowed. Water bottle is allowed inside the zoo park, no other drinkable or eatable is permitted. There is a food court inside the zoo where you can have something to eat. Maintaining a safe distance from animals and animal enclosures is mandatory. The rules laid down by the zoo authority are important in ensuring well being of animals and visitors.
Contact Information of Zoo
| | |
| --- | --- |
| Nehru Zoological Park Address | Bahadurpura, Hyderabad – 500064, Telangana |
| Phone | 040-24477355 |
| Fax | 040-24473253 |
| Email | hydzoo@rediffmail.com, info@hydzoo.com |