Buddha Jayanti Park Dhaula Kuan Delhi
Buddha Jayanti Park is a huge park located in Central Ridge Reserve Forest area on Vande Matram Marg in Southern part of Delhi. It is very near to one of the most famous landmark of Delhi, Dhaula Kuan. It is spread in a very vast area and popularly known as Buddha Garden among the localites. This garden was established on the 2500 birth anniversary of Gautam Buddha and the idol of Lord Buddha was placed on a 2.5 meter high platform. Therefore, it is also known as Buddha Jayanti Smarak Park.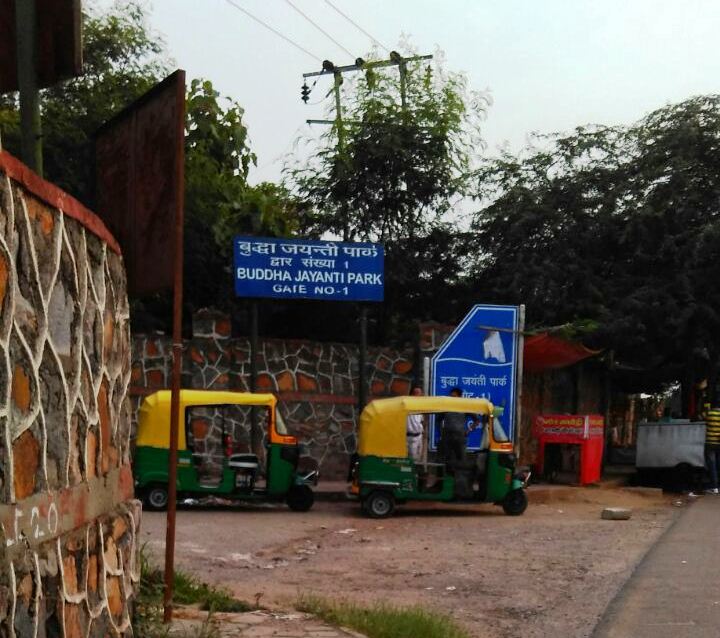 Buddha Garden Dhaula Kuan is located in a very peaceful area of Delhi in the middle of the jungle. It is surrounded by ridge forest area of Delhi and greenery of the garden give pleasure to the eyes. It is a very good place for morning and evening walks, jogging. Visitors can see ducks in the Buddha Park in a man made pool opposite to Buddha Statue. Nature lovers can easily spot many species of birds here in every season. Visitors should also beware with the monkeys while roaming in the garden.
Buddha Garden Timings, Entry Fee
Buddha Garden timings are 6 AM to 6 PM. The Park opening time is around 6 in the morning and it closed around 6 in the evening at the time of sunset. Morning and evening time is best for the jogging, running and walking in the calm environment of the park. Buddha Jayanti Park entry fee is nil, entry is completely free. However, visitors need to pay parking charges if they are reaching here through private vehicles. Parking generally opens 8 in the morning, before that visitors can park their vehicles without paying any charges.
How to Reach Buddha Garden Delhi

Buddha Garden is located on Vande Matram Marg in Ridge area. The entry gates lies on the road which connects Dhaula Kuan To Hanuman Murti of Karol Bagh. Two metro stations are near to Buddha Park. Buddha Garden nearest metro stations are Dhaula Kuan of Airport Express line and Jhandewalan Metro station of Blue line. Both the metro stations are around 4 KM from the park. From metro stations, visitors can take auto to reach at the Buddha Jayanti Garden. Auto Rickshaw generally charge 50 to 60 rs for a single ride. Blue Line metro station is well connected from rest of the Delhi.



A restaurant is present inside the garden which offers snacks to the visitors. Here visitors can order various types of Noodles, Dosa and other food items. Few drinking water outlets and washrooms are also present in the garden. Few hawkers are stand inside the parking area which sells ice creams, cold drinks, chips, mineral waters, etc.
Buddha Jayanti Park is a heaven for the couples during the day timing. When people of nearby area left the park in the morning after doing their exercises, it converted into a meeting place for couples. Buddha Garden provides a very peaceful and private area to the young couples where they can share some special moments with their loved ones. Family's should not bring kids along with him because normally it is fully occupied by the couples. And sometimes couples doing some uncivilized things, which should not be done in a public place. It is spread in a vast area and visitors should not go in secluded places of the park to find some private space for their own safety.
It is a good place to visit in Delhi, especially for couples. It is one of the most romantic place for couple to visit in Delhi. Visitors can also check Lodhi Garden and Garden of Five Senses in Saket for romantic outings. It is also a good place for general outing, picnics, photography session and nature walks.