Gurudwara Sis Ganj Sahib Chandni Chowk
Gurudwara Sis Ganj Sahib is Gurudwara located in Chandni Chowk area of New Delhi near to Red Fort. Gurudwara is a holy place where Sikhs do worship. It is one of the most visited Gurudwara of Delhi after Gurudwara Bangla Sahib. Sikh's ninth Guru, Guru Teg Bahadur was beheaded on 11 November 1675 by order of Mughal Emperor Aurangzeb, because he refused to convert into Islam. Sis Ganj Gurudwara was first built in 1783 by Baghel Singh.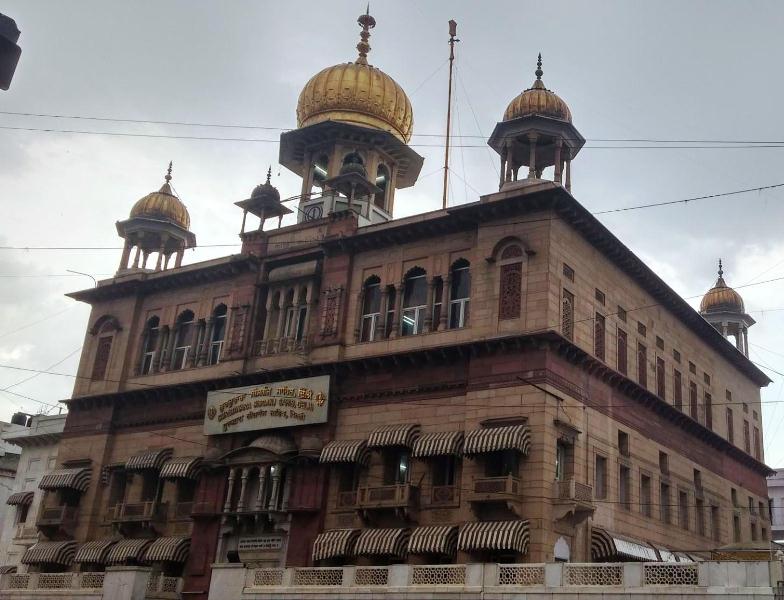 Sis Ganj Gurudwara Location
The current building of Gurudwara was built in 1930. It is among one of the nine historic Gurudwara of Delhi. It is located on busy streets of Chandni Chowk in Old Delhi. Chandni Chowk Ghanta Ghar, Kucha Mahajani Market and Fountain are just opposite to the Gurudwara. Famous Red Fort of Delhi is clearly visible from the Sis Ganj Gurudwara. Chandni Chowk is one of the oldest and popular market famous for clothing, jewelry, wedding shopping, foods, Heritage buildings (Havelis), etc.

How to Reach Sis Ganj Gurudwara, Nearest Metro Station
Delhi Metro is the best way to reach at this Gurudwara due to very heavy traffic in nearby surroundings of Gurudwara. Sis Ganj Gurudwara Nearest Metro station is Chandni Chowk of Yellow line. It is just half kilometer from here and this distance can be covered by foot in 5 minutes. Parking in Chandni Chowk is a huge issue and pilgrims are advised not to take private vehicles in this area. Free underground parking is available in the Gurudwara. The vehicle also can be parked in paid Gandhi Maidan Parking which is near to the entrance of the Chandni Chowk Metro station. Visitors can reach here via DTC buses, auto, private cabs, etc, however metro service is the best option. Distance from Old Delhi Railway Station to Gurudwara is just 1 KM.
Gurudwara Sis Ganj Sahib Timings
Gurudwara Sis Ganj Sahib timings are 12 AM to 12 AM. It opens seven days a week from day to night. There is no closing time of the Gurudwara. Entry is completely free for the followers of all races and religion.
Gurudwara Sis Ganj Sahib Langar Timings




Gurudwara server tasty langar to their pilgrims. Langar is a free food facility which is open to all the visitors of Gurudwara. A big langar hall is situated inside the Gurudwara complex where volunteers serves delicious meals for the visitors of Gurudwara. The food is cooked by the volunteers in the Langar kitchen (community kitchen). Langar timings start in the morning from breakfast and run till night at the time of Dinner. In the night many pilgrims of Gurudwara offer free food to the poor and needy people. Langar menu generally consist seasonal vegetables, pulses, Indian bread (chapati), kheer (sweet dish), etc. Delicious karah prasad is distributed among the visitors.
Visitor Information
Visitors must have covered their heads while entering in the Gurudwara. Shoe deposit facility and drinking water available in the complex. Photography is allowed, however, visitors should not click pictures inside the prayer hall. It is a well maintained and clean Gurudwara and it is popular among the foreigners also. If you are in Chandni Chowk or visiting Red Fort make sure to do visit this Gurudwara.
Also check Red Fort, Jama Masjid in Chandni Chowk and Gurudwara Bangla Sahib.
As a tourist you must check places to visit in Delhi.