Eco Park Patna Entry Fee 2023, Timings – Rajdhani Vatika
Rajdhani Vatika is a family outing and picnic park located in Patna city. Rajdhani Vatika is also known as Ecological park and Eco Park of Patna, Bihar. This park was inaugurated by then and current chief minister of Bihar Mr. Nitish Kumar on October 2011. Department of Environment and Forest, Bihar took the initiative of building this park to reduce the load from the Patna Zoo. It is one of the most popular outing place among the locals of the Patna.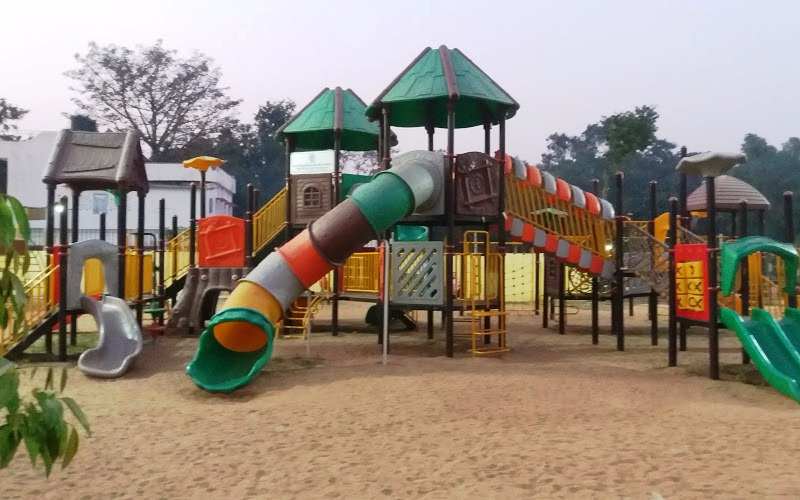 This park has two lakes and area of the park is 9.18 hectares. It is a well maintained park and it is divided in two sections. A road is going between this section of the park and both sections are interconnected by an underground tunnel. A children park and play area, cafeterias, food court, fountains are located in one part. The second part has consist theme parks like, Guru Vatika, Panchwati, Rashi Van and Kali Van. A restaurant and boating lake are also situated in the second segment of the Eco Park. It is one of the most visited park of Patna, Rajdhani Vatika receives monthly footfall of around 1 lac visitors. The park is crowded and filled with children during the weekends/holidays. In this post I am sharing the ticket price, entry timings, facilities and boating charges of Eco Park Patna.
Eco Park Patna Timing
The park timings are 5 AM to 8 PM. Eco Park Patna opening timing is 5 AM and entry is free till 8 AM only for those who came here for jogging, walking and other exercise. Rajdhani Park entry timings for visitors are starts from 8 AM and Vatika closing time is 8 in the evening. It remains open on all seven days of the week and there is no weekly off to the Park.
Eco Park Patna Entry Fee
Entry into Patna Eco Park is not free and visitors have to pay to get entry into the park. Entry is affordable to the pocket, the Adult entry fee is 20 Rs and kids ticket is free (below 5 years of age).
Eco Park Ticket Price and Other Charges

Many activities are available inside the Patna Eco Park like boating, Aqua Zorbing, free swing rides for children. Boating charges and other activity charges are listed in below table.
| Entry Fee | Charges In Indian Currency |
| --- | --- |
| Adults | 20 |
| Children under 5 Years of Age | Free |
| Monthly Pass Charges | Price not Known |
| Digital Camera Charges | 50 |
| Video Recording Charges | 2000 |
| Boating Charges | |
| 2 seater paddle boat charges (for 30 minutes) | 30 |
| 4 seater paddle boat charges (for 30 minutes) | 50 |
| 2 seater paddle boat charges (for 20 minutes) – Sunday | 30 |
| 4 seater paddle boat charges (for 20 minutes) – Sunday | 50 |
| Aqua Zorbing rates | |
| Kids below 12 years | 40 |
| Kid above 12 years | 60 |
*  The price listed above in the table are indicative and might have changed, so we advise you to check with respective authority.
Facilities at Eco Park Patna
Food Court and multiple restaurants are located inside the park. Parking facility is available for the visitors of the park. Various ticket counters are located outside the gate to reduce the waiting time and queue during rush hours. Washroom and drinking water facility is available inside the park. Photography is allowed inside the Eco park. 3000+ varieties of plants and flowers are available in the lush green garden.
A pathway of 1445 metre is situated inside the park. A jogging track is situated inside the Rajdhani Vatika of Patna. The length of the jogging track is 1191 metre, which is very good. Various swings and rides are available for kids usage. Boating can also be done inside the park by paying a nominal fee. Zip line, their bamboo, side rides, Climb ride, Skating, Swings, it's also available in the park. Most of the activities are priced under 50 to 150 Rs. Open gym is also situated inside the park with proper equipment.

Eco Park Patna Location and How to Reach
Ice Park is located on Strand road near to Patna Airport and Patna Zoo. Patna Junction railway station distance is around 3 KM. People can reach the Rajdhani Vatika by hiring an auto rickshaw or by a shared transport. If you are travelling via private car, parking is available near gate no. 3 on the park.
This is a very good place for kids and all age group of visitors. It is a very peaceful area where kids can enjoy various activities in the children's park. It is also a good place for couples in Patna where they can spend some quality time along with their partners. Patna is a conservative city, so couples are advised to behave ethically in the garden. Eco Park is a family park and all age groups of people visit here.
Visitors can roam the entire park on the foot or park can be covered via the bicycle. Visitors should also visit Patna Zoo, Patna Planetarium, Mahavir Temple and Buddha Smriti Park of Patna City.